110cc Pocket bikes
Power pockets! - here they come.
A Couple of Great 110cc Pocket Bikes for Mini Dirt Bike Fans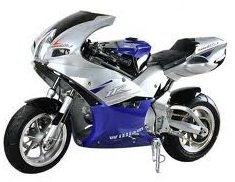 Whether a kid in the family is ready to upgrade to a larger racing bike for fun on the track or an adult wants to join in on the enjoyment of a pocket bike ride, there is a number of 110cc pocket bikes on the market.
Europe and Japan started the market popularity. Engineers from China and Korea looked at popular styles and features and jumped on the mini dirt bike bandwagon.
The ZX1 Super Bike features a 4-stroke motor, providing powerful response from the total RPM range. It not only looks good, it handles great. Quick acceleration delivers great speed and performance. One of the advantages of pocket bikes is the number of colors to choose from and the decals to make the bike personal.
Another of the great 110cc pocket bikes is the 2011 X15 4 stroke Super Pocket Bike, also known as the GS57. The engine provides everything requested and the bike is EPA and CARB certified.
The air restrictor in the carburetor limits speed to 35 mph. Take it out when the rider can handle speed up to 58 mph. Automatic transmission and a hand-activated clutch add to the ease and fun of riding the X15. The minibike Dark Side.
The bad press surrounding 110cc pocket bikes has been primarily from irresponsible minorities.
Either no thought for neighbourhoods or using them within non-designated areas. Dog walkers and riders on bridal paths are concerned for the welfare of their animals and the speed and noise of mini motos give the bikes a bad name.
Riding a mini moto as with any bike, without due care and attention and without care of other people will land you in trouble. Which is a shame as with only a bit of planning you can have a fun afternoon or day on a mini bike, even with a few admiring onlookers taking the time out to watch you.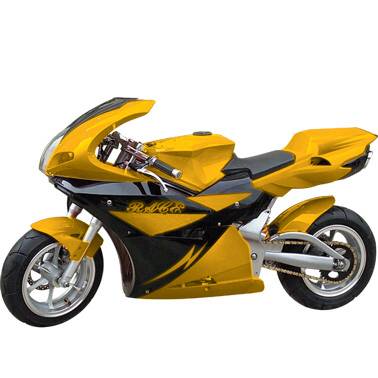 Right so you would like a 110cc mini dirt bike ? You do have so much choice too, from the ZM2 mini-motos and the VX-1 all for under a $1000. These 110cc mini bikes, can be ridden by adults and children.
There is also the Loncin 110cc Pocket bikes, for the dirt bike kid in your home. This surprising bike comes in at roughly half the price of the VX-1. (If you buy second hand).
It's also kitted out with a single cylinder, 4-stroke air-cooled loncin motor, 4 speed transmission, and a kick start.
Power on a 110cc Pocket bike
A 110cc super pocket bike is a machine most have seen within some dirt bikes web-sites or specialised minimoto stores. These pocket bike 110cc units are great for kids and adults to enjoy. The 110cc pocket bike, should be treated with respect as the power produced will cause injury. Motor dirt bikes are a growing sport and the 110 dirt bike is a popular bike for many riders.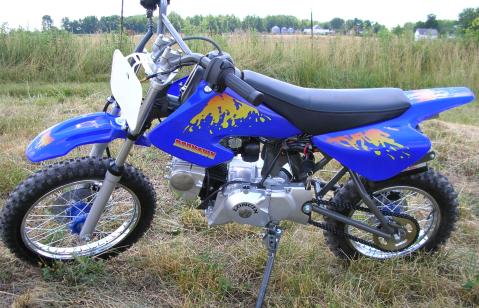 The 110cc dirt bike 4-stroke is often rugged and will carry an aluminium frame, for light yet tuff riding. Whenever buying 110cc dirt bikes, especially if you're going to be using it for dirt bike jumping, a light frame with a tip-top engine is critical. All that power will be needed, so be sure your dirt bike dealer knows your specs and your intentions.
Also buy your dirt bike tire with care, it should have no cracked walls, and plenty of grippy bumps throughout, to stick you and your bike to the ground. Are you a dirtbike kid? Well a good dirt bike 110cc moto should see you well, lots of power on a light bike - the perfect combination.
Small Motor dirt bikes - a final note
It's cool to be a dirt bike racer or a pocket bike racer, (on tarmac or off it) - but don't regret your buy, be specific on your needs; or take advice from those that know your abilities. Owning a pit or pocket bike that's got too much grunt, will put you off from riding it.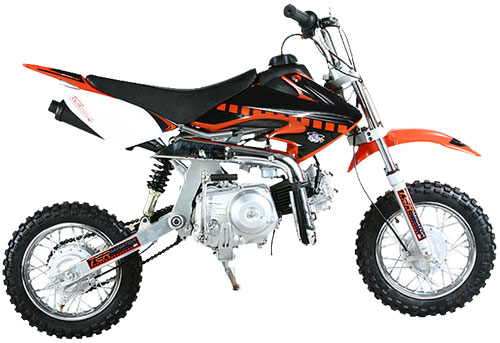 ---
Home | Dirt Bikes | Cheap Dirt Bikes | Accessories | Mini Dirt Bikes | Motocross Racing
Motocross Gear | Off Road Bikes | Used Dirt Bikes | Wholesale Dirt Bikes
Honda | Kawasaki | Suzuki | Yamaha