Mini Dirt Bikes
Mini Dirt Bikes | 47cc Pocketbikes | 50cc Minibikes | BMS Rides | Cheap Pocket Bikes | Cheap Minibikes | Mini Chopper | Electric Pocketbikes | Electric Mini Moto | GRC Bikes | Looking After Minimoto's | Me and Minimoto's | Minibike Engines | Minibike Parts | Minimoto Video's | Minibikes | Chopper Bike Parts | Minimoto Bike Movies | Mini Dirt Motorbikes | Minimoto Pic's | Mini MX | Mini Motorcycles | Minimoto's UK | Minimoto News | Mini Pitbikes | Mini Rocket Bikes | ATV Mini Bikes | Mini Moto's | Mini Motocross
Mini dirt bikes are an excellent choice to pass down the love of riding to the child in your life. Would you like to turn your love of riding into an outdoor adventure for the whole family?
Mini Bikes for the Child in your Life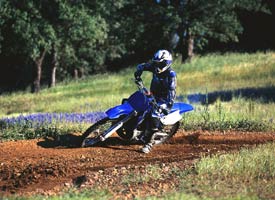 Mini dirtbikes are a safe and wonderful way to introduce your child to the world of riding and training. Nothing builds a stronger bond between children and their families than quality time spent together. If you enjoy outdoor adventure, passing that knowledge down to your child can be among the most memorable joys in your life.
Is it Safe?
Today's mini dirt bikes and children's ATV's have safety features that make teaching your child to ride them both easy and safer. What do we mean by safer? As with any activity a child might participate in, there are chances of falling or getting hurt. What child hasn't skinned their knee riding a bike, or bumped an elbow playing tag?
If you've done your homework on riding and made certain proper safety procedures are followed, dirt bikes are no more dangerous than these activities.
Many models today come equipped with features such as a speed governor, which allows the adult to set a top speed at which the bike will go. The exhaust pipes are positioned so that the child can't have contact with any of the parts that get hot during the course of riding. Training wheels can be installed to help your child learn to balance and gain confidence before riding solo.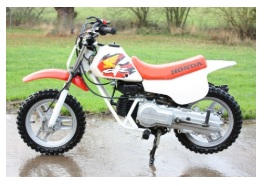 So, is it safe? Yes, if proper protective gear is worn and safety procedures are followed, this can be a safe activity for your child to learn and enjoy.
Where to Ride
Riding has become a popular activity for both boys and girls. First, check with your local town hall or state agency to find legal requirements for riding before purchasing your bike. Requirements may vary from state to state so it's always best to check on your own. They can point you to areas which are designated for riding.
Forest preserve paths are a good place to start, many areas have them specifically designated for dirt bikes and there may be one in the vicinity of where you're riding.
Another great place to find venues for riding is the merchant you buy the gear and bike from; they always have the most recent information about the sport and activities for riders.
Finding the Best Mini Dirt Bikes for Kids under Sixteen.
When thinking about purchasing mini dirt bikes for kids under 16, consider the color and cost. Price depends largely on three things:
The new rider between the ages of 12 to 16 deserves the opportunity to learn how to ride mini dirt bikes on a safe bike. Achieve this goal with the Razor MX350 Dirt Rocket Electric Motocross Bike, great for riders up to 140 pounds.
The 350-watt electrical motor gives a quiet ride and has a continuous running time of 30 minutes. Single speed with a chain driven motor, the Dirt Rocket has a top speed of 12 mph, not as thrilling as 25 mph but an acceptable speed while learning. Additional features include a hand-operated rear brake, twist grip throttle and adjustable riser handlebars.
The best-sized mini dirt bikes for experienced riders under 16 are 110cc or 125cc gas-driven bikes, again considering the rider's size. The Coolster125S Semiautomatic mini dirt bike features a clutchless 4-speed for easier shifting. Taller teens will benefit from the larger wheels and 27.5- inch seat height. As a bonus, quite a few parts are interchangeable with those of the Honda's CRF50.
Once upon a time Suzuki had the awesome RM125, wiped out in the 2012 lineup. Watch for the opportunity to pick up a couple of used two-stroke RM125 mini dirt bikes, one for parts and one for riding. A bike of strength and stamina, it handles well and provides the speed desired by the experienced rider.
A Cheap mini dirt bike
Mini dirt bike ad's are in auction sites and other specialised magazines. A cheap mini dirt bike can be found when sales are on, or part-exchange models are being offered at certain times of the year. There are so many models of pocket bikes you can feel overwhelmed but have a look at the pics in the adverts, and study the various models and engines before you buy so you know exactly what you require.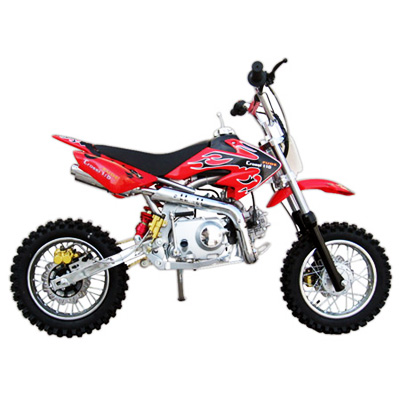 Mini motoX rides are cheap as are their spares & tyres. Not only the pursuit of kids, but bike lovin' adults as well.
A number of tracks today offer special day(s) for mini motorbike fans, and have race tuned events to pack in those that love the smaller machine.
The mini engine has come a long way baby, so it's more reliable than it used to be.
The cheap minibike is here to stay, and with spares such as exhausts, wheels and air filters, being SO low-priced the shops that stock them are doing a roaring trade. Take a look at these great videos and movies - just click play!
Small Dirt bike Vids
While you watch these vids don't forget we have other pages about the mini dirtbike so click on a few to find out more about them.
Mini pit bikes.
Mini motocross / pocket bike burn out.
50cc SUPER ZABAWA.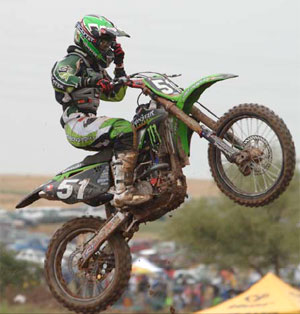 Hope you liked the pitbike vids, and mini bike movies - more to come soon......hope they help for when you're selling your bike.
---
Home | Dirt Bikes | Cheap Dirt Bikes | Accessories | Mini Dirt Bikes | Motocross Racing
Motocross Gear | Off Road Bikes | Used Dirt Bikes | Wholesale Dirt Bikes
Honda | Kawasaki | Suzuki | Yamaha