Suzuki Dirt Bikes
Suzuki Dirt Bikes | Buying Suzuki Pit Bikes | Pre Owned Suzuki Motos | Vintage Suzuki Offroaders | Suzuki Spares | Suzuki Accessories | Suzuki Reviews | Suzuki Gallery | The Suzuki Dirtbike | 2011 Suzuki Motocross Bikes | Suzuki ATV Parts |
Suzuki DirtBikes are among the best in MX racing. Find out what the newest models have to offer to enhance your riding pleasure.
A Buyer's Guide to the Newest Suzuki Bikes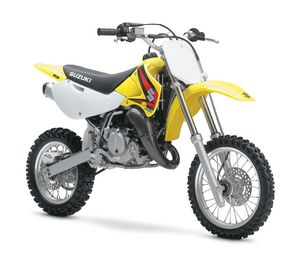 Suzuki dirtbikes are among the most popular in off road riding. Great handling and light weight construction give these models the right proportion to handle rough terrain maneuverability. They have a fantastic array of newer models which improve upon already stellar construction. Suzuki offers models made to fit all levels of expertise.
For the Young Rider
For younger riders, Suzuki offers the JR50. This model is great for the beginner and children just learning how to maneuver and ride. Special features include a special throttle limiter so mom and dad will feel safe letting their child learn in this controlled setting. The automatic clutch allows the child to learn gradually with a simpler method of control and drivability.
Another great feature to this bike is the height adjustable suspension, making it a bike that can be used many seasons and adjusted to fit the rider.
For the Teen and Adult Beginner
There are two Suzuki dirt bikes that are a perfect fit for teenage riders, or adults with limited experience who want to further their own riding. The DR-Z125L is a great mid priced model for easy handling and great movement.
Both lightweight and durable, this model is especially made for the beginner and used for general off road adventure, not racing. The DR-Z125 is also made for the teen and beginner with some additional features, such as front disc brakes in addition to the rear brakes equipped on both models. This model can also be purchased with tire size for the young rider.
Both of these models are geared for low to moderate rpm for a fun way to learn this exciting activity.
For the Serious Rider
The top of the line for serious riders is the Suzuki DR-Z400E. This bike is fantastic in competition and perfect for handling on high level rpm use. For the advanced rider who can handle great power combined with fantastic agility. The DR-Z250 is another excellent bike for the experienced rider. This medium weight bike combines good handling with great power and is a favorite among racers and off road riders alike.
Used suzuki dirt bike
Would you like a used suzuki dirt bike ? Well it's not a bad idea; suzuki parts are widely available on many older models. The suzuki dirtbikes offer reliable bikes at very reasonable prices. So check out their catalogues and the all important part leaflets. Its easy to see why anyone can own a Suzuki.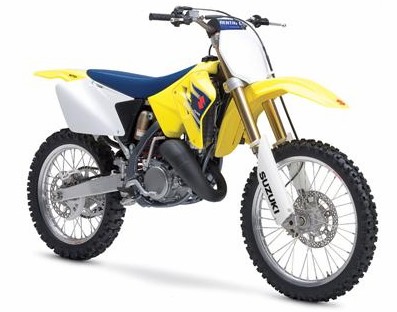 From arenacross to freestyle those Suzuki dirt bikes combined with super grip tires will see you win racing events and other fmx shows.
When you ask what is a motocross bike? You are asking what can win motorsport battles, be durable enough for FMX stunts and come complete with accessories for the most demanding pro racing riders.
Suzuki bikes can be seen all over America, and feature in tons of pics on various sites. If you're doing a search for the suzuki bike range we have some of them listed below.
Plus the Suzuki Off road range of course.
The junior Suzuki DR-Z70 is designed for newbie's to start their career razzing around a local track. Or you can go right up to the RMX450Z for professional bikers. All suzuki's have a history of durability that bikers adore.
Other current models include the –
Why Suzuki Dirt Bikes?
The question is not why buy Suzuki dirt bikes; it is why do you not already own these fast, gas efficient, reputable and very fun vehicles.
These bikes are popular among riders and racers all over the world and with the 2014 editions, you have even more reason to go buy a new bike, add one to your existing collection or simply upgrade. This collection has three different dirt bikes from which you can choose, each of them affordable and more importantly, fast.
2014
The RM-Z250 comes in at just under $7600 for the base model, which features a four stroke, 249cc, fuel-injected engine that has an improved and redesigned cooling system.
These elements give the bike more power, stability, quick but smooth shifting capability and even, simpler maintenance, so you can spend less money on repairs and more time riding the wind. If this does not excite you, then maybe you are looking for the best motocrosser on the market, the RM-Z450.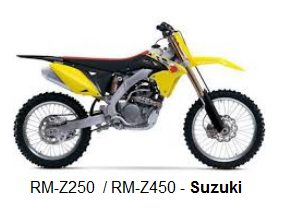 Suzuki's Z450 has even more power and torque than ever before, with a 449cc, four stroke, four valve, fuel injected engine, less friction and more shock absorption.
At a base price below $8700, you get a redesigned muffler and improved fuel adjustment settings so your ride is at its all time best while the enhanced shock system gives you more comfort and support. This lighter weight design also saves on fuel and gives you the ability to get even more air than you ever thought possible.
Suzuki dirt bikes, particularly the Z450's, win top titles every year, appear in all the best cycle magazines and are the ride of choice for professionals and hobbyists. Always innovative, these ever-improving bikes are a must for any serious rider, which is no surprise since you cannot get better than the best. Now stop walking and start riding-like a pro!
Suzuki dirt bike videos
Here are some video reviews of fine suzuki's. Most have cool accessories and a huge parts bin. Use these video clips to help you decide which model suits your skills. These are only a very small selection to get you started.
Suzuki RM-Z 450 Comparison
Suzuki RM-Z 250 – Comparison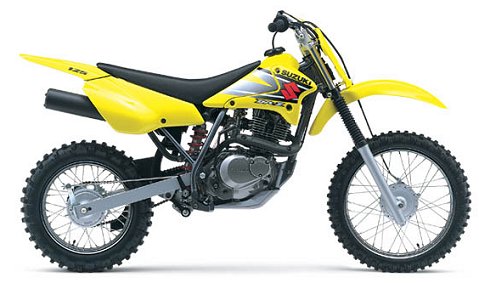 Brag about your Suzuki Dirt Bike.
Tons of riders love the Suzuki pit bike. What model do you have? Is it stock or have you modded it to the hilt? Tell us about your zuki offroad motorcycle here. Share it!
What Other Visitors Have Said
Click below to see contributions from other visitors to this page...

brag about your suzuki dirt bike

I ride it in the woods mostly. i have had it for 7 years! always wanted to restore it!!
---
Home | Dirt Bikes | Cheap Dirt Bikes | Accessories | Mini Dirt Bikes | Motocross Racing
Motocross Gear | Off Road Bikes | Used Dirt Bikes | Wholesale Dirt Bikes
Honda | Kawasaki | Suzuki | Yamaha