Motocross Racing
Motocross Racing | Build Your Own MX Track | Dirt Bike Accessories | Edmonton MX Track | Free Pit Bike Games | Frozen Ocean Track | History of MotoX Racing | The Malaysia Enduro | Motocross & Supercross | MX Action Magazine | Dirt Bike Action | Dirt Bike Babes | MotoX Champions | Motorcross Crash Clips | Dirtbike Devotions | Dirt Bike Girls | Dirt Bike Logo's | Motorcross Motorcross | Motorcross Racing Clothing | MX Racing Tips | MotoX Racing Trophies | Honda Dirtbike Racing | Dirtbike Tracks | AMA Motocross | Ashley Fiolek |
Are you interested in motocross racing? Would you like to learn more about the sport or even find a venue to get in on the action? It's a phenomenal activity for the adventurous heart, especially when you focus on your training in order to excel.
A Beginner's Guide to Motocross Racing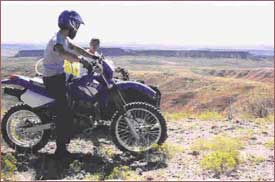 Bike racing is a fantastic sport for those who love riding. Thrilling to watch, and even more fun to participate in, dirt bike racing is great for all skill levels. While mainstream consciousness of the sport has really picked up in the recent past, motorcycle racing has been around almost as long as motorcycles have been available and has been especially popular in Britain since the early twentieth century.
Tracks will vary, often including both natural terrain and jumps made for the event. Most races include a qualification of entrants to ensure that riders are evenly matched and lessen the chance of injury to a rider unprepared for the terrain or competition.
Are There Age Limits or Skill Requirements?
There are no age limits to motocross dirt racing.
Indeed, skill requirements will vary and almost any level can find an event of likewise competitors. Whole families enjoy sharing the love of dirt bike racing, and there are classes and competitions for every age and experience.
If you've never tried dirt biking on rough terrain, a good place to start might be riding on your own or with lessons to improve your skill. During a scheduled race, depending on your level, there will be jumps, hills, and various types of terrain to maneuver, so you'll want some preparation navigating these before considering an event.
Where Can I Compete?
Due to the upswing in popularity, it's relatively easy to find a track and events near where you live. There are magazines devoted to the sport which list various venues and a quick online search will usually result in a good amount of information about the facilities in your area.
Another great way to get the local information is to ask the merchant you purchase racing equipment from; they often have detailed lists of events and groups in the area.
If you're a beginner, take in a class or see about an open track day near you. Often MX tracks will have times scheduled to have the track open to the public, so you can try out the terrain and better determine your skill level. Classes are never a bad idea; any rider can improve with practice and experienced training.
Getting that Winning Edge with Motocross Racing Tips
There are times when the best motocross racing tips sound very ordinary, such as checking your tires, gear and fuel before a race. However, as a rider, you are already aware of the resulting consequences if there is a problem with either of those things. Listening, learning, practicing and evaluating are all a part of the action that will get you to the podium. File those tips away and draw on them whenever you need an edge.
Know the Territory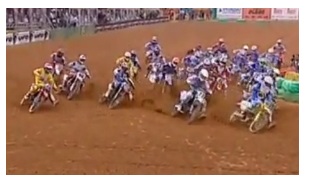 You often hear it when professional racers discuss the results, good or bad. "This new track affected my style." "I was not familiar with the area, which caused some trouble."
Take the opportunity to WALK the track before the race. Look for areas that might cause slipping or rough traction so you can plan your strategy. A pre-race check can make the difference between sitting on the sidelines and finishing the race at the front.
Cornering
Even the best riders can end up tangled as riders juggle for first place through the first corner. Hold your line and keep your approach smooth. Gripping the bike with your two legs eases the strain on the shoulders and arms. Concentrate on braking and avoid running wide, since valuable time will be lost while you get back on the line later. As you go into a corner it needs to be one effortless movement, while avoiding other riders.
A number of riders prefer to stand when riding it's easier to take the jolts. Also try and avoid the deep ruts in the corners, that's where the unfortunate land and bar your way too.
Slide you weight on the bike to give yourself the best traction – and try and see what other riders are doing out of the corner of your eye. You can steady yourself with your foot, go slow into a corner and pick up speed as you exit.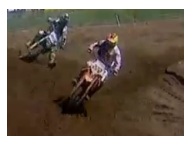 It's almost impossible to know what the riders behind you are doing so make your choice of line and stick to it.
They should make room for you, don't do any sharp moves unless you have to – as this will catch a back runner off guard and kapow – you're in the mud!
Once you're in a corner, obviously you avoid the fallen and deep grooves. When in the middle of a corner your throttle control comes into play. Just enough to stop you getting stuck, but not too much to have that front wheel flipping over your head.
Keep focusing on any opportunity's for passing both in a corner and as you come out, as good cornering gives you the best chances of passing your opponents in a race.
If you can master cornering, you'll see your trophy cabinet begin to bulge.
Overtaking and Getting the Winning Edge
Ask good riders for motocross racing tips, especially regarding the skill of overtaking other riders and they'll become sheepish. They might not share their own secrets, but may give you one or two about another rider. Like car racing drivers it should all be one fluid movement – this saves time and energy.
Knowing your motocross bike will also get you the passing chances you desire – you should know how much is left in the tank, do you have enough horsepower and space to make that dart for glory? If you do – what are you waiting for – overtake when the opportunity arises, in a few seconds that door could be shut.
Dirt bikes wanted !
Ok so you want a dirt bike. The most popular bikes for Motocross Racing as you would imagine are Honda, Yamaha, Suzuki and KTM. Also keep in mind the Husqvarna and Husaberg brands as they are expertly made.
However all these bikes are normally in the thousands of dollars. If you want to race for a few hundred, begin looking at pitbikes. These much smaller models like the thumpster are fast, frantic and look amazing. Ok you'll still need your helmet and motocross gear, but for sheer cheap thrills a pitbike will get you racing in a few weeks of saving – go to it.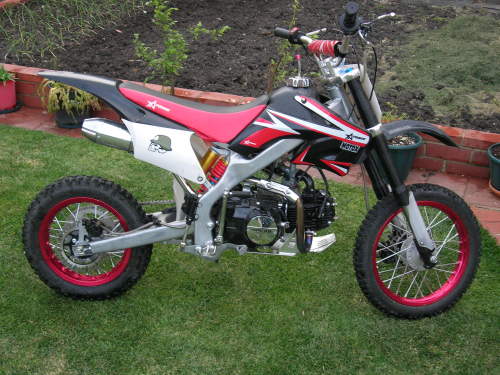 The Elusive Free dirt bike
There's no such thing as a free dirt bike for Motocross Racing , (like a free lunch) – so be wary of very very cheap bikes – they could be stolen. And if you're Motocross Racing , at large gatherings your cheap/free bike might get noticed! – and it will get you into more trouble than if you'd paid a decent price for an honest motorbike In the first place.
If you're selling your bike be honest too – don't pass off a problem bike to an unsuspecting MX racer, it'll only backfire on you.
Being honest and gaining a reputation for the "right" reasons will make you into a motocross racer you'd be proud to look back on when your too old to race anymore.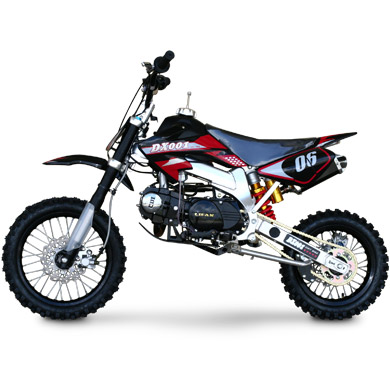 Where have your top dirt bike tracks and circuits been ?
Tell us all about it, highs and lows. Share it!
---
Home | Dirt Bikes | Cheap Dirt Bikes | Accessories | Mini Dirt Bikes | Motocross Racing
Motocross Gear | Off Road Bikes | Used Dirt Bikes | Wholesale Dirt Bikes
Honda | Kawasaki | Suzuki | Yamaha