Motocross Gear
Motocross Gear | Alloy Motocross | Cheap Pitbike Helmets | Design Motocross | Discount MotoX Apparel | Discount Off Road Boots | Dunlop Motocross | Fox Pitbike Apparel | Freestyle MotoX Apparel | Miss Motocross | Motocross Apparel | Dirt Bike Body Armor | Motocross Boots | MX Close Out Gear | Pit Bike Decals | Enduro Gear Bag | Motocross Giant | Dirt Bike Gloves | Dirtbike Protective Gear | UK Enduro Clothing | FOX Logos | Thor Racing Gear | Dirt Bike Helmets |
The essentials in motorcross gear are comfort and safety. Let's look at each item and discuss what the rider should be looking for in their perfect fit.
Fit and Comfort in Motocross Gear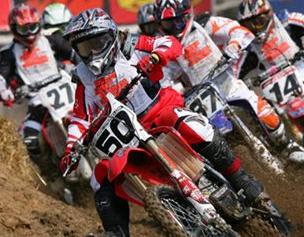 The gear for motocross needs to both allow for the rider's agility and protect his or her person. Finding the perfect fit can be time consuming, but it's also an essential part of competing in this sport. Ill fitting gear will hinder your ability to move quickly and smoothly, which in turn may make you less able to handle the bike and the terrain.
Here are some tips to aid in making your perfect purchase.
Outer Dirtbike Gear:
Everyone knows what the outer gear consists of, but often the beginner will overlook the necessity of making certain this gear is appropriate for their size and build. Boots should be durable and comfortable; if they are ill fitting they will likely bother the rider which can distract you from the terrain. Shin guards, knee guards, elbow and shoulder guards, as well as your roost deflector should be durable enough to withstand a high speed spill. They are designed to mold to your body and every protector will not fit every person the same.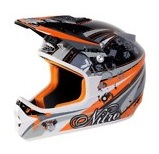 Talk with a professional at the shop, or someone knowledgeable before riding if you're unsure of the fit. Never attempt competitive riding in gear that's too small or large. First, it will not protect you adequately and second, it may leave you more encumbered, making a spill likely.
Your helmet, as one would imagine, is imperative. It has to be a good quality and needs to fit perfectly. It should be neither too loose or too tight and cannot obscure your vision in any way. Some helmets come with glass deflectors for vision. If yours does not or if you prefer, many riders like goggles much better and find their vision much less encumbered by these.
Goggles should fit snuggly and not be marred or scratched in any way that will obscure the road. If yours are damaged, pick up a new pair before your next race.
Other MX Gear:
Other motocross gear you'll need for competitive riding will depend on both the terrain and weather. Riding pants should always be durable and fit well. Many can be found specially made to leave the knees and joints more agile while still protected.
This is important because you will also be covered by outer gear and your ability to move is essential when racing. Jerseys should fit your body while offering enough cover to combat both weather and any spill.
Motocross Gear: Best of the Best
In a world inundated with quality motocross gear, it is often difficult to decide the best items for each rider. Regardless of what particular piece of equipment is sought, the most important thing is that it fits correctly. A number of websites DO list the methods to verify proper fit - and its FREE. When it comes to gear, however, most companies really want to list their products as the best.
Following are some unbiased selections for the best of the best.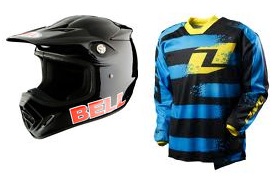 Motocross gear comes in combos or separate purchases.
The best set of combos is the 2012 One Industries Carbon Stryper Cyan Black Motocross-Enduro Kit Combo which has looks and action, starting with the comfortable slip-on Zero Gloves, featuring mesh finger gussets and a tacky silicone across the palm and finger for control and grip.
Mesh lining and a buffalo leather inner knee give the pants comfort and heat resistance. Polyester helps keep the colorful V-neck jersey dry and the long rear drop pane keeps it tucked in while riding.
The best helmet is the Bell Moto-8, cool, light and comfortable. Made from a Kevlar/carbon fiber TriMatrix composite shell, the ventilation system is state of the art. Style and durability are equal parts of the Moto-8.
The best chest protector, is the Troy Lee Designs Chest Protector, which is made of shatterproof plastic and color matched bio-foam.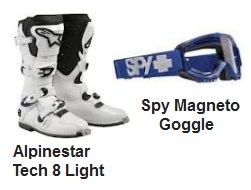 Alpinestars Tech 8 Light boots easily take the best motocross boots category. No break-in is required thanks to the ergonomic ankle construction and the Air perforated version keeps feet cooler. Lightweight with a low profile, it is a good-looking, durable piece of protection.
SPY Magneto MX Goggles are the best MX goggles, made in the beautiful beach city of Carlsbad, CA, which is near Mount Palomar and its wintertime snow. The local extreme athletes include MX riders, competitive skaters, skiers and surfers, quite a group for which different goggles needed to be created.
Magneto's Scoop venting design lets the airflow between the wearer's face and the lens eliminate that foggy lenses problem. Polarized lenses reduce the sun's glare by 99 percent. Custom fit sweat-resistant foam is washable and keeps the goggles secure.
Thor Motocross Gloves, designed for the dirtbike rider, wrap up the list of bests. Their grip is strong and protection beyond reproach.
The Motocross Gear picks above are just our personal favourites but if you have some excellent dirt bike apparel YOU really love, tell us about it and we'll pass it on.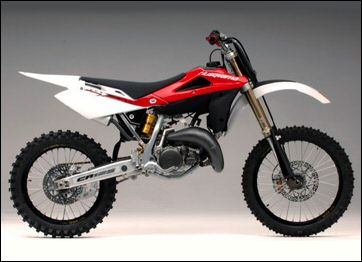 Now we come to the bikes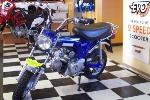 When you have all your MX gear - there are some fantastic bikes out there too; with the electric razor dirtbike being a young riders favourite (like the MX650 or the MX 350) - and the panterra dirt bike is also being bought in big numbers.
Some riders do love specific models so a husqvarna dirt bike dealer would be ideal (if you're into husqvarna's of course). Honda, Suzuki and Kawasaki not to mention Yamaha all have smaller models for young riders as well.
If you're a true fan how about some dirt bike bedding n' pillows, for your room - just don't let it keep you up at night.
Tell us about your favourite Motox Gear ?
From bargain buys to quality stuff you own? Share it!
---
Home | Dirt Bikes | Cheap Dirt Bikes | Accessories | Mini Dirt Bikes | Motocross Racing
Motocross Gear | Off Road Bikes | Used Dirt Bikes | Wholesale Dirt Bikes
Honda | Kawasaki | Suzuki | Yamaha