Yamaha Dirt Bikes
Yamaha dirt bikes are some of the best around for off road riding and motocross racing. How do you find your perfect off road bike?
| Older Yamaha Pitbikes | The TTR125l Yamaha | Pre Owned Yamaha MX Bikes | Used Yamaha Enduros | Vintage Yamahas | Yamaha Add-on's | Yamaha Spares | Yamaha Dirtbikes | Buying Yamaha Motorcycles | Yamaha MX Bits | Used Yamaha Dirt Bikes | Used Yamaha MotoX Bikes | Yamaha Dirtbike Parts | Yamaha Motorcycles Parts | Yamaha Motocross | 2011 Yamaha Dirtbikes | Yamaha Enduro | Yamaha ATV Parts |
Finding Yamaha Dirt Bikes That Fit Your Style


Some of the best motocross racers out there use Yamaha MX bikes, so it's no secret that they're well made and great to ride. Any rider, from the least experienced to the most competitive will find a dirt bike they love in one of Yamaha's models.
Combine a great bike with great fitness and a fantastic training schedule, and you're on your way to an outstanding riding experience.
For the Youth and Just Learning
Yamaha offers bikes for kids, and beginners and their make and modeling is just as important here as it is for the most prolific user. Some of the models new to the line-up for kids and new riders are these:
PW50
TT-R50E
TT-R90E
TT-R125E

The PW50 and TT-R50E are both built for smaller riders. They come complete with a feature to allow adults to control speed until the rider is secure and knowledgeable enough to ride on his own. The TT-R90E is still excellent for smaller riders, though there is no speed control, so this bike should be reserved for the rider who knows their basics. The TT-R125E is still small enough for most young riders though this is a more serious and powerful bike.
Current models for the novice or youth rider -

For the Active Rider
Yamaha dirt bikes are fantastic for the active off road rider. They have an amazing array of bikes for any need, from the speed demon with perfect control to the casual rider just aiming for a little fun. Here are some choices for the mid-level to expert rider:
TT-R230
TT-R125L/LE
WR450F
WR250F

The TT-R230 and TT-R125L/LE are both fantastic for a rider with a little time under his or her belt. They are made to be easy to ride, great for off road and trail riding and good for the intermediate motocross rider. Both are great bikes for the mid-level rider.
The WR450F and WR250F are for serious and competitive riders. They are made for agility and speed. These bikes are fantastic for motocrossers who are familiar with the terrain and can handle their speed. They're also great fun through off road trails, when the jumps and maneuvers are all up to the rider.
Other current Yamaha MX models -

Its all good - Yamaha Dirt Bikes
Yamaha dirtbikes are among the best in the world of motocross, as many professionals, amateurs and even casual riders, choose this particular brand for their ride. As with any vehicle, every year brings new surprises, such as upgrades and improvements to give you more speed, safety and better overall performance. If you are currently on the market for a new bike, well the 2014 models have quite a bit to offer but if you want to save a few bucks, the 2013's still offer a good ride.
2014 Model
This year, Yamaha really pulled out all the stops, as they basically created a totally different bike with features like a new frame and EFI engine, along with new suspension parts and minimal body work so you can get more power but still handle it as easily as with any other 250.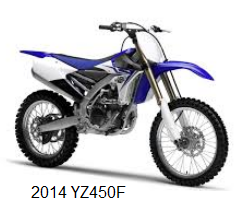 Lighter in weight and offering more speed, torque and control, the 2014 YZ450F is sure to get you some serious air while bringing you down soft and handles tight turns at high speeds with no problem.
At just under 8500 dollars, this model offers you a four-stroke, 450cc engine, a five-speed transmission, single disc brakes and fully adjustable shocks.
Weighing in at 245 pounds and boasting a mere 51 inches in height, this bike is the ideal combination of strength and stability that gets you close to the ground but quickly puts you back in the air. If this is not good enough for you, the 2014's new design also puts all of your heavy components in the center of the bike so that balance is not an issue and your control of the front and back of the bike is totally equalized.
Of all the Yamaha dirt bikes over the years, the 2014 model is definitely one of the best, giving this ride an edge among other top competitors in the motocross industry. If you are seriously considering a new ride, or your first bike, check this one out; as it does not disappoint.
A guide to the Yamaha dirt bike
Recession busting tips.
Ok so you can choose from quick 125 dirt bikes for racing or pick a reliable kids Yamaha that'll see you have plenty of backyard fun.
The dirtbike racing scene has many supporters and brand loyalists. You'll soon discover that Yamaha has one of the highest reputations for building really good bikes, and rightfully so.
By the way, there is help for you if you are in the position of needing to sell your Yamaha dirt bikes, too.
Good Yamaha Dirt Bikes
The diving economy hit the motorcycle business like the rest of us. Because the recession has lasted this long, budgets continue to be trimmed.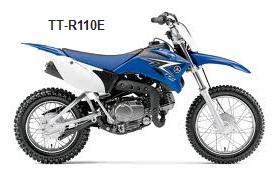 Because fewer people are buying new motorcycles, costs and prices have increased for Yamaha dirt bikes and dirt bike accessories. The alternative is to buy a second-hand Yamaha in great condition.
Perfect condition in a used bike is an unrealistic goal but there are still people who think it should happen on a regular basis. That leaves the realists the opportunity to pick up a good used MX bike that runs great.
Although most of us shudder to think of it, defects and other problems happen to new bikes. Just look at the recalls of so many products this year.
A Discount Yamaha Adventure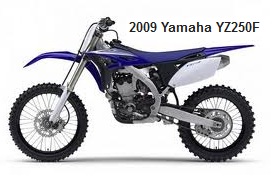 You can get the Yamaha dirt bike you want in a used version. The money you save will more than cover any expenses incurred while replacing parts.
While you are at it, do a little horse-trading. The person selling the yamaha bike may have extra parts hanging around.
See if they can be tossed in for the agreed sale price. Buff up your buying skills and perhaps you will end up with an awesome 2009 Yamaha YZ250F or better.
What do you love about your Yamaha Dirt Bike?
Tell Us About Your Dirt Bike, how do you ride it? Look after it? What have you done and intend to add to it? Share it!
What Other Visitors Have Said
Click below to see contributions from other visitors to this page...

yamaha dirt bike stuff Not rated yet
i need some tips of how to be a dirt bike racer and if there are some schools for me im 11 and im a girl and i want to race but i cant find a school so …
---
Home | Dirt Bikes | Cheap Dirt Bikes | Accessories | Mini Dirt Bikes | Motocross Racing
Motocross Gear | Off Road Bikes | Used Dirt Bikes | Wholesale Dirt Bikes
Honda | Kawasaki | Suzuki | Yamaha