Dirt bike clip art
Motocross Arty pictures.
A lot of free dirt bike clip art can be found on the web. Google in particular has its own image search and is worth checking. Some clip art maybe copyrighted so be sure to get permission if it's needed.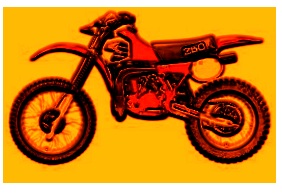 Other sites offer for a subscription a whole list of many galleries of clip art, for a very small fee. Clip art is ideal for a presentation tool, or building a web site and the quality recently is on the increase.
You may be best checking a few sources for dirt bike clip art as the dirtbike subject is specific and you may need to do a bit of digging to find what you require. Also search for "motocross clip art" and "super cross clip art" too, as they may turn up some surprising finds as well.
Fun with Dirt Bike Clip Art.
Whenever you have the urge to create some great writing paper, cards or any of the other fun uses for clip art; you can begin your search for some really great dirt bike clip art pictures and cartoons at http://www.just-in.com/clipart/dirt/index.htm including ATVs, slopes and jumps. OR - Get a red Ducati pic from http://publicdomainclip-art.blogspot.com/2008/06/red-ducati-motorcycle-dirt-bike.html where you will find a list of other images released to the public domain.
The copyright warnings are important, so check for a release before using the pictures or clips. There are quite a few ways to use these clips besides taping them to the wall and desk.
Lay out various bits of dirt bike clip art on laminating paper and cover it with another sheet. Seal the sheets together and let them cool. Cut around the pictures to make square, round, triangular or rectangular hanging ornaments. These make great gifts for the motocross fans in your family or group of friends, as well as hanging on your own Christmas tree. You can also put the art across the long side of the sheets and cut down to make bookmarks. Create decals for your bike or helmet and announce your competitive spirit to the world.

A book bag and a backpack will look even better with your favorite dirt bike clip art selections placed around the area as decorations. Lamination lets you maximize the opportunities to be creative while protecting the artwork from damage. Make a keychain or a good luck charm.
Dangly Honda dirt bike earrings or charms for a bracelet are clever ideas and a bolo tie slide with an awesome Kawasaki will go with just about anything. You are never limited to putting the clip art on your gear bag. Create small and large stickers for your binder and make it uniquely yours. It is all about fun.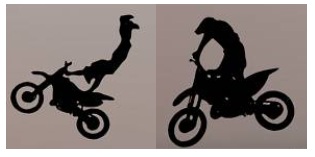 Motocross brush strokes.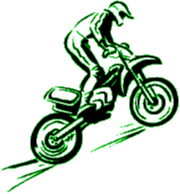 If you are looking for any type of dirtbike clipart or maybe a dirtbike silhouette your best looking through google images. We found a reasonable variety, plus dirtbike cartoons and some drawings of dirtbikes.
Another website you should checkout is fotosearch.com, on the webpage http://www.fotosearch.com/clip-art/dirt-bike.html we came across a couple of good clip art dirtbike images and a dirtbike cartoon. At the bottom of the page the site claims it offers royalty free images, from their Stock Photography catalogue but do double check this with the site.
The next website to browse over is clipartguide.com, for more clipart about dirtbikes. As the websites name suggests they have lots of illustrations and graphics but dirtbike images were limited, we only found 5.
Dirtbike graphics
Should you want to buy motocross clipart then the site extremeclipart.com might be for you. Here we found a Dirt Bike Racer image for sale at $8.95. Each image is scalable and available in most colours. A great item of dirt bike clip art that you can place on your MX bike or gear.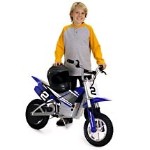 Further along was clipartclipart.com. Which only offered one image of a cartoon dirtbike rider, but you can search for "motocross", and "pit bike" and see what turns up? This last website holds images that are not available for free use, and subject to copyright law.
When using decals of cartoon dirtbikes and clip art images of dirtbike riders this is something you can fall foul of, even with the best intentions. We did struggle to find many funny dirtbike cartoons; plus specifics such as a cartoon kawasaki dirtbike.
So if you're a talented artist, dirt bike clip art might be a niche you'd like to exploit. Who knows you could make a mint, by selling pit bike clipart to your buddies or on the web.
See em' on a Dirtbike comforter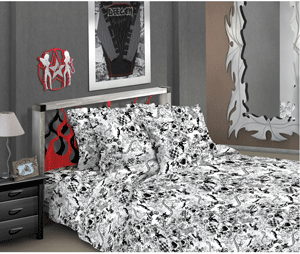 Drawings of dirtbikes are always popular and if you're a talented artist you may want to design some of your own dirtbike graphics.
When looking at arty pics of a funny dirtbike incident don't forget someone has drawn it, so why not you?
Also check out the motocross images & graphics on a dirtbike comforter - for instance; (which is an ideal present for any child), and it should get you thinking about your own talents.
---
Home | Dirt Bikes | Cheap Dirt Bikes | Accessories | Mini Dirt Bikes | Motocross Racing
Motocross Gear | Off Road Bikes | Used Dirt Bikes | Wholesale Dirt Bikes
Honda | Kawasaki | Suzuki | Yamaha