Honda Dirt Bikes
Honda Dirt Bikes | Honda Accessories | Honda for Sale | Honda Racing | Honda Motocross | Honda Used Bikes | Honda XR Bikes | Motocross Honda | New & Used Honda Motorbikes | Off Road Enduro's | Secondhand Honda Motorcycles | Vintage Honda Two-wheelers | Honda Small Engine Parts | Oem Honda Spares | Honda Motocross Small Engine Repairs | Used Honda Dirtbikes | Honda Dirtbike Parts | 2011 Honda MX Bikes | Honda ATV Parts |
Honda dirt bikes provide a bike for most types of rider, (no matter your training level) and are excellent value for money. Learn all about the current Honda range in this informative dirt bike guide.
What Are the Best Honda Bikes?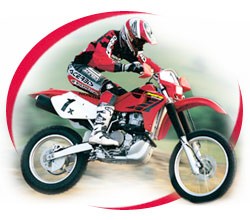 Honda has a long tradition of producing excellent dirt bikes, and their range has something for all levels of dirt bike enthusiast. Whether you are a beginner or a hardcore motocross enthusiast, Honda has some great bikes for competition and recreation.
Some of the customer preferences and Honda options are mentioned below:
Beginner Bikes
For the beginner, Honda has a couple of great bikes to choose from. If you want something really lightweight and easy to handle then the CRF50 and CRF70 are some of the best around and extremely inexpensive too. For those who want a little more power, they produce the CRF100F. This bike is a great beginner's bike and brilliant for cruising about all day long in the dirt. It is easy to control and relatively cheap – a perfect starting bike.
These bikes are comfortable to ride and despite their lack of power and basic design provide everything you need for an introduction into dirt biking. Once you're on the proper training schedule, you can put these bikes to the best use.
More Honda Power
If you are an experienced rider but still want something relatively light and easy to control, then the CRF450X is a good choice.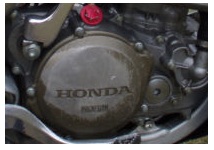 It is a stable 4 stroke bike with good power, but is fairly easy to control. However, if you want to try something with a little less ooommmpphh.. the CRF250R and CRF250X are good honda's. Although around 3 times the price of the 100F, they provide a good combination of power, weight and handling.
The 250X is the more extreme version, good for amateur competition and motocross tricks. They come loaded with features and technology, and can be used at high competition level.
Honda's bikes range from a few hundred dollars to several thousand dollars. Whether you are a beginner or an expert, Honda has bikes which are good value with excellent performance.
Although not the most powerful range of bikes around, the Honda range is reliable and for most riders there is a bike to suit your needs. An all new Honda bike comes in a stylish red and metal design, and will give you great value for your money.
The Honda motocross range consists of –
What Honda likes to call Trail bikes -

Honda Dirt Bikes and New Developments
Honda dirt bikes are serious about giving the best to customers and the yearly changes identify their best intentions. The MX competition increases as Yamaha, Suzuki and KTM put the pressure on to achieve the best. Even the Chinese market is grabbing a portion of the ordinary buyers since the bikes are far less expensive to buy and maintain. So what is happening in the last few years to Honda and motocross and what sort of changes are there?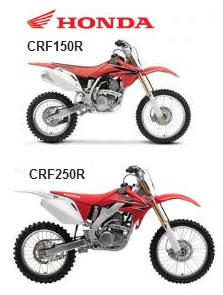 CRF150R
Hondas smallest motocrosser dirt bike, the CRF150, is available in two versions, R for Regular and B for the Expert version, built for the benefit of taller riders. The 2009 Expert model received a 17-inch rear and 19-inch front wheel to give taller riders a more comfortable ride, while the CRF150R kept its 14-inch rear and 16-inch front wheels. The Showa inverted forks and shock improved the stability. What took this bike so long to shine?
The weight and the change to starting a two-stroke and four-stroke, causing unwanted flooded engines as kids got used to the difference. The CRF150 is a great intermediary step to the power and feel of the big bikes prior to stepping up. The changes for 2012 include a new cam, piston and cylinder head. Small bumps are easier to handle with the CRF150's new suspension valving. Faster throttle response is due to the 'direct push' accelerator pump.
CRF250R
Aside from Honda red, the 2009 CRF250 offered black. Other changes to keep the bike competitive included a lighter engine, a new cylinder head to improve power between low and mid-range and internal transmission improvements for smoother shifting. In 2010, the more compact 249cc liquid-cooled engine demonstrated a strong single-cylinder 4-stroke engine. New plans repositioned the motor and provided better response to the fuel injection. Continuing to change provides the opportunity to improve or step back and regroup.
Cornering, speed and handling were good with the 2010 changes and 2012 is even better. People often think of the CRF250R first when picturing Honda dirt bikes and they will be surprised at the incredible changes. Changing the rear shock linkage gives better small bump handling. Improved steering, even during downhill riding and braking, improves safety and results. Did you expect other new equipment? How about a new camshaft, throttle body, airbox, intake boot, and cylinder head to provide the power that gets a rider to the podium?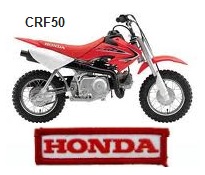 Dunlop MX51 tires provide exceptional performance when accelerating and great traction in the corners when it is needed most. The footpegs are longer and wider. The factory racing team developed a new lightweight progressive steering damper to lower the amount of rider fatigue while improving cornering ability.
Tribute to the CRF50
For more than forty years, Honda has built and improved on their entire MX line. The CRF50 is a reliable choice for new riders, featuring a 4-stroke engine and automatic clutch, providing new riders around the world with the opportunity to learn to ride and handle Honda dirt bikes until they are ready to step up to the next level. Online sites provide technical knowhow from MX fans, making maintenance less stressful to the new owner.
A Used honda dirt bike
The used honda dirt bike can offer quality and low-cost. You may need to do your own repairs so hunt down a good honda MX manual first. The honda dirtbike parts catalogue should be studied too, and when buying your honda's be sure you can be supplied from a local MX store. This should be a breeze normally, but if they don't stock a part you'll need to go online with all the data from your specific model of Honda motocross bike. So be sure you jot it all down correctly before you go surfing.
In addition, be sure to get all the best tips when it comes to selling your current bike. A good used Honda will get a lot of attention, and if your ad is well written you'll have buyers flocking to your door.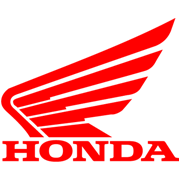 Honda Dirt Bikes
Who rides Honda dirt bikes? Well Ashley Fiolek does - she is a part of Honda's Red Bull Racing and twice Women's Motocross Association Champ. Ashley is completely deaf, thrilled to be a two-time WMX champion, she likes to mix it up with the men and just did a great MX-themed Red Bull commercial (below) filmed at Zaca Station (north of Los Angeles).
She is also the first deaf gold medalist at the X games, taking the gold in 2009. Ashley is quite excited about the upcoming X games and plans on participating.
Ashley Fiolek RedBull Commercial.
Honda's revamped four-stroke 2010 CRF250R closely resembles the CRF450R. The suspension, motor and new chassis are a result of the addition of Electronic Fuel Injection (EFI). It's those upgrades that handle the power.
It's no surprise to know that Honda is constantly upgrading its models, which is excellent for buyers of new bikes - but of course that filters down over the years to the used motocross bikes - and its win-win for those bargain buyers too.
Honda dirt bikes for sale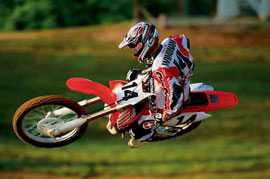 Be cautious about a fairly new bike that has been totally rebuilt. Granted there are Tim 'The Toolman' Taylors in every industry anxious to add more power.
It's just odd to have a specialty engine built and then decide to sell. It seems people want to keep their Hondas in most cases.
It is sometimes a lengthy search to find "good" used Honda MX bikes - but well worth the climb – once you own one.
Do you have a brilliant Honda Motocrosser?
Do you have a great story about your bike? Share it!
What Other Visitors Have Said
Click below to see contributions from other visitors to this page...

CRF 150 RB 2009 limited / Blck and white Not rated yet
We ride very tight trails with constant changing ground conditions and always seem to spin the tires on the rimsfrom braking hard as we average 50 - 60 …
Home | Dirt Bikes | Cheap Dirt Bikes | Accessories | Mini Dirt Bikes | Motocross Racing
Motocross Gear | Off Road Bikes | Used Dirt Bikes | Wholesale Dirt Bikes
Honda | Kawasaki | Suzuki | Yamaha