Used Dirt Bikes
Used Dirt Bikes | 125cc Offroad MX Bikes | Used 125cc Motocross Bikes | Cheap Used Motorcycles | Pre-Owned Honda Pitbikes | Second Hand Suzuki Rides | Loved Yamaha Motorbikes | Used Dirtbike Parts | 2-Stroke Dirt Bikes | 4-Stroke Dirt Bikes | Buying ATV's |
Pre-loved dirt bikes are an excellent purchase for the new enthusiast. Whether you've been riding for years and are looking for a good deal to fix up or are just beginning and want to start your new hobby on a budget, buying second hand can be the right solution for you.
In addition, never underestimate how important your fitness is when it comes to enjoying your riding experience.
Used Bikes Offer All of the Fun at an Affordable Price


Used dirtbikes are a great idea for both the new and the seasoned rider. Newer bikes can be extremely costly and often a great deal can be had on a very good ride. What other perks are there to buying used? Where can I find such great deals?
The Perks to Buying Used
Many seasoned riders can benefit from buying used, simply because they are saving on cost. A knowledgeable rider can gauge the dependability and quality of a used bike, so the savings on price can be a great incentive. Many riders like an extra bike to take out on trails or just to fool around with, and there are fabulous deals out there if you know what you're looking for and where to find it.
For the new rider a brand new bike can be a mistake. First, before spending the premium price involved with a brand new model, you want to make sure this isn't some fly by night interest that you will tire of quickly. You won't recoup the price of a new bike by reselling it, though used dirtbikes don't depreciate by much, if at all. The other perk for the beginner is that a used bike will often need some maintenance over time and this is a great way to really learn your way around the bike before investing in a more impressive purchase.
Where Do I Look for a Good Deal?
There are a number of places to look for a good used dirt bikes model. First, educate yourself as to the type of bike, make and model that would be better suited for your needs.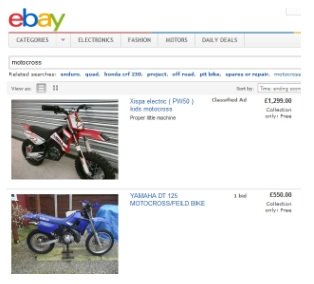 Once you know what you're looking for the search is much easier. If you're a new rider, it's best to do your research ahead of time and even better if you can get a seasoned or knowledgeable rider to help you.
Your local motorcycle shop will often have a bulletin board or literature offering biking information. Online riding boards are another area where you'll find good information on everything from purchasing to learning to ride.
There are always listings in the classified sections of local papers and motorcycle magazines. Another good place to search is online, through message boards, craigslist.com, and even eBay; here you can find reasonable prices for excellent bikes.
Some very cheap used dirtbikes should be approached with caution. Lots of used dirt bike sales give excellent value, but there are con-men around. So for example used suzuki dirt bikes are great value but if they seem over-cheap, be wary. Check out the varied used adverts and read-up on your chosen model for finding the perfect bike.
The perils of Used Dirt Bikes
Buying used dirtbikes may seem cheaper than purchasing a new ride but if you do not know what to look for, it could end up costing you much more than you ever wanted to spend. For starters, a bike that has every upgrade, a custom paint job and top of the line parts may look flashy enough to make heads turn but did the owner actually spend any money on regular maintenance.
It is important to look beneath the surface to find the small details that are going to tell you the bike's true condition, allowing you to make a smart purchase.
Piece by Piece
The easiest thing to look at may be the paint job, provided the seller did not recently repaint the bike, as the amount of chips, scratches and peeling can tell you how often the current owner rides and how hard.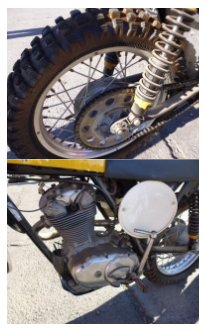 Next, you should look at the wheels to determine their condition, as well as that of the bearings, shocks and wheel frame. Lift the front wheel off the ground, spin it, listening for squeaks or grinding, then try to move it side to side, a task you should be unable to perform.
Do the same thing with the back wheel, being sure to also push down to check the shocks, which you know are good if the wheel does not shoot up quickly.
Checking the brakes is another important thing to do when looking to buy used dirt bikes, as is inspecting the fork legs and fluids. Any play with the fork legs means new bearings and a seal while dried up fluids on adjacent parts are tell tale signs of current damage.
You also need to look for damage to the triple clamp or tab on the front wheel frame, as this could mean the bike was in a bad crash. Checking out the links, chains, engine and transmission is also obviously important, as issues here can cost you a lot more money so be sure to know what you are looking at, ensuring you get the best bike for your dollar.
Why used dirt bikes ?
Racing on various soil types on your new KTM or Honda is fun, but you can be counting the cost buying brand new bikes. Some newbies learning the ropes on good tracks, can be ruff on their offroad bikes without meaning to be - then crunch - an expensive repair is now on your shoulders.
So when you find your first teacher try a used dirt bike first. It will still race on different types of circuit and you'll have many crashes for sure – but it won't cost you the earth to get back on your motorbike and ride within days.
Come with us to see what the websites are selling in regards to solid used dirt bikes.
Preloved.co.uk has lots of vehicles, from 50cc FMX motos to the bigger motocross bikes on the market. We enjoyed looking at an Mx80 Field cycle, which was being sold as a spares and repairs project for £150. The engine was running but it did need a kickstart chain. A bike such as this must be inspected well, as you will need a number of parts to get it back on the circuit - and is it a bike you CAN get parts for? Always have that thought in your mind.
Also on preloved, are wanted ads. Yes – we found an experienced rider wanting a good used bike; looking to spend around $500. They wanted a cheap pitbike that would ride the tracks and he wasn't bothered if some repair was needed. He was also open to various models as well – a great way to offload that motorbike that's gathering dust in your garage.
You could also enter the many supercross competitions on the web to win a free motorcycle. Rub a four leaf clover and get that application in.
Adoos.co.uk was our next stop on our search for bike ads. Turning up a non-branded 110cc dirt bike for £200, with only 9hrs use. Obviously in tip top condition - that's atomic value. But a lot of questions still need to be asked of course, - why so cheap? And what work needs completing to get this ride back into running order. etc. etc.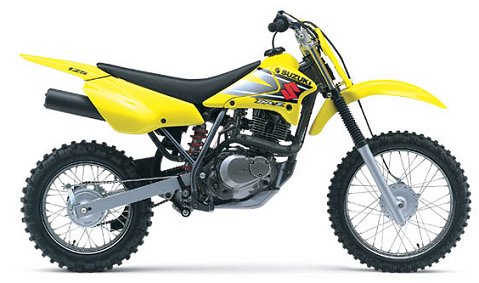 Gumtree.com can turn up a few dependable motorcycles easily. Like a Chinese 49cc dirt bike priced at £120. The photos were adequate, but description of the bike was all too brief. Gumtree has such an excellent local search its worth a quick look; as are the free adverts on ebay too.
Used dirt bike sales
Don't forget mxchange.co.uk for some superb motocroser rides. We looked over a Yamaha YZ 125 selling for £1095. It came with an FMF power core 2 back exhaust, Pro Taper Fatbars and an FMF gold series STS front exhaust. Plus the quality of used Yamahas are renowned for any type of trail.
Here are some free youtube hints and tips for getting your used motocross ride without to many issues later on. Do your work now, to save pain in the future.
How to Inspect a Used Dirt Bike
Checking Tire Pressure, Brakes & Chains on Motorcycles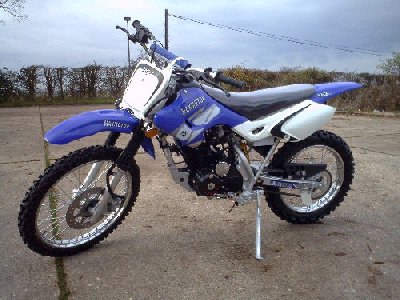 When you buy a used mx bike, you'll have much more money left over to spend on your gear and your training.
---
Home | Dirt Bikes | Cheap Dirt Bikes | Accessories | Mini Dirt Bikes | Motocross Racing
Motocross Gear | Off Road Bikes | Used Dirt Bikes | Wholesale Dirt Bikes
Honda | Kawasaki | Suzuki | Yamaha