Dirtbike videos on youtube
Dirtbike Videos on Youtube | Gokarts Videos | Mini Bikes on Youtube | Off Road Motorcycle Vids |
Hello and welcome to our dirtbike videos on youtube page.
Putting YOUR Dirtbike Videos on You-Tube.
Presenting your own online motocross movies and free online dirt bike advice.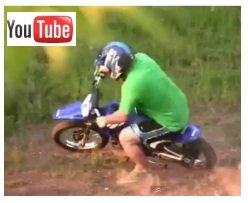 Dirt bike videos on YouTube are of course very popular. A quick search will not only pull up thousands of different videos, but you'll find videos with millions and millions of views.
For a rider or enthusiast, that offers you a great opportunity to share something with the world, whether it's your great new bike, the spectacular trick you pulled off, or even a terrible crash or funny blooper. Here's a quick guide to putting dirtbike videos on YouTube.
The first thing you'll want to remember is to make a video that is actually worthwhile, something that people are going to want to watch. You just riding around a track and not doing anything in particular isn't going to be very noteworthy or intriguing.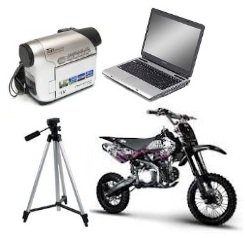 So be sure to make your video something that you yourself want to watch, or look up and try to find.
This can be anything as long as it's unique, fun or entertaining. If you have a bad crash or spill, that can pull in a lot of viewers. If you have an awesome new bike and want to show what it can do, or do a personal review, that can also be worthwhile.
Completing unique tricks or stunts, filming other competitions and more could all be good videos that people will want to watch.
When you make dirtbike videos on YouTube, you don't need lots of expensive equipment. Cheap stuff that you already have on hand can be used, as long as the quality is decent. A good digital camera which also records video can be set up on a tripod to record, or can be held by one of your friends. Or a digital video camera can also be used, and will probably offer superior quality.
Getting known - dirt bike junky
A ticket to video clip motocross fame !
What can be really fun is if you have a helmet camera you set up so people can see what you see from your own perspective. Or you can set up multiple cameras throughout a course or a stunt you're setting up, and then you can splice together different views with your video.
There are a lot of things you can do, but don't be intimidated or think you need top of the line equipment. With decent lighting and a decent camera, you can get a lot done.
Finally, remember that you need people to be able to find your video. So make the title something really fun or unique that will stand out and bring people in, but also make sure it includes keywords so people can look it up.
Then also be sure to add a good description and good tags to the video, so more people can find it that way. Share it with your friends on Facebook and get them to do the same, and maybe even place the link on some bookmarking sites or motocross forums to get the word out.
By now, you should have everything you need to get started with putting dirtbike videos on YouTube. Remember, people won't watch your video just because it's there. Make sure it's something interesting, and then do what you can to make it easy to find so lots of people can see it right away. If you get lucky, you might just be the next YouTube viral sensation.
Thats how you get dirtbike videos on YouTube.
Here are some interesting and amusing videos from youtube on the subject of dirt bikes.
Click on the play option to start the video. Feel free to send this link to your friends so they can see these videos too. Have a good look at all of them and see what you think, they certainly made sure we'll wear helmets on our bikes!
Have fun, Dirtbikefix.com
GoPro HD: Steel City Lucas Oil AMA Motocross 2011 .
Motocross Crashes 2005.
Freestyle Motocross Houston.
YOUR Bike crash dirt - vids
Picture and Sound quality is important too on the MX video you upload; so take time in getting this right. If your cameras not up to the job, but you have a real cool idea - hire a camera for the day.
Video editing software, can be got fairly cheaply these days, and adds a professional touch to your final motocross movie. And when you label your YouTube video call it something like "awesome pitbike jump in Kansas" not "00ee45 file/x9900" – who'd be looking for that!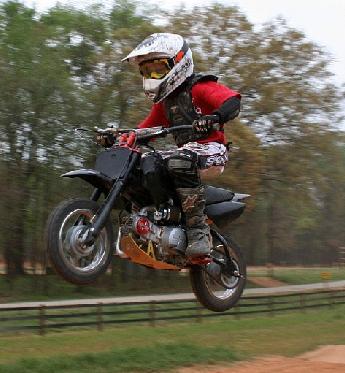 Home | Dirt Bikes | Cheap Dirt Bikes | Accessories | Mini Dirt Bikes | Motocross Racing
Motocross Gear | Off Road Bikes | Used Dirt Bikes | Wholesale Dirt Bikes
Honda | Kawasaki | Suzuki | Yamaha