KTM dirt bikes
KTM dirt bikes - Here comes the orange peril!
| American KTM's | Husaberg Dirt Bikes | 2011 KTM Motocross Bikes | KTM Enduro |
Ktm dirt bikes are highly regarded pieces of machinery and world famous.
Their tough and durable frames and plentiful parts make them ideal for dirt and dust tracks in any part of the world.
The fans love to see the ktm bikes and even more novice riders can produce great races and jumps on them. Of course the professional biker, who takes their training as seriously as their equipment, will use the ktm bike to its optimum capacity and they can certainly compete with more famous brands like Honda, and the more popular Yamaha models.
A ktm bike for pure dirt riding is a superb buy and if you're thinking of getting one you can't go too far wrong than a ktm. Are you wanting a ktm off road biking experience with cool looks knowing you have a bike underneath you that'll take all that nature throws at it?
Well ktm racing dirt bikes have certainly made a name for themselves. Among the famous scrambler and pit bike models such as Honda and Yamaha is KTM. ATV forums rave about them, carrying the famous orange and black stickers - ktm dirt bikes stand out from the crowd.
A ktm motorbike should last you a long time, as the endurance engineering within all the ktm models is strong and precision made, including purpose built tires for plenty of grip when you need it.
We headed over to ktm.com, which is the ktm motocross bikes homepage and includes sections for brushing up on racing info, standings, results and news. Plenty of cool KTM pictures greet you on arrival including the new ktm dirtbike range.
We'll break the ranges down for you - and we look firstly at the offroad competition bikes, such as the KTM 125 SX. This ride has a Single cylinder, 2-stroke engine, with a 124.8 cubic capacity weighing in at 90.8 kg.
Other bikes in this range are the following :-
150sx - 143.6 cc – with a Single cylinder 2-stroke engine.
250sx - 249 cc - with a Single cylinder 2-stroke engine.
250sx-f - 248.6 cc - with a Single cylinder 4-stroke engine.
450sx-f - 449.3 cc - with a Single cylinder 4-stroke engine.

The KTM dirt bike ranges
Does "EXC" stand for exciting??
The next KTM range comes under the heading of the "EXC" model series.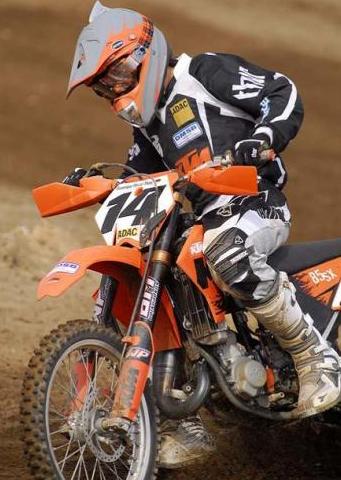 From the KTM 125cc "exc" bikes which have a Single cylinder, 2-stroke 124.8 cc engine to the ktm 950 super enduro r which offers a Single cylinder, 4-stroke 654 cc motor all are built to the highest standards - this gives KTM its reputation.
Now if you want something smaller then the ktm sportmini cycle might be ideal. Built for the youth rider initially, but equally good for adult bikers that prefer a more compact n' fun KTM "style" pitbike.
This ktm dirt bikes range includes :-
The ktm 50cc SX has a Single cylinder, 2-stroke 49 cc motor, right up to the 85 SX 19/16 which has a Single cylinder, 2-stroke 84.9 cc engine.
And if small ktm dirt bikes are not your bag, what about KTM atv quads....this range offers..........
The 450 XC ATV has a Single cylinder, 4-stroke liquid cooled engine pumping out 447.92 cc's of power. Where as the 505 SX ATV has the same style engine but with a 477 cubic capacity. Don't forget to sign up for the newsletter as well before you leave the website.
Certainly in the new popularity stakes the ktm 690 enduro r and the ktm 690 enduro, could be making headlines in the future. The website has sufficient info, but if you require help on buying an electric ktm or buying a ktm 690 enduro for sale you're best contacting the dealerships direct.
Used ktm dirtbikes offer better value, as used motorbikes always make your cash go further. Try using Bike-exchange.com for digging out used ktm 690 enduros, ktm lc4 640's and other rarities even a 1975 ktm hare scrambler might be on sale! - you never know.
Free Forums are often best for KTM reviews and opinions. Mxchange.co.uk may also prove useful for finding used ktm 950r's or preloved 505 sx-f's. Slyfoxmx.com and perhaps gumtree.com should be fine for picking up cheap ktm clothing and second hand motocross spares too.
Keep checking the ktm range over the year, as the ktm 950 super enduro and the ktm 690 enduro begin to make their mark on the dirt tracks. The ktm 950 super enduro is sure to do well with adult riders - but don't forget those used classifieds for bargain motocross bikes and inexpensive accessories like dirtbike shrouds and tires.
KTM motocross bikes – brilliant machines.
The ktm dirt bike is a brilliant machine - no mistake, and if you see KTM used bikes at good prices - that's even better for cost savings. KTM Dirt bikes are widely acknowledged as some of the best bikes around and when buying; double check everything throughout the selling process. KTM's are not often THAT cheap – so buying on the edge of caution is always a good idea.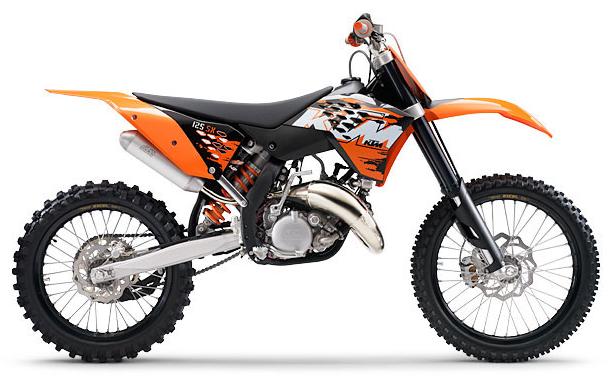 Have A Great Story About Your KTM Motocrosser?
Do you own a KTM Dirt Bike? Share your thoughts!
Home | Dirt Bikes | Cheap Dirt Bikes | Accessories | Mini Dirt Bikes | Motocross Racing
Motocross Gear | Off Road Bikes | Used Dirt Bikes | Wholesale Dirt Bikes
Honda | Kawasaki | Suzuki | Yamaha