Kawasaki Dirt Bikes
Kawasaki dirt bikes | Kawasaki 125 | Kawasaki 65cc | Kawasaki's for Sale | Used Kawasaki Bikes | KX Kawasaki Bikes | Trial Motorbikes | Second Hand 125cc Kawa Pitbikes | Preloved Kawasaki Motorcycles | Old Kawasaki Classics | Kawasaki Offroad Motorcycles | Kawasaki Pit Bike Parts | Used Kawasaki Buying Tips | The Kawasaki Dirtbike | 2011 Kawasaki Motocross Bikes | Kawasaki ATV Parts |
Kawasaki dirt bikes offer a great range of high-performance bikes for all types of rider, from low range dirt bikes to top-end performance and dual purpose motorbikes.

When you combine optimal equipment with optimal endurance and stamina, you're on your way to a great riding experience.
Get Japanese Quality With Kawasaki Dirt Bikes
Although perhaps better known for its excellent sport motorcycle range, including the Kawasaki Ninja, there are also some other great dirt bikes on offer.
The current range is built with the same Japanese quality evident in their sport bikes range, and has something for both the beginner and high level motocross and dirt bike rider. Here is a brief guide to the Kawasaki dirt bike range and its features.
100 Series Bikes
For the bikers who want a lightweight machine that is easy to control, pick a bike from the Kawasaki 100 series. In this series of off-road and motocross bikes there are the KX100 and the KLX110. These bikes have small engines of around 100-110cc and are light. They are easy to handle for beginners and fairly cheap for what you get.
Despite their small amount of power, they are nimble and quick and can still be used for racing in certain circumstances. If you want a bike that you can handle as a beginner but will still have the performance to help you move into basic competition then these dirt bikes from Kawasaki are the ones you should go for.
If you've found that you've already purchased the wrong bike for you, here is how to sell it before you move on to the best bike for your needs.
400 Series Bikes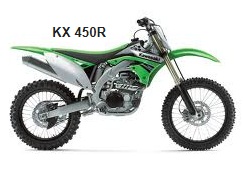 If you want more power and performance, go for something in the 400cc range from Kawasaki. The best of this type is probably the KX450F, which has awesome power and acceleration for high-end professional motocross and dirt bike competition.
If you want a recent classic, then the KX450R might be just what you're needing. This bike has even better performance than the 450F and has an ultra-powerful 449-cc liquid cooled 4 stroke engine.
Dual Purpose
If you are someone who only uses a bike for occassional off-road purposes, then Kawasaki's dual purpose bikes are the answer. Kawasaki produces a 250cc and a massive 651cc dual purpose bike for people who want to ride on the road and the dirt whenever they like.
Although these bikes don't have the same performance for off-road competition as dedicated dirt bikes, they are more comfortable and also great for road use. If you want a mix of the performance of Kawasaki dirt bikes and the technology of Kawasaki road bikes, then dual purpose bikes are for you.
Current Kawasaki bikes for motocross use are -
Off road
Dual purpose
Dirt bike kawasaki value
The kawasaki is a brilliant bike. Even a kawasaki old dirt bike, gives incredible value IF you get a good one. Parts too are numerous and easy to find, though do be sure your kawasaki part store does have them "in supply" or contact the manufacturers direct.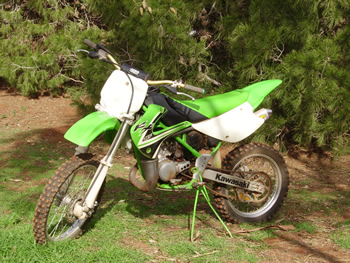 It could be a 125cc kawasaki or a simple used 85cc for sale you're seeking for some backyard fun. The older used kawasaki's certainly save your pocket a whole heap of cash.
You don't have to keep it a motocross dream anymore, have the real branded thing with a cool set of kawa graphics to go with it. (A GOOD Kawasaki Dirt Bike can deliver all your dreams).
Used kawasaki motocross bikes within those "for sale adverts", REALLY DO give you MORE for your cash. Non competition dirt bikes - like the kawasaki KX65 are there for the picking - all the way up to more powerful 250cc bikes ready for the buying, an' just waiting for a future dirt bike champ to buy them.
Ok, so where do you go for old used dirtbike models, and Kawasaki bargains? Here are a few big online websites to get scrambling to.............
Bike-exchange.com, always has a great number of 125cc motocross bikes and dirt jumping bikes of all shapes and sizes. We discovered a Kawasaki KX 250, which has had a ton of money spent on it. $2000 Dollars would get it, the picture told of a well loved machine, plus Scott handgrips and a FMF powercore2 exhaust was all included in the final price. While browsing we also found a Kawasaki KLX 125 for $1600. Only 10 hours use, and never been jumped or wheelied. This could be an ideal raceing offroader - plus you save the $3000, that was paid for this bike when the owner shelled out for it new.
Another place where Kawasaki Dirt Bikes are offered "used", is mxchange.co.uk. They have a number of online classifieds for 125 cc Kawasaki Dirt Bikes, older 1990's - 2006 dirtbikes and even those rare 140 kawasaki adverts! But we only looked at a handful for some personal giant motocross bargains.

A Kawasaki KXF 250F 2007 model was first, at £1500 - it had new filters, new plastics, a motocross spares kit and had only been raced for the last 2 seasons. Or you might want to go for a Kawasaki KXF 250F 2006 model, coming in at a cheaper £1300.
All serviced with new plastics and in tip-top condition. Their dirt bikes should give you a real thrill, in your bargain hunting. Do seek out ebay too for obscure items like 1998 kawasaki graphics kits and smaller widgets that are difficult to track down for pre-owned kawas.
A Kawasaki old dirt bike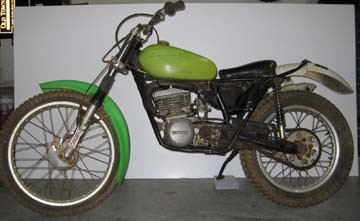 Should you be thinking of going down the vintage route and buying a really old Kawasaki motocross bike – you need to know your stuff.
After your initial research its vital to be realistic about the amount of time you're going to need to bring this relic back from the dead. If it needs a lot of work – sure you can get someone to help – if you're going to lavish lots of cash on the project. Otherwise be realistic and buy a bike that requires some fettling – but is do-able for a weekend Kawasaki mechanic.
Be aware to of things like motocross lessons from a dirtbike training school – and Kawasaki motocross event insurance – if your good enough for shows. It all adds to your costs – which is why it's important to have cost savings right at the beginning of your Kawasaki Dirt Bikes odyssey. Once you've found the right bike, then get to work on your training.
Do you love your Kawasaki Off Road Bike?
Do you have a great story about your Kawasaki? If so Share it!
---
Home | Dirt Bikes | Cheap Dirt Bikes | Accessories | Mini Dirt Bikes | Motocross Racing
Motocross Gear | Off Road Bikes | Used Dirt Bikes | Wholesale Dirt Bikes
Honda | Kawasaki | Suzuki | Yamaha