About us, in the MX backroom.
About us - a quick story......
Hi and welcome to our "about us" page…….
I'm nick and I started the dirtbikefix.com website in January 2007, mainly for something to do – and a way to earn some extra cash.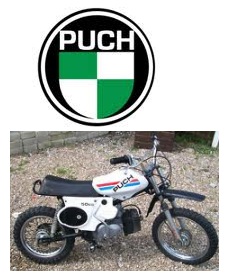 I built this website using SBI and if you haven't heard of SBI and your wanting to create a website about anything at all – you should really take a look.
It takes all the grind out of building a great site, and a lot of the technical hassle, and lets you get on with building a business about a subject you love. And that can be anything from ant-farms to battleships.
But hey back to bikes – I got interested in bikes when my brother got a Honda monkey bike in 1978, and I got a go-kart…(not the most logical start)…..then we got one of those white kids PUCH bikes. – a bit like the one in the picture here.
Yeah we thought we looked cool – until one day we found one (just the same) – attached by a pole, to a cheesy fairground roundabout, along with giant caterpillars and hobby horses!.....lol…. IT Didn't feel so cool then…..
Also my brother's friend got in on the act, by fixing up his dads HUGE adult sized – gold BMW motorbike and going off-road on some disused ground – even though his feet could barely touch the ground when he sat on it – (yep me n' my brother had to hold it upright while he got on it) - he was about 5ft tall - and the bike was as high as him - still you have to admire his courage!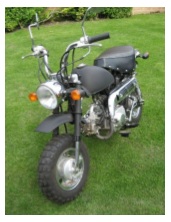 So what about us?
Anyways both me and my brother have always been interested in off road bikes, recently re-invigorated with the huge interest in FMX and who can fail to be impressed with the stunts and tricks those mad riders do?....nobody right.
So this site expresses some of the passion we have about us, and even better thanks to updates in the Solo Build It website system anyone can now contribute articles and pictures to the website – how cool.
Of course thanks to our friend Google we can only accept articles of 300 words or more, or it really hurts our site. Also by the same token we try and verify any pictures sent to us are not infringing any copyright with anyone else – but this can be hard to do – so if you think any image may be doing so – contact us before you make a complaint. You'll find we don't bite……and are very helpful putting things right.
We hope you enjoy the new pages and information going up regularly, at dirtbikefix.com and feel free to add your own pics and articles, you're most welcome to do so. If there's anything we haven't covered, (and you'd like us to)- then drop us a line, maybe even write your own article and we'll publish it – if it meets all the above criteria.
And if you do consider building your own website, try out Solo Build It too.
Thank you for visiting our site, and we hope you enjoy reading our articles and free dirt bike information - its not all about us y'know so do add your own comments.
See ya' later dirt bike fixers – we look forward to your submissions.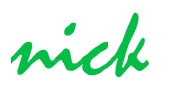 ---
Home | Dirt Bikes | Cheap Dirt Bikes | Accessories | Mini Dirt Bikes | Motocross Racing
Motocross Gear | Off Road Bikes | Used Dirt Bikes | Wholesale Dirt Bikes
Honda | Kawasaki | Suzuki | Yamaha