125 pit bikes
The fun of 125cc pitbikes.
Getting 125 pit bikes, isnt a hard task but it is a precarious one. For instance cheap pit bikes, are not normally that cheap and if you see one very inexpensive ask yourself why?
Is the bikes engine running or could the seller be hiding something from you? In worst cases it could even be stolen.
Marvellous 125cc Pit Bikes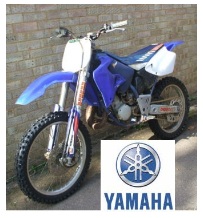 Looking at 125 pit bikes can be a great deal of fun but an awesome, almost overwhelming job when you're ready to purchase. At first appearance, they all look great but you'll probably fall in love with the Yamaha YZ125 or another great bike, the Kawasaki KX125. These are both great for riding and racing.
The Yamaha YZ125 corners easily and because it's a two stroke, requires you to pay close attention to your gear selection. The Yamaha YZ125 has a liquid cooled 2-stroke engine, six speed transmission and disc brakes.
The lightweight 208-pound body has a nice open mid section that makes it comfortable for those as tall as six foot or slightly taller. The bike takes corners with ease and provides a great training bike for someone wanting the experience but not ready to fork over the cash for a larger bike.
The Kawasaki KX125 made some major changes in 2004 and 2005 that made the bike more competitive and one of the best selections for 125 pit bikes. They changed the design of the bike that made it more comfortable and less cramped for the rider. This improved the rider's ability to corner.
For the beginning rider the bottom-end and mid power is great but those looking for massive high-end power will find that the Yamaha YZ is slightly better. The changes in the Kawasaki also made flat end corners far easier and gives the rider a lot more confidence than the older models did.
Advantages of 125cc engines.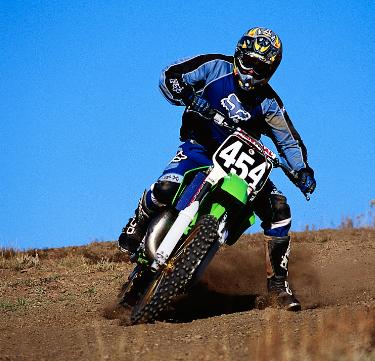 Are the 125 pit bikes once what they were? If you look at many dirt bike riding books and popular dirt bike magazines, it seems the 250cc bikes are the dominant force.
But there are advantages in dirt bike racing with cheap 125 dirt bikes. Cheap to buy certainly; and less complex. If you have a major fault with a 250cc, and try to sort out the complex valve and cam configurations, this can leave you with a massive headache.
Lighter riders too benefit from a dirt bike 125 cc, plus you don't have to be as skilled as these bikes give you time to avoid a dirt bike crash (mostly). But they don't have so little power that you find each jump wondering if you'll manage to reach the other end.
Cheap pit bikes
Ok so what's available, well you can check out the tons of online dirt bike stores, or seek out the fantastic used 125 kawasaki dirt bike adverts. But what is good in this 125cc class?
Well we think there are 2 outstanding models the Yamaha YZ125, a superb bike with balanced power to weight ratios, that make this fine handling bike a riders dream.
Also there is the KTM 125, this 125 dirt bike for sale has a solid and reliable engine that soaks up the brutal tracks and has a huge amount of grip. For the money it's an ideal bike for the pit rider that likes to do his own oily bits after the race. (And yep - we forgot the Kawasaki KX125, which too is an amazing bike).
These bikes don't have the complexity of the 250cc's and a 125 dirt bike for sale at an online store is a brilliant beginner's entry into the world of motocross.
125 Pit bikes are vastly under-rated, but glorious fun for the rest of us with tight budgets.
Orion pit bikes ?
So when checking the classifieds on orion pit bikes for instance do a thorough check of all the information given. Is something obvious missed from the description?
Is the picture in the advert a 110cc pit bike model? not EVEN a 125cc? – it could be a genuine mistake, but be vigilant it's your money after all. Don't skim going over an online advert no matter how genuine it may first appear.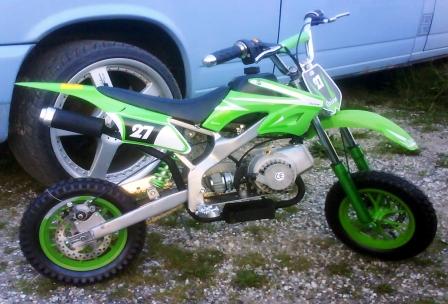 ---
Home | Dirt Bikes | Cheap Dirt Bikes | Accessories | Mini Dirt Bikes | Motocross Racing
Motocross Gear | Off Road Bikes | Used Dirt Bikes | Wholesale Dirt Bikes
Honda | Kawasaki | Suzuki | Yamaha