2 Stroke dirt bike models.
Engine Power that's easier to handle.
The 2 stroke dirt bike is a great machine to have. All the main manufacturers have numerous motocross bikes with two stroke engines that enthusiasts love.
Back to the Basics with a 2 Stroke MX Bike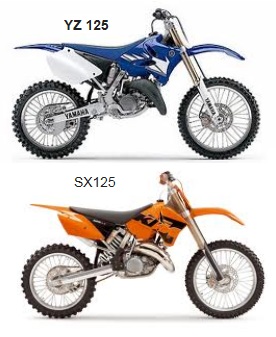 When kids think of learning to ride a dirt bike, it is natural to want the big 4-stroke like their heroes have. Parents have to be quick to point out that learning tricks on a 2 Stroke dirt bike is easier and safer.
When you know the kid is going to be responsible and do well, there is no problem promising a 4 stroke dirt bike down the road. The 2005 YZ 125cc 2 Stroke dirt bike did a major upgrade from 2004 resulting in a commendable power performance bike even though the motor got smaller. The loss of a few pounds with that change helps on that score.
On the other hand, the KTM 125cc 2 Stroke dirt bike frame changed in 2005 because the engineers found the 2004 frame twisted under a load. Moving the upper shock mount in eliminated the rubbing problem with the rider's boot and changing the tubes and forks seriously reduced the twisting damage.
Smooth action and better performance earned more fans for KTM. There are going to be times no one wants to see change and the best thing about these are the safety factors. It is definitely hard to argue with that, especially when the result is better performance.
All the name brand companies want to continue production of the smaller 2 stroke dirt bike because riders stay with a brand they trust and fans imitate their favorite riders by choosing the name they ride. Economics and technology fall into the picture as companies look to the future and try to determine their past path. Nations like Korea and China continue to deliver thousands of inexpensive bikes, leaving the big-name brands with the decision to continue production of both or concentrate on the larger 4 stroke models.
Tried and tested.
The two stroke engine is a tried and tested power unit and ideal for the rugged terrain it will encounter. Ideally go for well known brands of bikes, but you may find that some of the discount models offer superb engines now. Whatever the engine, look after it well and don't abuse it.
Who likes the poor old 2 stroke dirt bike? Some riders can be dismissive of them as child bikes or lacking the sophistication of the 4-strokes.
Also a number of riders didn't like the older Honda 2-strokes, the 125 and 250 seemed underpowered and slow. However China has not been slow to develop them.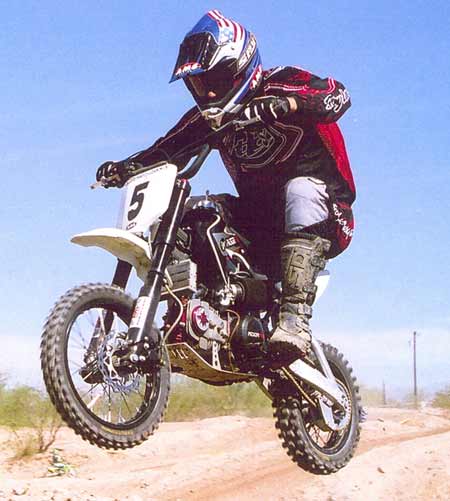 Buy used Two-strokes
True they are noisier than the 4-strokes, but with light models from china and the Kawasaki KX 100 they are far from dead.
The smaller lighter 2 stroke models from china, have seen a resurgence for riders wanting more dirtbike for their money. Yes they don't have the Japanese brand name, and a number are badly made - sadly tarring the rest with the same brush. But there are "some" good Chinese MX bikes out there- and getting slowly better.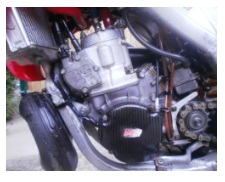 Also be aware too that the HONDA CR 250R 2 stroke is now becoming a rare dirtbike. So should you see one for sale, they are to be snapped up for the investor.
What has really put the 2-stroke back on the map is KTM. Their latest bikes the - KTM 150 SX 2T and the KTM 250 SX which are all amazingly fast 2-stroke bikes.
With lightweight, strong frames alongside the reliability of the KTM brand. Inventive – and low cost maintenance can only be a winner with so many dirt bikers. So if you want a two stroke dirtbike, go ahead and drink in the choice that's out there, and go with quality when you can afford it.
So are they kid's dirt bikes? well kids can ride them -sure, but we think they offer some cheap bargains and combined with dirt bike graphics kits and plentiful motocross spares a dirt bike 2-stroke are great little bikes for kids and adults alike.
If it's a mini dirt bike, pitbike or just a cheap dirt bike that offers you this value for money - can you really say no to a two-stroke?
Cheap kids dirt bikes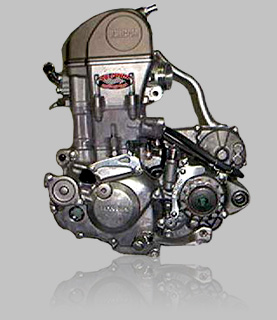 A used 2-stroke dirt bike motor can be a great bike engine, as long as you're sure it has not been ridden too hard. Not easy to tell just by looking is it?
For instance cheap kids dirt bikes (& adult bikes), can be bought so inexpensively today but you STILL need to know condition is good.
Any 2 stroke motocross bike needs to be inspected and two stroke dirtbikes do need to be test rode; to check for both engine noise and feel of the ride overall.
A 1982 yamaha 80 2 stroke dirtbike has fans worldwide; but it's unlikely you'll get the chance to own one. Which says something about vintage two-strokes; they are very much valued by those that ride them.
So keep an open mind and a bargain is sure to follow – whatever the year or brand you go for. The 2 stroke dirt bike has a very dedicated following - are you a follower?
---
Home | Dirt Bikes | Cheap Dirt Bikes | Accessories | Mini Dirt Bikes | Motocross Racing
Motocross Gear | Off Road Bikes | Used Dirt Bikes | Wholesale Dirt Bikes
Honda | Kawasaki | Suzuki | Yamaha