2 stroke motocross bikes
Two stroke dirt bikes – dead?
2 stroke motocross bikes - are they the only affordable bikes?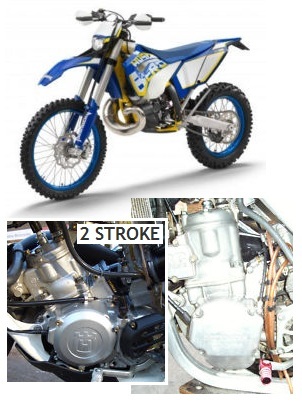 It is hard to believe it has been nearly two and a half years since 2 stroke motorcross bikes started losing the war to 4 stroke motocross bikes.
One moment the great sound of an mx bike was sounding across the open range and the next larger and more expensive bikes began to take its place. It was not so much that the two stroke motorcross bikes had been around for too long, although they have been a sporting bike for years.
The death knoll started sounding when veteran riders with a lot of experience under their belts found out new technology on the 4 stroke machine gave them the opportunity to beat the 2 stroke when they added their technique.
Fortunately, two-stroke motorcross bikes are still popular. Their best features, such as being light and fast, have enabled them to remain competitive and hold their own on the track.
They are ideal for most motocross riders because they are easier and less expensive to repair than the 4 stroke motocross bike.
Major manufacturers such as Kawasaki, KTM and Yamaha had the best of both worlds as they designed and produced new technology in a larger bike while continuing to make the 2 stroke that more riders could afford and fix themselves, if needed.
Riders began noticing that updates and upgrades to 2 stroke motocross bikes were as rare as hen's teeth.
The larger bikes got the attention and as they got approval on the track and began showing up the 2 stroke, companies like Honda offered 4 stroke contracts to riders so more people would identify with the larger bike.
Ricky Carmichael and two stroke motorcross bikes were bound by permanent glue for years, but he went to Honda and rode their CRF450R in 2004. Suzuki gave him a contract for the following season and he chose to return to riding a 2 stroke RM250.
2-stroke MX motos deserve a chance.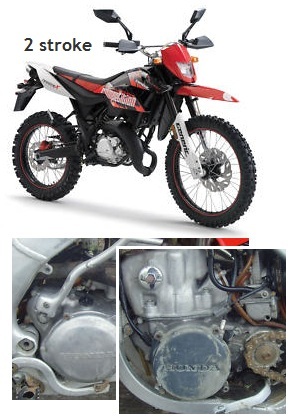 What happened to make the manufacturers decide to push a bike that usually needed repair in the shop rather than at home in the garage, with continuous upgrades to correct experimental changes?
The motorcycle industry got greedy. Selling an expensive bike with high costs for parts, upkeep and labor is more about the profit manufacturers contemplate rather than the snobbery some believe is behind the challenge against two stroke motorcross bikes.
It is doubtful the intention is to keep the riffraff out of the sport.
For some reason, the big bike companies missed the message that North America is suffering from the same financial problems the rest of the world sees.
Suzuki makes 2 stroke motocross bikes like the RM125 and RM 250, although it does not import them to the United States. Yamaha, KTM, and Husqvarna still produce 2 stroke motocross bikes. These bikes are in the price range of the average consumer for practice and competition.
Motocross will continue as a sport for amateurs and professionals if 2 stroke motocross bikes are encouraged and upgraded. We need to see generations represented in events to keep the interest of children as they grow.
Manufacturers can make that happen with more economical and environmentally-friendly 2 stroke motocross bikes & two stroke pit bikes.
Home | Dirt Bikes | Cheap Dirt Bikes | Accessories | Mini Dirt Bikes | Motocross Racing
Motocross Gear | Off Road Bikes | Used Dirt Bikes | Wholesale Dirt Bikes
Honda | Kawasaki | Suzuki | Yamaha