2005 Yamaha dirtbikes
The Great Yamaha - a classic bike.
The 2005 yamaha dirtbikes, were well placed to make the brand known for all major dirt bike fans.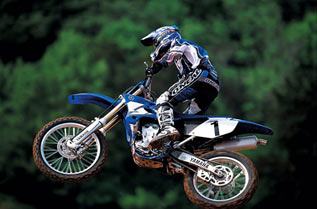 Good 2005 Yamaha Dirt bikes are Easy to Find
Team Yamaha has many motocross fans and 2005 Yamaha dirt bikes are very popular because of the quality, whether a rider is competing or just having fun on the trail.
The 2005 Yamaha WR-F 250 and WR-F 450 would have done great without upgrades, but the advent of other manufacturers trying to take over Yamaha's customers, particularly Honda, caused the Yamaha engineers and designers to decide what would make their bikes even better.
Competition is awesome because it is better for the consumer; the companies provide great improvements with minimal charge just to keep their fans.
One great improvement for both bikes was lowering the center of gravity. Instantly handling improved with that modification. Some of the shorter riders were having difficulty with handling. Lowering the seat height resolved that situation. The WR-F 450 Yamaha received new fork guards and shocks.
The swingarms got a new design on the 2005 yamaha dirtbikes, taking just over a pound off the weight. Power delivery, always on the lookout for improvement, got an extra boost. Yamaha tightened up the springs on the clutch and then designed a new clutch lever to keep the pull optimal.
When you keep the customers happy with one bike, the chances are good that when it comes time to move up to a bigger bike, they will stay with the same manufacturer. The WR-F 250, therefore, received the same attention in changes. More power is the magic word when it comes to any motor-driven piece of machinery, so Yamaha focused on power for their 2005 dirtbikes.
The piston, head, combustion chamber and carburetor received changes to produce better, more even power on their 2005 yamaha dirtbikes. The strength in the aluminum handlebars was increased. One of the friendliest moves was changing the rear and front wheel collars and the rear brake carriers. That made removing and replacing wheels to repair flats much easier.
The rugged durability of many of the Yamaha models, are unbeatable for most riders. Parts are plentiful, but the power to weight combination of the Yamaha bike, make it ideal for dirt bikers of all ages.
Skill levels too are all catered for, and with the various models in production from 2005, no one should feel excluded as far as these dirt bikes are concerned. Buy quality first and foremost if you're a serious rider, and you can guarantee the Yamaha dirt bike will be mentioned.
The fantastic 2005 yamaha dirtbikes. These used dirt bikes are an absolute steal if you find a good one. Looking on the web for dirt bike sales and classified adverts can be a mixed blessing. Pictures can be mis-leading and you rely on the honest seller.
Lets take a look at what's on offer – the 2005 Yamaha TTR125 LE, a 4 stroke with an electric start. You can get a lot of custom and aftermarket parts on these bikes, so do check they are fitted correctly.
There is then the 2005 YAMAHA TTR 90, again an electric start, four stroke dirtbike ideal for races and this MX motorcycle has brilliant power and is such fun to ride. As is the 2005 Yamaha YZ125 MX bike, this 2-stroke is light with excellent fed power to take you through the jumps and bumps.
On the Dirt bike race track
With such extreme dirt bikes check if it's had any suspension service docs and includes un-damaged chain and sprockets, new oil and air filters (if possible), tyres are in good condition too. They are cheap to repair, but you don't need any added costs. Basically as much paperwork as you can muster from the seller.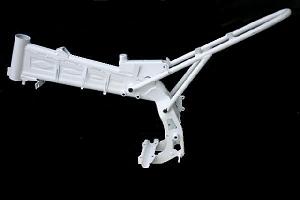 Same goes for the 2005 yamaha ttr 230, and the 2005 Yamaha YZ250. The Yamaha YZ250 is a loved dirt bike. With plenty of yamaha parts available online or down your local MX store, it offers excellent value.
Also ask the seller if they have parts available some might throw them in for a few extra dollars, (even a couple of dirt bike manuals), this might save you hours of ebay searching if you can get them there and then. Don't be afraid to ask and bargain hard if you find faults.
So don't forget any 2005 yamaha dirtbikes are so much cheaper than new, and the quality is bullet proof, but they too are only metal after all and can be thrashed – and those bikes you can do without buying.
A Dirt Jumping Motocross Bike
Yamaha bikes are regarded as some of the best available. The yamaha dirt bike company are always innovating and their frames can take some immense track punishment.
On the dirt bike race track the 2005 yamaha dirtbikes excel, and if you do need a dirt jump bike, yamaha has a number of options available to you too. If you buy a yamaha motobike you will be looked after, in regards to spares and motocross accessories, lets hear it for the 2005 yamaha dirtbikes!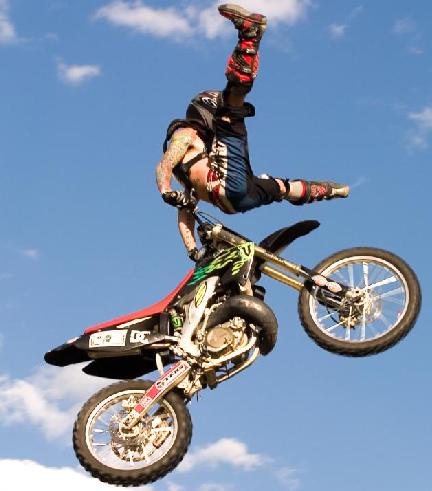 Home | Dirt Bikes | Cheap Dirt Bikes | Accessories | Mini Dirt Bikes | Motocross Racing
Motocross Gear | Off Road Bikes | Used Dirt Bikes | Wholesale Dirt Bikes
Honda | Kawasaki | Suzuki | Yamaha