200cc Pit bikes
200cc excitement - for riders of the tinier bike.
200cc pit bikes have ardent admirers in the dirt biking fan-base.
Conquer Dirt or Sand with Tough 200cc PitBikes
Riding is all about safety, performance and fun, three ingredients any rider will find with 200cc pitbikes.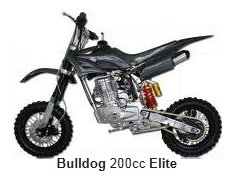 It really does not matter if you are headed out to the trails to explore, looking for a less expensive way to get to work and simply considering something that gets you around the fields around home, 200cc pit bikes fill the need. Some of the Chinese bikes get accolades for making affordable bikes for the average rider.
One of the new bikes from ZongShen Motorcycle Manufacturers is the DB-200C, an ideal bike for experienced or novice riders anytime, any situation. The price is low in comparison with others of its caliber. The 200cc 4-stroke engine runs smoothly and delivers the power riders expect from this type of pit bike. With its lightweight, durable frame, 45 mph is accessible on the street.
Regardless of the terrain, handling is fantastic. Expect fast acceleration from the 5-speed manual transmission and while traversing the countryside, enjoy the anodized front forks and rear mono shock that produce ideal suspension. The DB-200C helps you get on the trail faster with an electric start, back-up kick start and a choke on the handlebar when a cold start is necessary.
A Honda lookalike, the Coolster DB-216 200cc dirt bike costs less than a thousand dollars and fits most adult riders with dirtbike riding experience to a T. Hydraulic forks, a 5-speed transmission and hydraulic disc brakes make it a pleasure to ride.
Air-cooled, it is designed for heavy-duty use, with a weight capacity of 300 pounds, a great wheelbase of 48.81 inches and a heavy duty sprocket and chain. Handling is great and with oversized pegs, room to sit and an ATV style kill switch, it is one of the must-consider bikes of the decade.
Take the bulldog elite pit bike for instance; it has a 200cc 4 stroke engine. The electric start and kick start make it useful for any rider at any level. This bike includes a racing muffler and uses unleaded petrol. The bulldog uses gas rear shocks and upside down front forks, then to complete the bike it has aluminium anodised rims at 12".
Many 200cc bikes give the sort of power pit bikers require and are rugged, taking some brutal punishment on the track. You can't go far wrong with the bulldog or any model of 200cc for winning races and riding like a pro!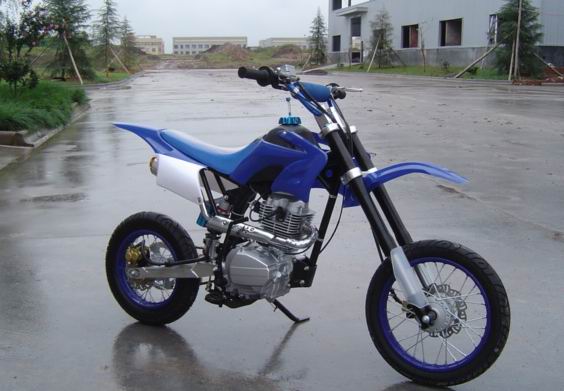 Let's take a look at the big 200cc dirt bikes. There are many types of dirt bikes in this class, many can be custom dirt bikes and others are fit for purpose dirt jumping bikes with lots of grunt.
So what's around, well you could take a look at the Suda SDX 200cc pit bikes, a four stroke ducar engine five speed, with a kick start and hydraulic disc brakes, a very usable bike in every sense of the word.
Or a XB 30 200cc pit bikes motorbike might be your choice? With a 200cc four-Stroke, Single cylinder, air cooled dirt bike engine (including 150cc, 250cc too). A Kick and Electric Start, front and rear hydraulic disc brake set, a ground clearance of 260mm and virtually any colour you want. A nice 200cc dirt bike for anyone.
Pit bike for sale
There is then the EX 200cc four stroke Bike. This can be a cheap dirt bike for sale with a powerful motor, throw this around the track and you should find this tons of fun. Again with both electric & kick start.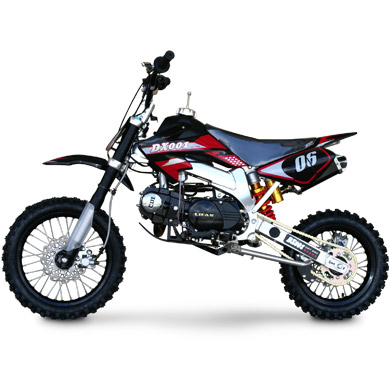 It has an OEM Honda "Clone" Engine, with 14.4 Horsepower and a top speed of 65+ Mph! impressive. High duty Chain and Sprocket and back mono-shock. This Air Cooled steel framed bike has a weight Capacity of 350 lbs and a five Speed Manual transmission. A great 200cc dirt bike for sale.
Or what about the Bulldog 200cc Elite Pit Bike that's been causing a storm. Superb for UK riders this 200cc pit bikes model has many rave reviews and has been a big seller. This too is a 4 stroke manual, robust, strong and fast on the tracks.
For absolute bargains there are of course the Chinese dirt bikes. But the quality is varied, so our advice on these is do your homework. Get as much information on dirt bikes from china as you can and buy quality every time.
If you're really on a tight budget then buy used smaller dirt bikes, but go for brands, Honda – Yamaha, Kawasaki and KTM. Unwanted presents and those that just bought the wrong bike, all are worth a classified look, or Ebay search.
Always remember to have a little bit of cash left over for a tuff helmet - dirt bike accidents do occur, so get yourself suited up and keep safe on speedy 200cc pit bikes.
Pit bike Alternatives
Any mx event will feature many extreme pit bike thrills and spills, and you may even get the chance to take some videos of the races.
Also check around the sale stalls you could pick up a pitbike being sold for little money. It doesn't have to be a 200cc pit bike as there are many other engine sizes and parts suitable for your needs.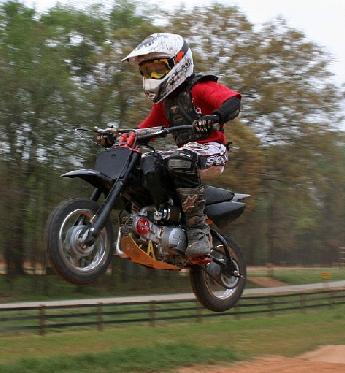 ---
Home | Dirt Bikes | Cheap Dirt Bikes | Accessories | Mini Dirt Bikes | Motocross Racing
Motocross Gear | Off Road Bikes | Used Dirt Bikes | Wholesale Dirt Bikes
Honda | Kawasaki | Suzuki | Yamaha