2011 Mini dirt bikes
This year's mini motocross bikes
2011 Mini dirt bikes have taken this fun bike to a completely different level, and will ensure that your child has a huge amount of fun.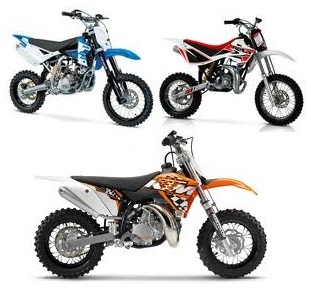 Although all bikes can be dangerous in the wrong hands, these mini dirt bikes are designed to allow younger people to be involved with the sport.
Often the dirt bikes even low powered 250s bikes are far too powerful for younger people.
This could mean that they have to wait to be involved with the world of motocross, and for some youngsters that is simply not an option. The first-ever mini dirt bike was made by an enthusiast who wanted to see if it could be done.
However, the smaller design was a huge success, and today, thousands are sold. Today the mini bikes have evolved into a category all on their own, and there can be incredible styles available.
There are even specific races for the mini dirt bikes, and youngsters can be involved in the sport they love. The usual height for these bikes is less than 50cm, and they are designed for children. However, the 2011 Mini dirt bikes are becoming popular with young adults as well.
Notable mini mx rides, and mini off road motorcycles.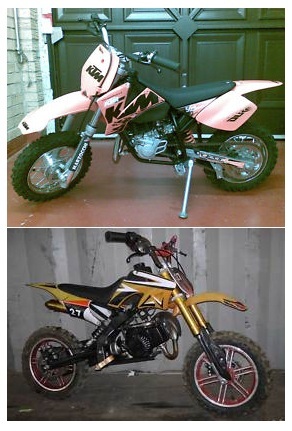 The KXD 50 is one of the favorite 2011 Mini dirt bikes to be released, and it is packed full of new specifications, and features.
Not only does this bike look incredible, but the build quality is excellent as well.
The engine is designed for pulling power, and to enable the bike to cope with rough terrain, speed is not as much of an issue. This mini bike has no gears making it incredibly easy to control, and ride, which is essential for younger riders.
They simply have to rev, and go making them ideal to learn all of the other elements to dirt bike riding. As with all mini dirt bikes, there is a weight restriction, and it is advised that only children over 10 ride them.
Although the 2011 Mini dirt bikes are designed to go off road, and allow a degree of rough terrain to be conquered, you do need to be aware that they will struggle on very tough areas. As with any dirt bike, understanding the bike and its capabilities is essential.
The aggressive tires on the dirt bike are great, however, the low clearance, and lack of power can affect your riding. The new mini dirt bikes are available in both 2 stroke, and 4 stroke versions enabling for a wider choice.
Many of the top brands such as Yamaha, Honda, and KTM make 2011 Mini dirt bikes, and these are excellent value for money. No matter whether the bike is to be bought for pleasure or competition, there is a bike to suit your budget.
You should always ensure that you purchase a top quality mini dirt bike especially if you aim to compete. Although these bikes are smaller they are still perfectly formed, and need to perform to an excellent standard every time.
Home | Dirt Bikes | Cheap Dirt Bikes | Accessories | Mini Dirt Bikes | Motocross Racing
Motocross Gear | Off Road Bikes | Used Dirt Bikes | Wholesale Dirt Bikes
Honda | Kawasaki | Suzuki | Yamaha