2014 Dirt Bikes – what has the year offered us?
The 2014 new dirt bikes are worth looking at if you've been considering replacing your current worn out and beat up bike. To help you decide which make and model might be right for you, we're going to take a look at the top new dirt bikes.
2014 Dirt Bikes: Honda
Honda 250F
In 2014 Honda's 2014 250F motocross bike showed some major changes, with the most noticeable change being that the new 250F looks a lot like the 450.
This resemblance has to do with the design of the 250F frame which now carries the engine much lower, automatically lowering the center of gravity.
The next noticeable change has to do with the exhaust pipes. Yes, we said "pipes". Once again the 250F has twin pipes like it did back in 2006 to 2009, and making it even more like the 450.
Changes you won't notice visually but may notice in performance have to do with a new dual-stage fuel injector, new head porting, and a higher compression piston. Additionally, the linkage ratio is new as are the swingarm and rear shock. The 250F still has a standard fork with a coil spring in each leg although it now has "new settings".
CRF125 2014 Honda Dirt Bikes
This year Honda introduced two new versions of the CRF125F with features like two different wheel sizes and an electric-start engine. This model also features a brand-new chassis and aggressive new styling, as well as an increased engine displacement and user-friendly powerband. Additionally, the upgraded front and rear suspension system allows optimum performance.
The unique wheel sizes of these two CRF125F models allow them to replace the earlier Honda CRF80F and the CRF100F models. It's actually the seat heights of each CRF125F model that makes them the replacements of the older models. The 28.9-inch seat height of the small-wheel CRF125F is why it replaces the CRF80F, and the CRF125F Big Wheel replaces the CRF100F due to its 30.9-inch seat height.
Along with the exciting addition of the new electric-start single cylinder OHC four-stroke engine, which is tuned for low-end power and ample pull through the powerband, there is a four-speed gearbox in the new CRF125Fs.
2014 Dirt Bikes: Husqvarna
Recently Husqvarna introduced 10 new models, primarily for the U.S. market, all as a result of collaboration between Husqvarna, KTM and Husaberg. These 2014 new dirt bikes include: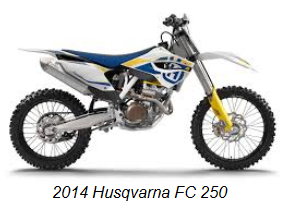 1.    FC 250 – a four-stroke motocross platform with a polyamide subframe, electric start, fuel-injection and a 44mm throttle body.
2.    FC 450 – basically a KTM with its polyamide subframe and handguards, as well as a closed-cartridge WP for, a Renthal 827 Fatbar handlebar, and Dunlop MX51 tires.
3.    FE 250 – a four-stroke endure model with Keihin electronic fuel injection, a DDS clutch, and a 42mm throttle body, as well as the damping duties are handled by the WP's 4CS fork and the linkage rear suspension.
4.    FE 250 – feature a DPHC engine and a stock radiator fan, a high-pressure cast case and a California green sticker homologation.
5.    FE 501 – similar to the FE 250 and FE 350 bikes, this has the largest displacement engine with a Konig bridged box-type piston in the single overhead cam. Includes a radiator cooling fan, a Brembo hydraulic clutch, and a spark-arrestor.
6.    TC 85 – a two-strike similar to KTM's 85 SX it doesn't have the polyamide subframe, but does have a six-speed gearbox, a hydraulic clutch and black Excel rims.
7.    TC 125 – a 125cc with a unique subframe design, hand guards, and adjustable power valve and two pre-set ignition curves.
8.    TC 250 – resembling a KTM 250 but with a plastic subframe, this bike also features a WP closed-cartridge fork, Boyesen reeds, and a WP linkage shock.
9.    TE 250 – a two-stroke technology courtesy of Husaberg, as well as a WP 4CS closed-cartridge fork, a damped diaphragm steel (DDS) clutch, electric start and kick start backup.
10. TE 300 – like the TE 250 it also sports a Brembo hydraulic clutch, a six-speed transmission and Boyesen intake components.
2014 Dirt Bikes: Kawasaki

Actually by October 2014 Kawasaki introduced five new 2015 motocross bikes, all in eye-catching lime green, but with slightly different features: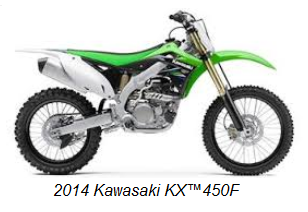 KX™450F  - features a SHOWA Separate Function Triple Air Chamber front fork, adjustable four-position handlebar and two-position foot pegs, and an industry-first launch control mode to maximize traction and out-of-the-gate acceleration.
KX™250F – with a type 2 SHOWA Separate Function Fork with preload adjustability and a separate spring and damping function, an oversized petal-style front braking rotor, and adjustable handlebar and foot pegs.
KX™100 – features a two-stroke single with KIPS® , a 36mm inverted telescopic cartridge fork and a Uni-Trak® single shock system.
KX™85 – similar features as the KX™100, but an 85cc displacement.
KX™65 – 65 cc displacement with a Mikuni VM24SS carburetion and a 33mm leading axle conventional fork.
2014 Dirt Bikes: Suzuki

Like Kawasaki, by October 2014 Suzuki has introduced their newest bikes for their 2015 lines. These include the DR-Z125L and the DR-Z70:
·         DR-Z125L – A compact 124cc four-stroke, one-cylinder, air-cooled engine, with a five-speed transmission with link-type gear shifting.
·         DR-Z70 – A 67cc four-stroke, air-cooled engine, featuring both an electric and kick starter, three-speed semi-automatic transmission with centrifugal clutch. Additional features make this an ideal bike for new and young riders.
2014 Dirt Bikes: Yamaha

The 2014 new dirt bikes Yamaha introduced suitable for off-roading are:
1.    WR450F – Features a 449cc liquid-cooled four-stroke engine with five titanium valves, latest generation YZ forks and shock, plus slim body work for lightweight handling.
2.    TT-R230 – A mid-sized lightweight bike for years of rugged fun.
3.    TT-R125LE – Features a push-button electric starter, aluminum swingarm, adjustable suspension, and four-stroke powered engine.
4.    TT-R110E – With an 110cc, four-stroke engine and a four-speed gearbox plus push-button electric start this bike is perfect for all ages.
5.    TT-R50 – Features a push-button electric starter, an inverted front fork, and a three-speed automatic transmission, plus a Monocross rear suspension.
6.    PW50 – Think of "PW" as peewee, because with a seat height of just 19.1 inches, a fully automatic transmission and an adjustable throttle this is the perfect first ride for kids.
Of course, we've only been able to scratch the surface of the many features and improvements found in the 2014 new dirt bikes. However, whether you've been off-roading it for years or are looking for the perfect dirt bike for your kids, you can rest assured that 2014 was a vintage year.

---
---
© 2007-2015 DirtBikeFix - All Rights Reserved.

All images are copyrighted by their respective owners.