250cc dirt bike
The 250cc bike - A Superb Motor with grunt.
Buying a 250cc dirt bike needs some consideration, and we have made a list of a few things here.
Two Great 250cc DirtBikes that Really Stand Out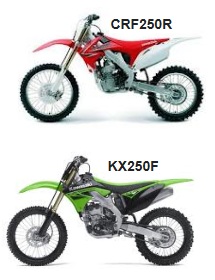 When thinking of purchasing a 250cc dirtbike, the competition is incredibly tough. Honda has realized that sometimes changes are not always the best answer and the 2010 Honda CRF250-R is evidence about their quick changes for the better.
Start with the switch to fuel injection (FI), designed for quick starts and better performance with the exact fuel/air mix. While they were at it, Honda designers, techs and engineers threw in some other good stuff, like the new 249cc Unicam Single compact engine.
The chassis has changed to a twin-spar aluminum frame. The steering head is aluminum, as well and the spar height and weight reduced. Gone is the dual muffler, reverted back to a single-can system. Anytime you have quality with less weight, it is a good thing.
The transmission ratios changed for better efficiency and just when you thought that was enough, the airbox changed to yield higher capacity and the rear subframe profile narrowed to reach the air filter more easily. The front wheel is 15mm closer to the engine, improving steering and handling. The water pump is more durable and the AC generator increased in size. Overall, Honda 2010 CRF250-R changed the things that were hampering prime performance and provided features designed to give optimum action.
Kawasaki did not get as carried away with the 2010 KX250F, making the changes on the inside. There is a bridged-box piston, which resulted in less weight. The ultimate factor is the performance it delivers on the top end of the rev range. An advance of two degrees on the intake cam timing helps bring the power boost home.
The chassis has a new steering stem shaft, reducing rigidity. The Kayaba fork now has revised damping and a different spring rate. The rear shock, mounted to revised linkage ratios, adds to improved handling.
Do these things........
Ensure your skill level and ability is able to use this bike to its potential, it has a huge amount of power and could easily get you into trouble.
Be aware it's a heavy bike, and if you need it for jumps, you may want a lighter power unit. The engine needs to be checked and the bike test driven before you buy, it could be expensive later on to fix.
Lots of receipts are good to see on a "used" 250cc bike, and check if it's been in races or used for the owners own use – race bikes will have been used hard.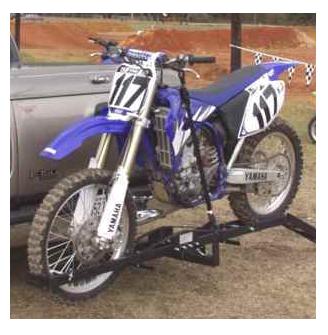 Big 250cc dirt bikes, don't you just love them. Many options are open to the big bike lover finding dirt bikes for sale. You have the DMX 250cc, for a couple of thousand of dollars.
Also another dirt bike to look out for is the DMX ENDURO which has a similar frame to the new DMX 250 but comes with digi Speedo, a light set at either end, MX bike horn, blinkers and a high powered 250cc OHC air-cooled engine plus rugged dirt bike frame.
Another brilliant bargain is the 250cc LE57 bike. A 250cc Zongshen Air Cooled Engine, and five speed transmission gives this ride some power. Alongside a Japanese carb and racing exhaust. Many parts are properly heavy duty for the dirt bike rider, this bike should suck up the rough tracks with ease.
250cc MX racing
For just over two thousand dollars we also saw the Trail 250cc dirt bike. A Honda "tooled" Engine four Stroke, and air cooled. A carburettor ignition (electric), kick start, plus a manual six Speed.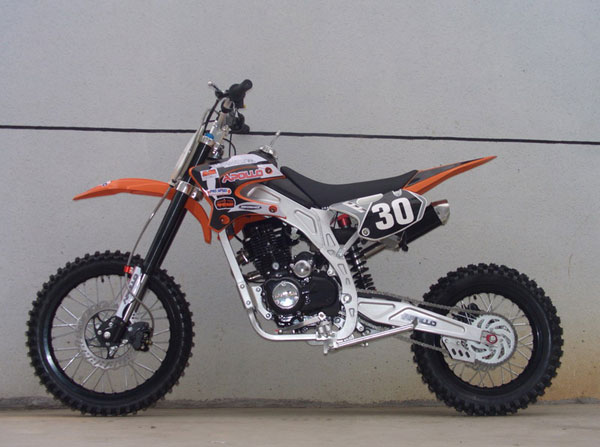 Steel frame and hydraulic disc brakes make this a reasonably priced dirt bikes 4 sale buy. There are also many optional extras too and as standard one month warranty. You will need to check if completing heavy dirt bike stunts and the damage that may be encountered might invalidate such a warranty with the seller.
If price is the main factor not only do dirt bike classified ads for 2nd hand purchases offer good value; but also consider the china dirt bike too - this widens your choice.
Many rides are for sale such as the Hummer Bike (CB08A), with a new style frame and manual clutch from Yongkang Co. Ltd. Or the 250cc dirt bike(XY-301) With a robust 4 stroke ,single-cylinder , Air-cooled engine, from China Xinyue. So many bikes to pick from.
If you can buy some of these MX bikes (EPA/EEC Approved), its important to do so. Most manufactures are fairly competent in building small powerful engines. So looking good and safe on the dirt bike track should not be a problem.
The Kawasaki 250 dirt bike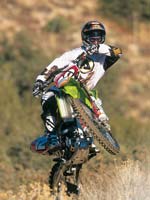 But if you have been around a 250cc dirt bike for any length of time you'll know crashes happen and having that extra warranty of a well built bike is always a benefit. If its a 250cc dirt bike or any kind of MX bike for that matter.
A 250 cc is ideally suited to motocross racing, and there are large used numbers of 250 cc dirt bikes for sale.
For instance a kawasaki 250 or the honda model we mention above - you might seek out & love. BIG Brands are usually good, but not the final word – There are some lesser known brands that deliver great thrills as well; go get a 250cc dirt bike today.
---
Home | Dirt Bikes | Cheap Dirt Bikes | Accessories | Mini Dirt Bikes | Motocross Racing
Motocross Gear | Off Road Bikes | Used Dirt Bikes | Wholesale Dirt Bikes
Honda | Kawasaki | Suzuki | Yamaha