30 second girls for supercross
Half a minute - miss spandex!
The 30 second girls for supercross, is a reasonably new invention.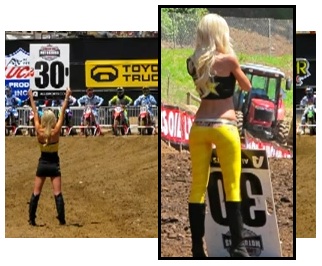 They are in effect, stadium girls who give the countdown from 30 seconds, to the race which is about to begin.
These model agency girls are there of course to add glamour to a fantastic event. Most fans love to have their photo taken with these great girls, maybe even an autograph.
All bikers love the 30 sec girls, with this unique added feature to stadium racing.
What are the 30 second girls for supercross? Well at the start of any supercross race, all the dirt riders line up. Just before the race begins (at 30 seconds) babes hold up the 30 sec board to let the riders get ready for the race that's about to begin.
After 30 seconds the card or board can be turned sideways to let the MX bikers know that the gates are seconds away from being dropped.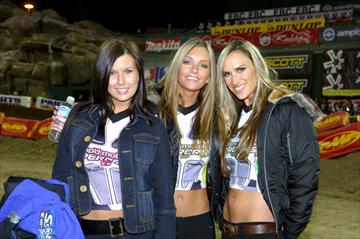 These girls are often models brought in to add a bit of glamour to the events.
Some thirty second board girls even have a go at commentating, and are often found on or by the finishing podium to help hand out the awards. It all adds to the MX event.
The big stadium events will see these girls ready with their cards, often in tight and revealing clothing.
Girl SX show-offs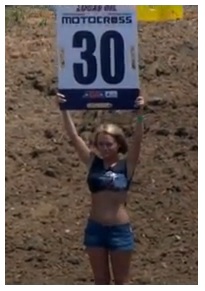 Some models that you may have seen are - Jessie Layne from Dallas, or Elizabeth Jane - 23 from Atlanta, or maybe Bronwyn LeAnn Landry - from Orange County.
Some of these models have their own websites and are beginning to develop their own fan base too- after all you can get good exposure at a supercross event.
Yes its true, when the 30 second board girl comes out the tension is un-real, and this is possibly one of the best ways to get the racers attention. No more false starts, or reasons why they were looking elsewhere.
If you like 30sec women, your not alone, so do check out the forums for pics and wallpapers that are free and available on the web.
Hey! Do YOU have what it takes to be one of the 30 Second Girls for Supercross?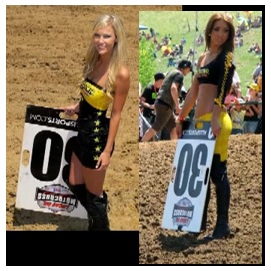 Many models use the 30 Second Girls for supercross experience as an introduction to or advancement in their modeling career. The 30 second girls have many pictures taken with fans, riders, & just guys in the crowd - who might think a bike has something to do with the Tour de France; plus moms with babies, kids and so on.
The 30 second girls for supercross - can wear just about anything, from fishnet stockings to bikinis, sometimes holding the 30 second countdown sign and sometimes to emphasize how good the Kawasaki, Honda or Yamaha dirtbike is looking.
A fan base earns promotions, since even Playboy or GQ is happy to sell even more magazines if a popular 30 second girl is displayed between the front and back cover. Calendars, sports magazines or posters are additional ways for the girls to make money while pursuing other ambitions.
March 2011 had the following question on one MX website: "MX vs ATV is on the prowl for the next Dirty Girl! Do you have a bar bangin' attitude?" Women were urged to fill out the entry form and guys were urged to talk their girls into entering, since the search was for a "prime candidate to be a 30 Second Girl in an upcoming MX vs ATV game."
Here is what is awesome! Grand Prize pack had Troy Lee Designs his and hers gear sets - yes, that is right, the desirable jerseys, pants, helmets and gloves everyone wants, DLC codes, the Alive gaming pack, console of choice, t-shirt, poster and game. Four runners-up would get the codes, game, poster and t-shirt.
The winner was announced; the video for the game awesome (parents, watch it below before letting the younger ones do so) and the 30 Second Girl is great, because deep down, it is a fun thing to be!
MXvsATV Alive - Making the Game with the Dirty Girls
Babes on dirt bikes & the track
At events such as these babes on dirt bikes love having their pictures taken. Girl dirt bike gear is also available and dirtbike girl clothing has become big business.
So if you're a dirt bike girl, and have friends that are motocross girls get involved in this fantastic sport where girls on dirtbikes are welcome, maybe one day you'll be joining the 30 second girls for supercross. Or you'll be at the starting gates, waiting for this thirty second board lady.
Home | Dirt Bikes | Cheap Dirt Bikes | Accessories | Mini Dirt Bikes | Motocross Racing
Motocross Gear | Off Road Bikes | Used Dirt Bikes | Wholesale Dirt Bikes
Honda | Kawasaki | Suzuki | Yamaha