49cc Pocket bikes
Compact bikes, with extra BLING if thats what you love.
Although buying any of the 49cc pocket bikes available does'nt seem a lot – speed wise - there are a few things to think about.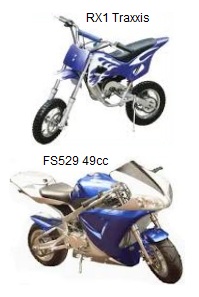 Offroad 49cc PocketBikes
Something super about 49cc pocketbikes is that they are easy and inexpensive to modify and there are usually a ton of parts to help you do it.
If you have seen the FS529 49cc cat-eye pocket bike, you know it starts out like any other pocket bike before you start modifying to make it truly yours.
Start with the awesome brake handles to give a certain pitch to the steering and then add a shiny unique performance 44 tooth sprocket. Go ahead and trade that kick-start for a pull starter, as the opportunity is there.
Perhaps the foot peg looks just a bit plain to you - liven it up with a new set of pocket bike foot pegs. Maybe the rims and tires do not look like they will stand up to the kind of action you intend to put them through, so upgrade. A front fairing is inexpensive and adds extra glitz to your performance. The FS529 cat-eye is one of the notable 49cc Pocket bikes, designed to become better.
The RX1 Traxxis is new for 2012, but appears to be one of the offroad 49cc pocket bikes that will have everyone talking. The company kept the pocket bike size and made it tough to handle any kind of terrain. The suspension system produces great ground clearance.
Traction, handling and control are great, thanks to specially calibrated off-road spring rates. The rider stops when needed thanks to front and rear heavy duty disc brakes. The sub-frame and mainframe are forged together, using high tensile strength steel. It comes with knobby offroad all terrain tires to maintain control on a dusty loose trail when your heading down any gradient. The 49cc engine handles offroad action, delivering low torque when the bike needs that extra oomph to move.
Considerations........
These bikes are very lightweight, so the engine seems that much more powerful. Ideally these types of 49cc bikes are aimed at beginners or younger children.
They give the ideal platform for those keen to get into the sport and have the flexibility to go for a more powerful bike later on.
A higher cc bike may be too much for the novice and get them into trouble, but these smaller engined bikes are superb to begin your mini bike experience.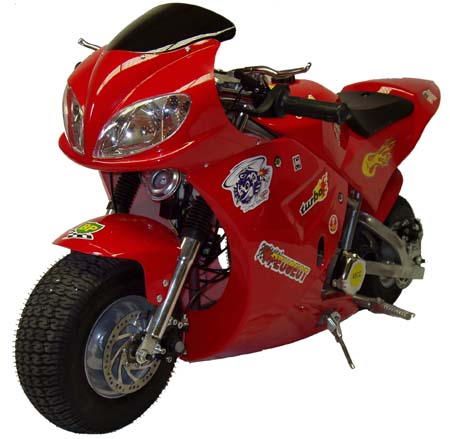 49cc pocket bikes or the 49cc mini dirt bike for those that like off-roading, are great for kids. The smaller engine power of these 49cc dirt bikes are ideal to make mistakes on.
The small dirt bikes are adaptable and full of kit, so your child should feel a million dollars. Many have a seat height at around 26" - 28" approx. A great number of 49cc mini dirt bikes offer front suspension, and include a mono rear shock suspension. Of course front and rear disc brakes are usually standard and colour coded wheels are available on better models.
Colours can even be requested, and a pink dirt bike is very popular amongst budding girl riders.
If you find a decent stockist, you can also buy upgraded frames, with the latest carb fittings, plus an alloy pull start and metal fuel filter. Important buys are flame retardant fuel line and a kill switch (plus a snug kids MX helmet).
The 49cc dirt bike is very light, and although small the engine is still quick.
The 49cc pocket bike
Some of the Chinese bikes offer a kick start method and double exhausts too. But when buying any 49cc dirt bikes for sale some cheap models are badly made - and you can't tell from the online pics.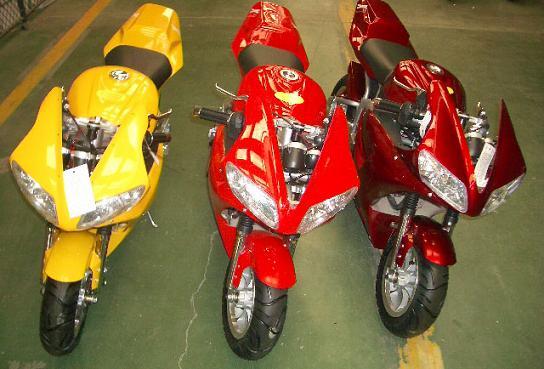 Sadly some foreign 49cc mini bikes are built around tight budgets, so when buying ensure it's robust and your child can sit comfortably on it.
A most talked about model is the 49cc mini panterra, check out the reviews on this special bike. Plus other rides are commonly called "rocket dirt Bikes", for just under $900. They have 8 spoke Alloys, upgraded gearbox and metal foot pegs.
A K&N "style" performance air filter, pull-start, chrome twin exhaust and chain guard. Also included is a throttle restrictor which makes it a classic buy for small kids on their first 49cc motorbike.
Most of these 49cc pocket bikes operate on unleaded petrol and 2 stroke oil, and should not be used on the road. A 49cc dirt bike part should also be easy enough to get hold of, so keep a note of your stockists details once the dirtbike is bought as you may need it again.
49cc pocket bikes parts
The 49cc dirtbike has amazing pocket bike performance for races with your friends. With lots of stores developing and producing cool aftermarket accessories, you can quickly eat up your budget. But this will get you admiring looks from other pocket bikers.
49cc pocket bikes parts are cheap as well, which is part of the appeal of the 49cc! So go and seek out those amazing bargains on mini-motos and 49cc pocket bike parts in sales and stores. It's the best introduction there is for this type of sport.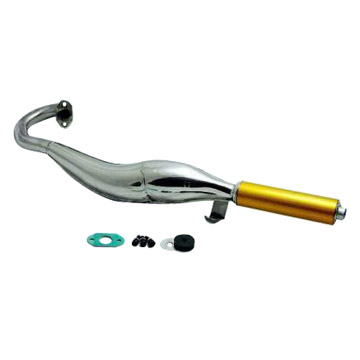 Home | Dirt Bikes | Cheap Dirt Bikes | Accessories | Mini Dirt Bikes | Motocross Racing
Motocross Gear | Off Road Bikes | Used Dirt Bikes | Wholesale Dirt Bikes
Honda | Kawasaki | Suzuki | Yamaha