50cc Dirtbikes for sale
50cc grunt & grind.
The 50cc dirtbikes for sale are lightweight and rugged machines if you buy correctly. Even some of the Chinese bikes are now starting to look quite good. Check out eBay and even craigslist for many used bargains, there are numerous owners wanting a new bike or upgrading to a larger engined model.
If you buy 50cc dirtbikes for sale over the net, it's best to contact the seller and ask a few questions, mainly on things that may have been left out on the advert.
Most good sellers are genuine and have great feedback, even with the best will in the world a seller will have left out something that's important to you, so make sure you have all the information before you buy.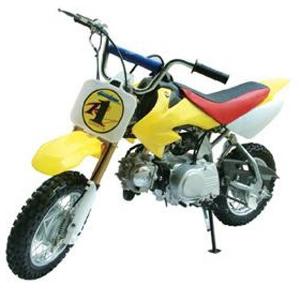 What are the good 50cc dirtbikes for sale? Buying either a used 50cc dirt bike or a 50cc bike dirt moto from dirt bike stores can be a little bit of a minefield so we'll check out some hot bikes we have encountered.
From the bulldog range is the "Bulldog" junior pocket dirt bike. Its a 50cc pit dirt bike with an Air Cooled, four-stroke with semi-auto gears. Plus a cool race muffler and rear shock and hydraulic front forks. Its a kick start model that runs off regular unleaded petrol.
50cc dirt bikes
There are also the Chinese bikes, one model from Zhejiang Tianyu Ltd, has a capable 50cc engine on a bike dirt mini wheelbase of 1100mm. A tank of 4.5L plus a top speed of 65km / h. Drum brakes, electric/kick start and a ground clearance of 250mm, a cheap bike. But do watch out for that Chinese build -quality.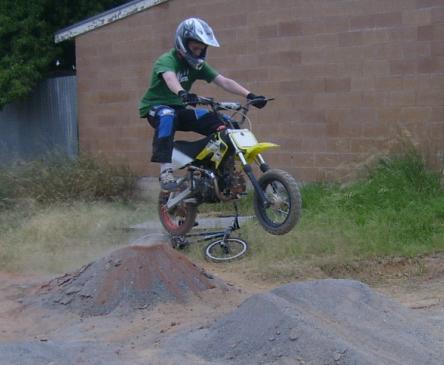 Now we get to the big players in the 50cc dirtbikes for sale arena. Here we have KXD 50, KTM 2009 (orange). Its had rave reviews with a brand new frame design, adjustable rear shock and upside front forks. Enclosed chain for safety, 3M dirt bike stickers and big bore exhaust system...wow!
Its a pull start, and for safety has the very latest ideas such as restrictable throttle, rocker style kill switch and stronger brake levers. For a few hundred pounds, it really is a point and go mini dirt bikes dream.
Now the KTM is a brilliant bike but the KXD 50 Yamaha 2009 (blue), is a cheap and awesome bike. We all know how good Yamaha are, so quality isn't an issue here. Ok what does it have, well- this model too has a brand new frame design, adjustable rear shock and upside front forks. Enclosed chain for safety, 3M dirtbike graphics. All the safety features of the KTM and wavy disk Brakes front/back and for the same money as the KTM too!
Both have great power and if your looking to buy cheap dirt bikes (brand new), you can do a lot worse than buy these amazing branded dirtbikes. Mini dirt bikes for sale are mainly for kids - but we have seen adults having fun on these bikes as well. Ideal for stunts and all manner of trickery, but do remember those cheap dirt bike helmets bargains - as you cant ride these pit bikes without one.
A 50cc kid dirt bike
Buying 50cc dirt bikes should be selected carefully. Some bikes may have been used for dirtbike tricks and perhaps abused.
So if your getting a 50cc kid dirt bike or even seeking a "for sale" 50cc mini dirt bikes motorbike take your time and even bring someone that knows about 50cc dirtbikes along with you.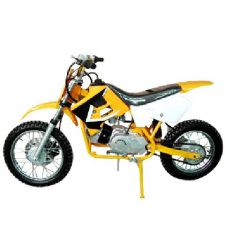 Home | Dirt Bikes | Cheap Dirt Bikes | Accessories | Mini Dirt Bikes | Motocross Racing
Motocross Gear | Off Road Bikes | Used Dirt Bikes | Wholesale Dirt Bikes
Honda | Kawasaki | Suzuki | Yamaha