50cc pit bike
Your free pitbike checklist below.
A 50cc pit bike has the right amount of power and lightness for many riders needs.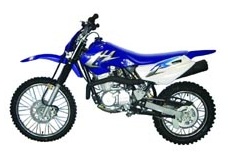 Things to look for when Buying a Used 50cc pitbike
Less than ten years ago most people avoided buying a used 50cc pitbike; to be fair, they avoided buying any used bike because many were not built to last. Over the last few years, things have improved and here are hints to help get a great used 50cc pit bike.
• Steering-head bearings are still easy to harm. If the fork legs move to and fro from the bottom when you pull on them, you are probably looking at new seals and bearings.
• Wheels, spokes and tires wear quickly. Check to be sure that they are even on the frame, rather than loose and wobbly.
• Check the wheel bearings by getting the bike off the ground and turning the wheels. Noises indicate problems.
• Check for fork-seal leaks that can indicate a suspension problem
Perhaps the person selling the bike is glaring by now and wishing you would disappear. Perhaps you have already made up your mind this is the bike you want no matter what is needed to repair it. Before making a total commitment, here are a few other things to look for when buying a used 50cc pit bike.
• Check the rotors (there are several how-tos on the net). That will save you a lot of money, because worn rotors usually indicate the bike has had quite a bit of use and the caliper, master cylinder and brakes may need to be replaced at the same time.
• Start the engine and listen carefully while it runs for anything that sounds amiss.
• Ask if you can take the bike for a ride to check out the clutch, shifting and performance. Remember that sometimes people ride away and do not come back, so the owner might demonstrate the action instead. You will still get an idea of the ride and any problems with the used 50cc pit bike.
Other bikes....
One of the more famous lighter bikes is the icon pit bike. A quality moto, and loved by many fans and is indeed rugged for very harsh jumps and tracks.
However a cheap pit bike would serve you just as well, so check out ebay or even the inexpensive Chinese pit bikes, that are now being sold in many stores.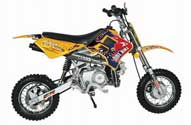 When you talk about the best 50cc pit bike, the one that springs to mind is the Honda CRF50 with massive sales to prove its point.
The 50cc Honda dirt bike has been a big hit as a kids dirt bike, as it's a solid and reliable dirtbike with tons of Honda dirt bike parts - so you won't be stuck for bits. Other manufacturers are hitting back with new pocket dirt bikes so let's take a look.
The Hensim 50cc four stroke pitbike, is a Chinese ride. The quality is higher than normal as it does meet ISO 9001 standards, plus it's EPA certified and "Green" decal approved for the State of California. - so certainly a cut above.
Starting off with a 3.4 horse powered engine, kick starter with a top speed of 35mph. It includes front-rear drum brakes and adjustable mono-shock on the back. Runs on unleaded, chain driven with a steel frame. Nice price as well.
The 50cc iconic pitbike
Our next motorcycle is the Tierra. This 4 stroke gas engined machine is ideal for kids. Its a four speed semi-auto with rear swing arm plus an easy to use kick start.
Telescoping suspension, chain drive and also light units can be bought to keep you safe on dark nights. Because of its low cost, it makes a great play bike for your son or daughter.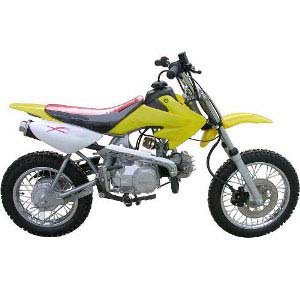 Now if you want to spend a little bit more you should be looking at the Yamaha TTR50. Taking on the famous Honda, we all know Yamaha quality is amazing. Its marketed as a top dirt bike for kids. Primarily due to its electric start, no more heavy kick-starting for your children. So its easy to use. As for spec, well quality motocross tires and a durable exhaust is all thrown in.
You'll find the rest of the bike very similar to all the other 50cc pit bikes we have mentioned, but it looks good too. What kids like is a scaled down version of the bigger bikes, not something from alien 3. So this wins on all levels. Is it as good as the Honda? Well the jury is still out, but we have seen many riders raving about it; and we think its sure to eat into the Honda market in the coming years.
When your looking at 50cc dirtbikes & pitbikes, there are some seriously cheap used MX bikes out there, so do your homework and buy with a clear head.
Pit bike for sale
When you check out a pit bike for sale, read the advert fully and be sure its really what you want. You dont need a 50cc pit bike which has been used heavily and the owner is selling their problems onto you - thats no good at all.
Wait for a better 50cc bike, as there are so many around a good moto will become available, if you hold back and dont impulse buy.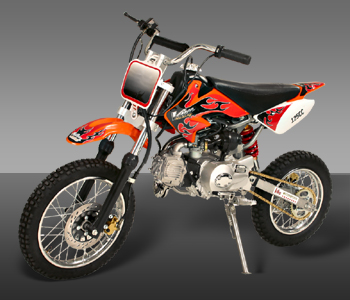 ---
Home | Dirt Bikes | Cheap Dirt Bikes | Accessories | Mini Dirt Bikes | Motocross Racing
Motocross Gear | Off Road Bikes | Used Dirt Bikes | Wholesale Dirt Bikes
Honda | Kawasaki | Suzuki | Yamaha