70cc Dirt Bikes
Dirt bike models for children.
70cc Dirt bikes are powerful mini dirt bikes that are reasonably priced and the perfect choice for kids from age 5 and over with adult supervision.
Two Great 70cc DirtBikes for Kids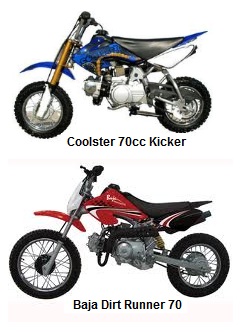 Maybe this is a special birthday gift for your child - and one of the 70cc DirtBikes the family has been checking out is going to be a reality. One things for sure about kids is they grow and the bike you buy this year may be too small in a couple of years.
This is when you want performance and durability at a low cost and the Coolster 70cc Kicker dirtbike offers those features.
It is semi-automatic and has a Honda OEM cloned engine. Inverted suspension adds to better handling. Parts are available so you can quickly repair the bike, as spills happen for many reasons. It is one of the good-looking 70cc Dirt Bikes and even though great colors and decals add nothing in the way of performance it is nice to have a bike with class.
It is important to be certain the lucky new owner has all the safety gear required so the bike gets on the trail as soon as possible. Decide in advance who is going to ride along and where the bike will be ridden. When the size or style of a bike is changed, the kid needs time to ease into it.
While looking at great 70cc Dirt Bikes for kids, review the Baja Dirt Runner 70, made with beginning off road riders to intermediate riders in mind. It has a 4-speed transmission and weighs just 132 pounds.
The weight capacity is 165 pounds, allowing some of the bigger kids to ride if the real owner feels like sharing. Front and rear drum brakes and coil over hydraulic rear shock suspension are good features. The four-stroke engine provides the power needed in the dirt and the telescopic front forks protect against some of the bump and bounce your kid is sure to encounter on the trail.
70cc popular models.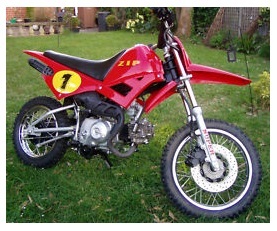 Mini dirt bike parts are also less expensive than other dirt bike parts making 70cc dirt bikes perfect for the novice rider.
The majority of these bikes come with mini dirt bike parts and features like knobby tires, racing handle bars, professional grade rider styled dirt bike seats and fun logo designs.
Some of the more popular models of 70cc dirt bikes are :-
You'll find hundreds of websites online where you can conveniently order all the mini dirt bike parts you'll need to keep yours running like a well-tuned machine.
Dirt bike races are exhilarating.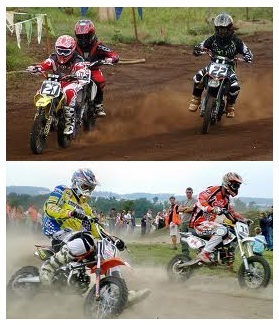 Dirt Bike Racing
Mini dirt bikes are perfect for younger riders passionate about motocross racing and easy to find mini dirt bike parts plus reliability, is an "easy on the budget" bike for anyone.
These smaller bikes are also purchased by adult riders and modified to create competitive Pit Bikes.
Ordinary 70cc mini dirt bike parts are less expensive than the parts used to upgrade them into competitive winning machines however many riders like to put in the effort to custom build theirs.
If they plan on doing it themselves, they normally start with well-known mini dirt bike names like Honda & Kawaski. They can also purchase completed Pit bikes, which can be less expensive than building your own.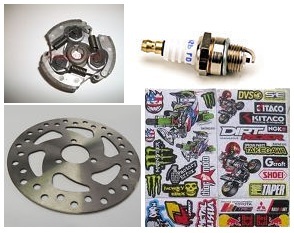 70cc Mini Dirt Bike Parts
Mini dirt bikes as well as Pit bikes have their own competitions normally based on wheel size and are extremely popular today. The fact that mini dirt bike parts are less expensive than other more competitive bikes makes them an affordable racing option.
Pit bike racing is fairly new to motocross and has become a popular past time for dirt bike racers of all skill levels.
Buying mini dirt bike parts to repair or upgrade your dirt bike is fairly straightforward and there are numerous websites online that offer a great variety and at competitive prices.
70cc Dirt Bikes should be easy to get parts for.
Although these smaller pitbikes are cheap, try not to visit the dirt bike junkyard too often in search of dirt bike engine parts. Reliability can be a mixed bag; when you get the junked spare bits home - that's for sure.
Home | Dirt Bikes | Cheap Dirt Bikes | Accessories | Mini Dirt Bikes | Motocross Racing
Motocross Gear | Off Road Bikes | Used Dirt Bikes | Wholesale Dirt Bikes
Honda | Kawasaki | Suzuki | Yamaha