AMA Arenacross
Arenacross racing & arenacross photos.
AMA Arenacross - how to prepare for arenacross – know your facts.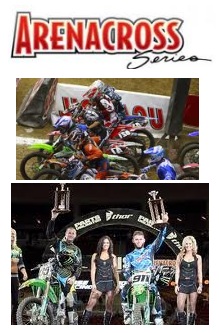 Arenacross is a much newer sport than Supercross. Arenacross is also referred to as AX.
AMA Arenacross consists essentially of a Supercross style course which is even further downsized and put into a smaller venue such as basketball and ice hockey stadiums.
Arenacross is definitely growing in popularity, as smaller cities which do not offer large baseball and football stadiums can then host the Arenacross races. The first open Arenacross was held in 2006 and was extremely well attended.
The AMA is utilizing the AMA Toyota Arenacross series to help riders in transitioning from the amateur racing towards Supercross. A lot of Supercross privateers enjoy racing Arenacross.
Some top AMA Arenacross motorbike racers include:
What is the difference between Motocross, Supercross and Arenacross?
Motocross is actually an off road motorcycle race that is run on a natural terrain. It has very few manmade obstacles. Supercross however, unlike Motocross, can be watched by a spectator from wherever he is sitting.
Arenacross, just like Supercross, will compete on a surface that is man made, but the tracks as well as the stadiums will be much smaller. Riders who compete in the AMA Arenacross events as well as the Monster Energy Supercross will come from all over the world.
Arenacross pro racing - ( arenacross 2007 ).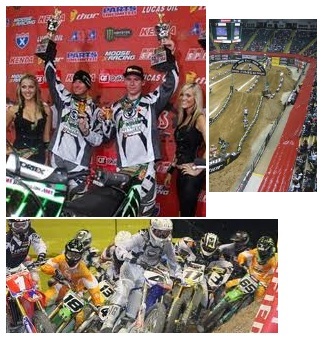 A company that has always had their heart in two wheel racing is Rick Ware Racing, having raced some seasons towards the end of the 1980's at various places such as the Superdome for the AMA Supercross Series.
In 2007, Dave Antolak from Tuf Honda partnered with Rick Ware and put together an impressive organization in the AMA Arenacross.
With a sponsorship from Mahindra tractors and Bad Boy Power Drinks they won the championships with Danny Smith.
The following year, the organization won their second consecutive title with Chad Johnson, and then in 2009 a record 3 championships was won consecutively with the help of Jeff Gibson. Dave Antolak with RWR have won five Championships, which is the most in the history of the series. Three of these titles were in partnership with RWR.
Tyler Bowers was born on the 19th March in 1991 in Fallbrook, California. He currently resides in Danville, Kentucky. Weighing in at 190 lbs and standing at 6' 3" tall, his most impressive career accomplishments include the US Open Arenacross and no less than thirty Amateur National Championships.
His favorite racers are Kevin Windham, Jeremy McGrath, Jeff Emig and Travis Pastrana. His most respected opponents are Jeff Gibson and Josh DeMuth. He was 5 years old when he first raced. His first bike was a 50 cc Itali Jet.
John Dowd was born on the 10th August 1965. Weighing in at 180 lbs and standing at 5' 11" tall, he has scored some impressive achievements including being the Endurocross Champion in the 2006 Farewell Tour, 3rd overall in the Arenacross Series 2004, and West Coast Supercross Champion in 1998.
His idols are Ricky Carmichael and Rick Johnson. He turned pro in 1986.
The arenacross.com, website has a lot of information on this subject; if you require more in-depth information. If you're racing at salem arenacross, Oregon or just enjoying a few simple circuits with your buddies try and visit a pro arena cross race at least once in your life – it's worth it.
Home | Dirt Bikes | Cheap Dirt Bikes | Accessories | Mini Dirt Bikes | Motocross Racing
Motocross Gear | Off Road Bikes | Used Dirt Bikes | Wholesale Dirt Bikes
Honda | Kawasaki | Suzuki | Yamaha