AMA Supercross Racing
A supercross race history backchat.
AMA Supercross Racing – watch it on your supercross tv ?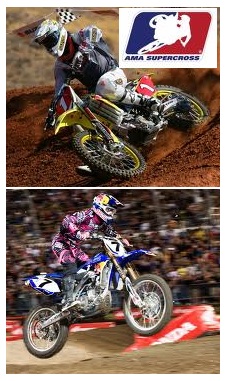 Winners of the AMA Supercross Racing Championship in 2011 are:
Ryan Villopoto was born on August 13th 1988. His hometown is in Poulsbo, WA. Weighing in at 150 lbs and standing at 5' 8" Ryan rides for the Monster Energy Kawasaki team with his Kawasaki KX450F.
Ryan Villopoto: Career Highlights
2007: Ryan is champion at the AMA West Supercross Lites; he is also champion at the AMA National Motocross Lites 250. He also wins the overalls on his Kawasaki KX250F in both the motos at Motocross of Nations against other larger displacement motorbikes, becoming the first ever rider to do this in history.
2006: Ryan is a member of the winning Team USA in Motocross of Nations held in England; he is also named AMA Supercross racing Motocross Rookie of the Year 2006; as well as being champion at the AMA National Motocross Lites 250.
2003 to 2004: Ryan wins an impressive twenty four titles whilst competing for the Kawasaki Team Green.
More supercross photos anyone?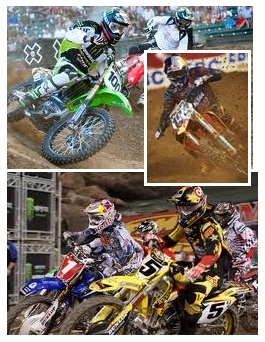 Broc Tickle was born on November 21st 1989 in Wilmington, NC. He resides in Holly, MI. Weighing in at 165 lbs and standing at 5'11" Broc rides for the Monster Energy/Pro Circuit/Kawasaki team on his Kawasaki KX250F.
For a little bit of useful trivia, some of Broc's favorite things are that Jeremy McGrath is his favorite rider; Red Bud is his favorite track; Pizza, Fettuccini and Chicken Marsala are his favorite foods; his favorite music is just about everything; and his hobbies are to just hang out with his friends and family.
Broc's advice to a young rider is to follow their dreams and to never just give up. His nick name is 'Tickle me Elmo'.
Broc Tickle: Career Highlights
Justin Barcia was born on March 25th 1992. His hometown is in Cairo, GA. Weighing in at 140 lbs and standing at 5'9" Justin rides for the GEICO Honda team. Justin was only 5 years old when he climbed onto his first ever competitive bike.
From 2005 into 2007, Justin earned himself an astounding ten amateur titles. In 2010, Justin scored wins in St Louis and Toronto in the Supercross Lites, as well as in Moto-X 338 and High Point in their Motocross series and visited the podium no less than eight times in all.
Justin's favorite rider is Ricky Carmichael and his favorite track is at Southwick. His favorite food is Italian and his favorite music is Alternative. His goals in life are to win the 250 as well as 450 titles and to just be happy in his life.
Justin Barcia: Career Highlights
Do support the AMA super cross, wherever you are. If you are buying vegas supercross tickets or getting your seat in another city arena, to watch the ktm supercross it's a great day out for all the family.
Home | Dirt Bikes | Cheap Dirt Bikes | Accessories | Mini Dirt Bikes | Motocross Racing
Motocross Gear | Off Road Bikes | Used Dirt Bikes | Wholesale Dirt Bikes
Honda | Kawasaki | Suzuki | Yamaha