AMA Supercross
Supercross tickets to our inside story.
The AMA Supercross series starts at the end of December and carries on until the middle of May.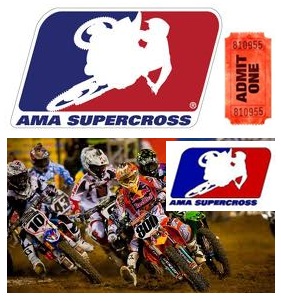 The series consists of eight rounds in the Supercross Lites West Class and 17 rounds of Supercross Class during December, and then eight rounds of Supercross Lites East Class during February.
The final round is in May with the East West Shootout. Each will have 2 Heat Races for both classes.
The Supercross Lites has six laps and the Supercross class will have eight laps. Each will have twenty riders for both classes. The top nine riders will then finish and move straight on to their Main Event.
Other riders then go on to participate in the 'Last chance Qualifier'. For this event, both classes will each have 22 riders. AMA Supercross Class riders who were unsuccessful in any 2 Heat Races have to race six laps. From here the final 2 riders will finish and then carry on to ride in the Main Event.
Riders from Supercross Lites Class that failed any 2 heat races then have to race four laps. The final 2 riders from here will finish and then move to their Main Event.
Riders from the Supercross Class who have qualified with points in the event's top 10 but who have not qualified in the LCQ and any 2 Heat Races will then make use of a Provisional during the Main Event.
During this Main Event, the Supercross Lites Class will have twenty riders doing fifteen laps and the Supercross Class will have twenty riders doing twenty laps.
For both of these classes the winner receives twenty-five AMA points. Even if rain is forecast, the riders race in mud but their Main Event is reduced to ten laps within their Supercross Lites Class while their AMA Supercross Class will have fifteen laps.
Starting from the Las Vegas final season for 2011, each Lites class will have twenty riders doing fifteen laps. One will be the West and one the East. Both of these will determine the Championship winner. The top nine riders then finish and will go straight into their Shootout Main Event.
A supercross schedule of riders with supercross results.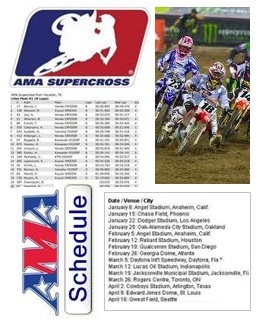 Other riders as usual go into the LCQ, with twenty two riders doing four laps.
From here the final 2 riders finish the head on to their East West Shootout Main Event. This time there will be twenty riders doing ten laps instead of the normal fifteen laps.
'Arenacross' is an even newer racing sport than Supercross. It is also known as AX. Arenacross basically consists of a Supercross style course that is downsized even more and held at a smaller venue such as basketball and ice hockey stadiums.
Arenacross is definitely growing in popularity as there are no large baseball and football stadiums in the smaller cities so they can then host these Arenacross races.
The first open of Arenacross was held in 2006 and boasted a high attendance count. AMA is utilizing the Toyota Arenacross series to help riders transition from their amateur racing status to AMA Supercross.
Many privateers from Supercross also race Arenacross. A few top racers from Arenacross include:
Also take a tour of all the free supercross video, on youtube. It's a quick and easy way to get familiar with past riders and events; before long you'll be a super cross expert.
---
Home | Dirt Bikes | Cheap Dirt Bikes | Accessories | Mini Dirt Bikes | Motocross Racing
Motocross Gear | Off Road Bikes | Used Dirt Bikes | Wholesale Dirt Bikes
Honda | Kawasaki | Suzuki | Yamaha