Ashley fiolek mx rider
Our ashley fiolek bio including ashley fiolek photos.
Ashley Fiolek MX Rider - whats ashley fiolek 's age ?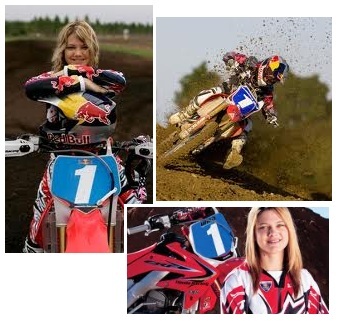 Ashley Fiolek MX rider was born on the 22nd October in 1990 in Michigan. Since birth, she has been deaf.
It has not slowed her down in any way, though. She also happens to possibly be the best female motocross racer throughout the world.
When she was a child, she would often sit on the front of her dad's bike or her mom's 4- wheeler. They would ride through the woods near her grandpa's house for hours on end.
When she was about three, she was given a Yamaha PW50 from her parents. This is a bike that is suitable for a very young rider. It wasn't often used by her, though, as she wasn't happy with the training wheels.
Weighing in at 107 lbs and standing at just 5' and 2 '', Ashley Fiolek MX rider is a true racing sensation. She has blazed the trail for other female motocrossers. She has claimed a Red Bull Racing factory Honda ride and is the 1st female motocrosser to do so in the USA.
She has claimed two WMX/AMA titles (in 2008 and 2009)during her 1st two professional seasons and snagged the XG Gold in 2009 in the Women's Super X. Ashley feels the vibrations of her bike. This tells her when she has to shift gears.
Ashley began to race at the age of seven. When she was sixteen, she met up with Pro motocross riders such as Travis Pastrana. Racing with the number plate 67, Ashley was the WMA Pro National champ in 2008. This was after Ashley's first pro win at WMA Pro National Hangtown. During the 2009 season, she won more races including Glen Helen (both motos) and at Hangtown (Moto 1).
At Steel City Raceway, Ashley finished in seventh place on 5th September, 2009 in a lot of pain due to a fractured collarbone from a spill in the race. In April of 2010, Ashley published her 1st book called 'Kicking Up Dirt' which was co-written with a journalist called Caroline Ryder.
Ashley fiolek motorcross achievements.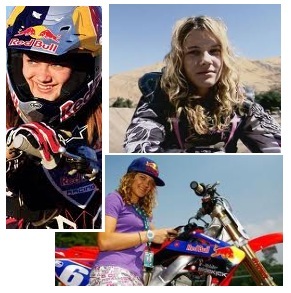 In April of 2010 Ashley was featured in a Red Bull commercial. Ashley is the 6th athlete that has been sponsored by this company to appear in their commercials.
Ashley Fiolek MX rider won her first X Games gold medal in 2009 at the X Games 15 in the Women's Moto X Super X. At X Games 16 on the 31st of July, 2010 Ashley won her 2nd consecutive X Games Gold Medal in the Super X Women's.
Professional Career
2009: WMX Champ
2009: X-Games Women's Moto X Gold Medalist
2008: AMA Women's Motocross Champ (Rookie Year)
Amateur Career
2007: First Place Women's 99-250 cc 12+ Amateur, Lake Whitney Spring Classic
Xtremey Award for the Most Inspirational Athlete
2006: AMNA Amateur National Motocross Championships placed eleventh in the boys Mod 14-15 class
2005: Lake Whitney Spring National Girls Champ
2004: AMA Amateur National Motocross Champ 9-13 class Girls
AMA Youth Motocrosser of the Year
AMA Youth Rider of the Year
Personal Achievements
Ashley Fiolek MX rider is the first deaf person to win the AMA National Championships
She is also the first woman to get an American Honda factory ride in motocross
Ashley was honored at the Courage in Sports Awards in 2010
---
Home
| Dirt Bikes | Cheap Dirt Bikes | Accessories | Mini Dirt Bikes | Motocross Racing
Motocross Gear | Off Road Bikes | Used Dirt Bikes | Wholesale Dirt Bikes
Honda | Kawasaki | Suzuki | Yamaha