Brag about your KTM
Fun Information about KTM Motocross - Brag about your KTM
It is quite surprising to find out the history of some of the motorcycle companies that make popular dirt bikes. The idea that shaped KTM started at an Austrian repair shop opened by Hans Trunkenpolz in 1934. Quality work gets quality business, resulting in busy mechanics learning a lot about the working of quality cars and motorcycles. The KTM Company was founded in 1953. Trunkenpolz and Ernst Kronreif named it Kronreif, Trunkenpolz, Mattighofen or KTM for short.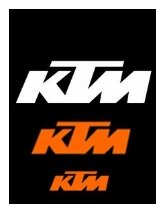 The first KTM dirt bikes imported to the United States in 1968 arrived under Jack Penton's name. Penton started repairing and riding dirt bikes at a young age. Racking up AMA championships and FIM medals, he also started working at his dad's company, Penton Imports, at age 13.
He soon became off-road team coordinator and then product developer for Hi-Point racing products and Penton motorcycles. KTM bought the Penton motorcycle distributorship in 1978, with Jack remaining as part of Hi-Point. He was instrumental in the later sale to Malcolm Smith Racing Products in 1988. Penton was inducted into the AMA Motorcycle Hall of Fame in 1999.
Bankruptcy in the early 1990s led to the various businesses within KTM splitting up. KTM Motorcycles focused primarily on their successful orange and black dirt bikes, which continue to move forward and compete with the Japanese imports.
The 2009 KTM 85SX offered two different sizes of wheel configurations, providing a ride for larger and smaller riders capable of handling the larger bike. One feature that caught the attention of parents on the 50cc dirt bike was the adjustable seat. As kids grew, the bike accommodated the fit.
In 2011, the released 350SX-F brought the option of a great bike for riders between the 250 and 450 ranges. The KTM150SX saw the two-stroke engine upgraded, with a reduction of weight to add a competitive edge.
Red Bull/KTM has been actively recruiting MX riders for their newest SX bikes and signed MX2 World Champions Marvin Musquin (France) and Ken Roczen (Germany) the 250cc bikes. The 2012 upgrades are significant enough that the company wanted yet another great rider to show off the product during the AMA Pro Championship Series of 2012 and 2013.
They found the rider in Supercross and Motocross racer Ryan Dungey. The latest member of the Factory SS/MX team starts January 7, 2012 at Angel Stadium. In typical fashion, expect to see him make the KTM 450 SX-F fly for this event.
Only 21, Dungey is a legend in his home state of Minnesota, as well as recognized around the world. The year 2009 brought him the AMA Supercross Lites Western Regional Title and Pro Motocross Championship 250cc class crown. He was also a member of the winning United States team at the 2009 Motocross des Nations.
The first rider in history to win the AMA Pro Motocross Championship and Supercross in his rookie year of 2010, Dungey also repeated the Team USA win for the Motocross des Nations at Lakewood, Colorado. The result of the 2011 Motocross des Nations, held in France, was another Team USA victory. Team manager Roger DeCoster saw his team riders Ryan Dungey, Blake Baggett and Ryan Villapoto beat the competition and secure the title.
The new competition will be incredible with these exceptional riders and that "Brag about your KTM" knowhow. Brag about your KTM Motorcycle.

Tons of riders love the KTM moto bike. What model do you have? Is it stock or have you spent on it to the hilt? Brag about your KTM pitbike and tell us all about it here.
Don't forget - as a personal thanks from us - you get a spam free e-book about 10 things you must check when buying a Dirtbike once you make your submission.
Have A Great Story About Your KTM Motocrosser?
Do you own a KTM Dirt Bike? Share your thoughts!
What Other Visitors Have Said
Click below to see contributions from other visitors to this page...

ktm 125sx Not rated yet
hi i just recently purchased a 2004 ktm125sx and i cud not even hit second geer az it wuz to god damn fast lol lukkin to part x with smaler crosser and …