Buying and fitting a dirt bike helmet
Even if it's a pink dirt bike helmet – it still needs to be safe.
Buying and fitting a dirt bike helmet Properly.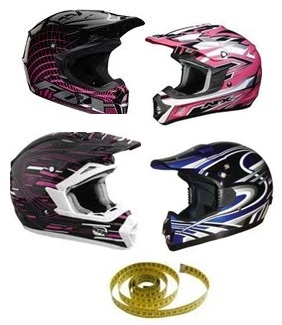 Motocross is one of the most prestigious and exciting bike sports out there. The feel of the bike, the speed, and the ride are all big draws to millions of people who participate in and watch motocross.
It is a blast, and one of the few bike sports that is continued on all year round. However with the excitement of motocross, also comes the danger, and one must be extremely cautious to protect yourself when participating in such an exhilarating sport.
Even if you honestly believe that you do not require safety procedures, it is important to follow them, not only are you better off this way in case something does happen but you will also make a better role model to all those who view your motocross skills and want to follow in your footsteps.
It's important to remember that you are not the only one affected by your choices regarding safety.
Buying and fitting a dirt bike helmet will make you more confident and comfortable to ride better.
So what's the first step in becoming a safer motocross rider? Buy a helmet. There are many helmets available out there and the prices range vastly; but none of them get so expensive that they are out of reach. Simply check around online and off, (if you have a sponsor all the better); they probably have a variety of them offered as well, and they can be purchased at any sporting goods store.
Make sure that you compare pricing because if you are buying one from a store, and don't care what brand it is, usually one can be found for cheaper made out of the same material as some of the bigger name brands carry.
Thats step 1 in buying and fitting a dirt bike helmet correctly.
Hey dirt bike girls, these aren't custom dirt bike helmet features.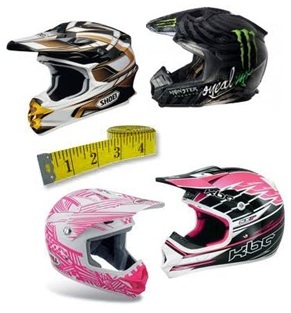 Once you find a helmet you are comfortable with, and one that is made out of a solid, durable, and comfortable material to cushion yourself from any serious damage one might take to the head, you are ready to start riding with a helmet.
When applying a helmet it is important to make sure that all the safety features that come with the helmet are applied. Ideally you need a helmet that is BOTH SNELL and DOT approved. Thats the way to do it, when buying and fitting a dirt bike helmet.
Apply the buckles together, often there are multiple buckles on a helmet so be sure to connect all of these together, and pull the straps until the helmet is snug on your head.
Also be sure that when this process is complete the helmet is facing straight forward, making it easy for you to maneuver and view your surroundings.
The helmet needs to fit "snug" NOT TIGHT, on your head. And if your head can be moved from side to side inside the helmet, it's obviously too big for you.
Once you have the helmet properly fitted, you are good to wear that helmet until it suffers a crash.
You don't want a helmet that has been severely impacted, as even if it appears to be re-usable, the damage could make that particularly specific spot of the helmet weak, and the next time an accident occurs one might not be so lucky as to have it hold up in defence of one's head.
When buying and fitting a dirt bike helmet the right way; it might not seem stylish. But for motocross participants it's very important for personal safety. It is also important for all those who might be watching, so don't skimp on the safety gear. A helmet can save your life.
So when buying and fitting a dirt bike helmet you only need to do it occasionally so do it properly, and the helmet will last you years.
Home | Dirt Bikes | Cheap Dirt Bikes | Accessories | Mini Dirt Bikes | Motocross Racing
Motocross Gear | Off Road Bikes | Used Dirt Bikes | Wholesale Dirt Bikes
Honda | Kawasaki | Suzuki | Yamaha