Buying and maintaining cheap motocross bikes
Have you considered secondhand dirtbikes ?
Buying and Maintaining Cheap Motocross Bikes – the pointers you need to know.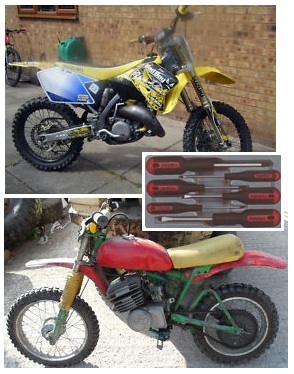 Motocross bike riding is becoming more and more famous these days owing to the large amount of media coverage that the sport is getting. This means that more and more people want to enter the sport, either for fun or in all seriousness.
However, everyone does not have the financial clout to purchase a brand new high quality motocross bike.
This means that the best way of buying and maintaining cheap motocross bikes is something that many people are looking for.
If you are in a similar situation, then the following guide on buying and maintaining cheap motocross bikes should help.
1. The biggest question you will ever face when considering problems pertaining to buying and maintaining cheap motocross bikes is whether you should go for dirt bikes with 2 stroke engines or dirt bikes with 4 stroke engines.
This is a question that does not have an absolute answer because the answer is dependent on the rider. If you are new to the sport of motocross dirt biking then you should go for a 2 stroke dirt bike because these are easier to learn on.
2. The second thing worth considering is the power of the bike. While bikes with a higher power like a 600 cc may be very alluring, it is best for beginners to go with dirt bikes with less power because these are easier to handle. Effectively, you should look for a dirt bike that falls in the range of 200 cc to 300 cc.
3. You should also evaluate the shocks and suspension of the dirt bike because it would have a major effect on the future of your dirt biking dreams.
4. Finally, as you are financially limited, you should look for second hand dirt bikes and put some work into their maintenance. This is the best foot forward for beginners also because first dirt bikes tend to not last very long.
Now for fixing inexpensive pitbikes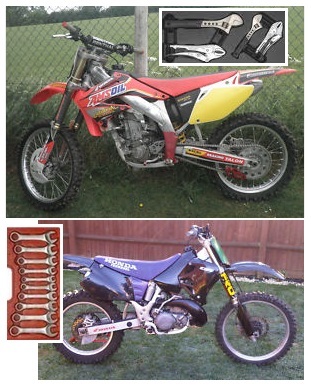 Here is the second part i.e. maintenance of this buying and maintaining cheap motocross bikes guide. There are three things you should check in detail.
1. The primary aspect of the maintenance of your dirt bike would be for you to check the state of the piston inside the engine, even if your seller has told you that it was just repaired. A faulty piston can ruin a perfectly fine bike if not checked early.
2. Following this, it would be prudent to go through the air filters and see how clean they are. If not, then you should clean them with petrol or air filter cleaning solvents.
3. Lubrication of the dirt bike would also be very important because lack of lubrication means the engine can break down any moment due to friction. Therefore, you should ensure that the lubrication of the engine is perfect.
A well serviced bike will make a difference. So develop a maintenance check list, and do it regularly. Also run a keen eye over your "cleaned" ride after every race, for any damage to the motocross bike.
Buying and maintaining cheap motocross bikes is not very difficult if you only go about it in a rational, composed and logical manner. Do your research and study the subject as well as possible and you will come up with a brilliant deal.
Home | Dirt Bikes | Cheap Dirt Bikes | Accessories | Mini Dirt Bikes | Motocross Racing
Motocross Gear | Off Road Bikes | Used Dirt Bikes | Wholesale Dirt Bikes
Honda | Kawasaki | Suzuki | Yamaha