Buying and maintaining new motocross bikes
This years MX bikes – purchasing moto candy.
Buying and Maintaining New Motocross Bikes – a new model army.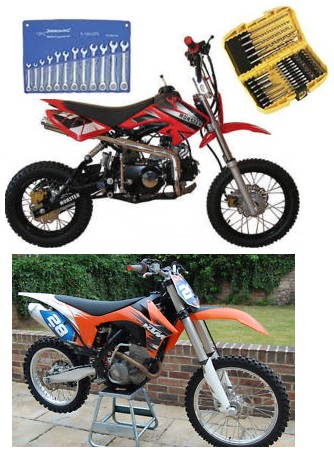 As the sport of motocross becomes increasingly popular, more and more people are wishing to experience it. This has resulted in many people being interested in buying new motocross bikes to try their hand at the sport.
If you are one of these people and are looking forward to buying and maintaining new motocross bikes, then you need to understand that it is not as easy as it seems.
In fact, both buying and maintaining new motocross bikes can be treated as separate exercises which are equally difficult. The following are tips for the success of both endeavors.
Buying new motocross bikes.
1. The first question that you should be asking yourself before going through various dirt bikes to purchase is what you need the bike for. The answer to this question will determine the model of the bike that you end up choosing.
There are different types of models of dirt bikes in the market meant for different purposes. For example, the Honda R class is designed for pure racing, the Honda X class for factory racing and the Honda F class for people only interested in motocross as a hobby.
2. The choice of your bike would also depend on your specific situation. Your age, size and experience would determine what dirt bike would suit you best. While it may be tempting to hop onto a bigger, more powerful dirt bike, you should objectively consider whether you can handle it.
One very critical consideration here is your experience level. If you are a beginner then you should restrict yourself to 2 stroke dirt bikes because 4 stroke bikes tend to be more complex.
3. Investing in buying and maintaining new motocross bikes is a big venture. This means that you may have to decide on the amount of money you are fine with spending on dirt bikes. If you are financially limited, then you should consider going the second hand dirt bike way.
Checking brand new dirt bikes.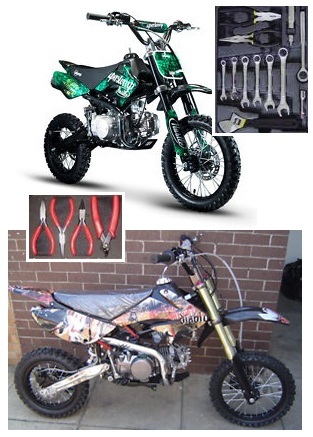 Maintaining new motocross bikes.
1. The most important thing you would ever need to do after getting your new motocross dirt bike is make sure that it never remains dirty for any more than what is unavoidable.
The key to maintaining a dirt bike is to prevent it from getting damaged in the first place. The most likely way through which a motocross dirt bike can get damaged is through corrosion which is caused by it being dirty too long for too often.
2. Apart from the external parts of the motocross dirt bike, it is also important to keep the insides clean. This can be done by cleaning air filters and keeping the engine lubricated.
3. Be sure and scour over the service manual, that comes with the new motorbike (be sure and tell the salesman you need one, if they aren't forthcoming). Read the servicing detail within it, clearly and concisely. It'll tell you all you need to keep the bike in peak condition.
Buying and maintaining new motocross bikes can be a little taxing in the beginning but becomes easier as you mature into your hobby or profession.
You would find yourself learning more and more about the different models of dirt bikes, the mechanical procedures required to keep it in optimum condition and even little tricks of the trade that can only be acquired through experience.
Home | Dirt Bikes | Cheap Dirt Bikes | Accessories | Mini Dirt Bikes | Motocross Racing
Motocross Gear | Off Road Bikes | Used Dirt Bikes | Wholesale Dirt Bikes
Honda | Kawasaki | Suzuki | Yamaha