Dirt Bike Games
Games and dirt bike videos..(arcade that is?).
Dirt bike games will keep anyone who is a fan of dirt bike riding totally hooked to a computer screen for hours on end.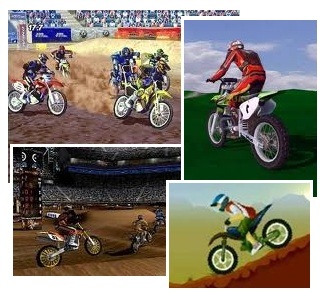 These ultra cool bike games are the most addicting form of exciting games that can be found on the net today.
DirtBike Games Online is one such site that has built a dirt bike gaming arcade for anyone young or not so young to play dirtbike games online for free.
Their dirt-bike game arcade website is continually growing and expanding because their team is constantly on the lookout for any new and of course exciting dirt biking games that they can add to their cool dirt bikes gaming collection.
The max dirt bike game – and much more.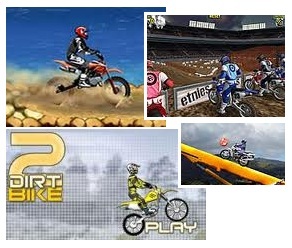 Max Dirt Bike is one of the challenging dirt bike games that anyone can have fun with.
The game looks simple enough, but the minute the game is started it is a challenge from the word go. The aim of Max Dirt Bike will be to clear any obstacles which are present at each of the levels without crashing.
When this goal is accomplished, the next level is attained. All levels have to be restarted if the bike is crashed. The levels get more and more challenging.
Enough air must be got to be able to clear all the obstacles, as well as controlling the dirt bike to land smoothly without crashing. Speed needs to be built up to clear the obstacles, but if the gas is pressed too quickly the dirt bike will flip backwards and crash.
Bike Mania on Ice is an obstacle course set on ice. The course consists of ramps and barrels and is not for beginner gamers with weak hearts and poor coordination.
By mastering the correct balance between caution and speed and leaning forwards or backwards at the right second, the game's first level can soon be mastered and the gamer can move on to new heights. If not, the ice that lies beneath those obstacles is pretty cold and hard.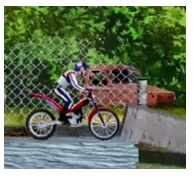 Bike Mania 2 is not for someone with slow eye and hand coordination and no balance. But, what's a dirt bike game without a challenge? This dirt bike game is an exciting obstacle course that is built within a junkyard.
The controls seem apparently simple enough to pick up a bit of speed, taking off over some half-buried tires and hopefully executing a near-perfect wheelie that has just the right speed and balance to surmount a wooden platform that lies beyond another buried tire. If not, the dirt bike rider lands face first into the dirt. Keep going though, and competitors will be left in that dust.
No Limits Moto Jump is the art, daring and skill of championship motorbike jumping taken to a totally new level. Set in Las Vegas, the fans that fill the stadium cheer the rider on as he attempts longer jumps one after the other until he takes the final leap that is the length of a football field!
Sophisticated controls have to be mastered to make a record leap. If the ramp is hit at the correct speed, the dirt bike rider will soar 50 yards or even more in front of adoring fans. If hitting that ramp too slowly, the rider will no doubt be dusting himself off right next to his crumpled bike.
Some more thrilling dirt bike games include Motorama, Stunt Mania 2, Braapi Motocross, and Dirt Bike Championship to name a few.
---
Home | Dirt Bikes | Cheap Dirt Bikes | Accessories | Mini Dirt Bikes | Motocross Racing
Motocross Gear | Off Road Bikes | Used Dirt Bikes | Wholesale Dirt Bikes
Honda | Kawasaki | Suzuki | Yamaha