Dirt Bike Helmets
A dirtbike helmet for sale - want one?.
Dirt Bike Helmets - important decisions.
The helmet is one of the most important pieces of motorcycle safety equipment to put on when riding dirt bikes.
This does not mean that other bike safety equipment will not be important. It just means that protecting one's head from injuries is possibly more important compared to other non vital areas of the body.
Because of this, it is absolutely essential to wear the correct dirt bike helmets to perfectly fit a person's riding style.
A person only has one head, with only one brain that goes with it. It is imperative that the helmet that is bought and then worn is in keeping to the approved safety standards as well as being kept in absolutely mint condition.
It is important that dirtbike helmets meet or even surpass the recognized safety standards of motorcycle helmets. A Snell certified helmet will indicate that the helmet is certified in meeting high safety standards.
A sticker is always put on the helmet at the back to indicate the Snell certification. Snell is a globally recognized authority when it comes to the safety standards of helmets.
When buying a dirtbike helmet it is important to never buy a used or second hand helmet. When looking at the helmet for the first time a person might not be able to see if the helmet was involved in any accident.
The outer shell of a helmet will usually be made of Kevlar, polycarbonate plastic, or fiberglass. The core of the helmet will generally be constructed of polypropylene foam or polystyrene which will crush upon impact. This process will absorb the energy which would have otherwise been forced onto a person's skull.
After any impact (including the helmet being dropped onto a pavement) the helmet provides little to no protection, however good the outer shell still looks.
Seriously cheap dirt bike helmets should be avoided.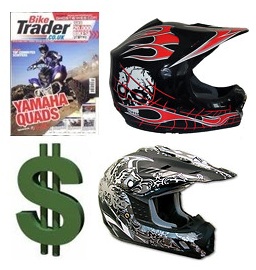 There are certain features which make dirtbike helmets more comfortable to wear.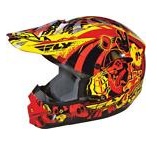 Dirtbike helmets must always feel comfortable when trying them on and when wearing them. Custom adjustments of a dirt bike helmet can be done, but a helmet should not be wobbly or loose when it has been fastened down.
A dirt bike rider should make sure the strap of the helmet is easy to tighten as well as loosen, and that the strap stays firmly in place.
Most reputable dirt bike trader shops, will have dirt bike helmets for kids and adults, that have passed all the regular requirements you should be looking out for.
Maybe you want branded items such as a hjc dirt bike helmet, for motocross riding. But don't ever be tempted to cut corners on a bargain basement kid dirt bike helmet , as a pre-owned helmet is an unknown quantity and that's got no place on your head.

Home | Dirt Bikes | Cheap Dirt Bikes | Accessories | Mini Dirt Bikes | Motocross Racing
Motocross Gear | Off Road Bikes | Used Dirt Bikes | Wholesale Dirt Bikes
Honda | Kawasaki | Suzuki | Yamaha