Dirt bike training wheels
Todays dirt bike training for kids.
Dirt Bike Training Wheels , Everyone Rides with them.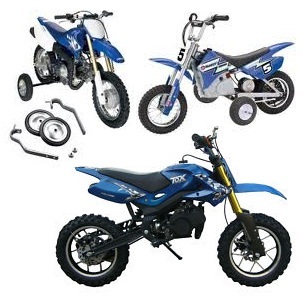 Many kids learned to ride a two-wheeled bicycle with the help of training wheels. The advent of older avid motorcyclists needing a bit of extra balance led to the trike-type motorcycle.
It only makes sense that with the popularity of dirt bikes, dirt bike training wheels were developed and are a popular temporary attachment for beginner and novice riders. Now the entire family can enjoy riding off road trails together.
Several manufacturers build the wheels for many different bikes. Moose Racing Dirt Bike Mount Training Wheels made for the Yamaha TTR50 and Honda CRF/XR50 mount to the engine case, not the footpeg brackets.
Steering, braking and throttle control are so much easier for the beginner to learn when the secure feeling of an extra wheel on each is present. They provide stability until the new rider is old enough or experienced to ride without them. Two and three year children can ride dirt bikes under parental supervision. The training wheels are made in the USA.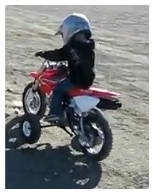 Easy Ride also makes training wheels that mount securely across and below the minibike's motor. They are custom engineered for such bikes as Yamaha PW50 and PW80, Honda CRF50, XR50 and XR70R, Kawasaki KDX50 and KLX110, Suzuki JR50, JR80 and DRZ110. The kit fastens closely to the frame or engine.
Tall diameter pneumatic tires and wheels gain and keep maximum ground clearance. Dirt bike training wheels eliminate the chance to roll over and help the beginning rider to learn that riding can be fun. As confidence and handling ability increase, your child will become less dependent on the training wheels.
Stress safety repeatedly. Have a proper helmet, safety suit, proper footwear and gloves for your beginning rider.
Make sure your child understands he or she can only ride when there is a qualified adult or older child watching. Be certain to have a schedule so the enthusiasm does not wane. Plan family trips to take advantage of junior courses.
The finer points of dirt bike wheels.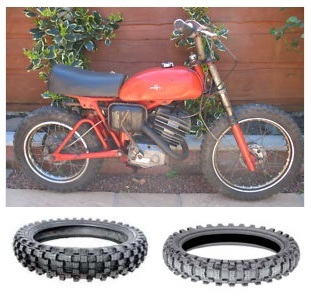 There are two popular axle types by Easy Ride for dirt bike training wheels, rigid and quik release axle.
One advantage of dirt bike training wheels is the ease of transporting the bike in a SUV. Another is that both novice riders and beginners can share one bike. That is definitely an advantage when there is more than one new rider in the same family.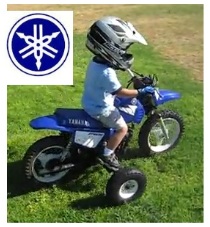 Being able to watch the child's reaction to terrain, steering and braking while knowing he or she is safe is a major factor in determining what needs worked on and where the kid is doing great.
It is a lot easier to allow the child freedom to move when you know the training wheels provide balance.
The braking pedal and shift lever are unobstructed, so quickly accessible for the rider. Footpegs are unaffected by the install. As always, use precautions. Adults should be present and supervising the rider.
Even with dirt bike training wheels, it is important to remember that bike riding can present some dangerous situations. Review safety practices while reminding the child of the joy of riding.
If you're buying a kit, follow the dirt bike pictures in the instructions carefully, and be sure whatever your doing is not hindering the original dirt bike tires. Kits are available for 50cc dirt bikes, and other sizes of pitbikes too, so do be sure your ordering the right kit for the right bike.
---
Home | Dirt Bikes | Cheap Dirt Bikes | Accessories | Mini Dirt Bikes | Motocross Racing
Motocross Gear | Off Road Bikes | Used Dirt Bikes | Wholesale Dirt Bikes
Honda | Kawasaki | Suzuki | Yamaha