The Electric dirt bike
Toy dirt bikes ? What do you think?
The Electric Dirt Bike – the changing face of motocross?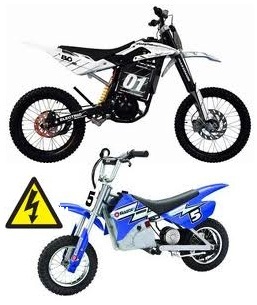 When many people picture an electric dirt bike, they visualize the mini-bikes that children ride around on.
But bikes with electric power systems are becoming so much more than that, climbing into the ranks of high-performance vehicles that are being featured at motocross events.
Different Types of Electric Bikes
There are a couple different types of electric bikes that are becoming well known in the motocross world. One of them is the mini or pocket bike. While it is still more common to see gas-powered mini bikes on the track, the electric versions are getting more attention.
Many people also consider a small, slow electric dirt bike to be a great way to let children "cut their teeth" on dirt-biking. One reason why parents prefer these to the gas powered versions is that they are considerably quieter and instead of needing gas, they simply get plugged in at the end of the day.
But full-sized, multi-speed dirt bikes with lots of power are also popping up and introducing themselves in a big way. Zero is one company that has brought out an electric bike, and all the features and stats point to it being an impressive piece of equipment.
They have one version that is purely for riding off road and in motocross arenas, and another version that is completely street legal.
Brammo is another company that is blazing the trail for the electric dirt bike. They are producing a 6-speed dirt bike, and are promising many versions. They will have four options for buyers, which includes professional grade bikes and a mini bike.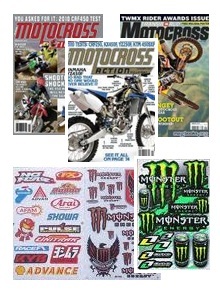 Key Differences Should Be Expected
If you have had gas-powered dirt bikes in the past and are now considering getting an electric version, keep in mind that there are big differences between the two. The most obvious will likely be the basic operation of the bike.
You shouldn't have any difficulty getting used to the different driving styles that electricity has, but you need to be ready to spend a couple of weeks getting used to your new ride.
Also, the equipment is different, and so you will need to spend time learning about the electrical system as well.
Troubleshooting on an electric dirtbike can be very different from their gas powered counterparts, so be ready to learn up front so you don't have to learn the hard way later.
Dirt bike riding - More to Come
One thing that is for sure is that dirt bikes that run off of electricity are only going to become more popular in the coming years.
Right now they are very expensive and there aren't a lot of options. But more and more popular companies are announcing that they have plans for their own electric bikes.
Electric dirt bikes, are becoming more frequent visitors in the more popular dirt bike magazine periodicals. And as they improve performance along with cooler and wilder dirt bike graphics, they could appeal to the newer younger audience of riders.
So whether or not you are planning on getting an electric dirt bike any time soon, if you are a dirt bike enthusiast you should keep an eye on this part of the market. It is sure to keep growing, and will likely change the entire face of motocross while it does.

---
Home | Dirt Bikes | Cheap Dirt Bikes | Accessories | Mini Dirt Bikes | Motocross Racing
Motocross Gear | Off Road Bikes | Used Dirt Bikes | Wholesale Dirt Bikes
Honda | Kawasaki | Suzuki | Yamaha