FMX Video
Those fmx shows & video fmx services.
FMX Video: Recorded Entertainment.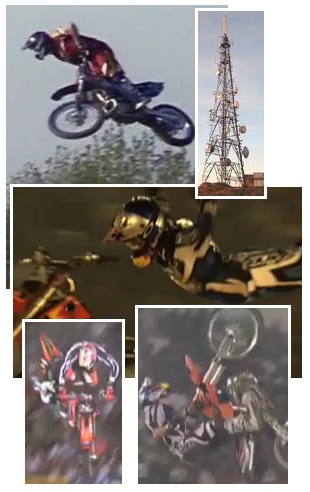 The age of technology lets anyone see action live or time-delayed, often shot by both expert crews and individuals with a passion for the event.
FMX video can consist of complete choreographed visions of delight or down and dirty shots by an amateur giving his or her own call of the action.
What is there about videos that draw millions of viewers? When it comes to action sports, the answer varies, but mostly deals with the fact that avid and casual fans can watch their favorite riders during competition and training. Slo-Mo, replay and pause features give an opportunity to evaluate the technique and form bit by bit.
Checking out or participating in action at the local track is the scene for most people. Motocross national and international activities are beyond the budget of many enthusiasts.
FMX video from sources like ESPN is full of detail and specific moments or a cacophony of mayhem as action is tossed together to give the viewer the impression of being in the crowd.
Even knowing the result of a particular trick, watching the event in slow motion is incredible. For the rider, it is the equivalent of hands-on training. For the casual viewer, it is a moment of exhilaration as a rider defies gravity and seemingly hangs in time.
Real life action requires real life decisions and FMX video brings shots of riders like New Zealand's Levi Sherwood ejecting off his KTM during the Nitro Circus Live Show in Las Vegas. Split-second decisions are part of what makes the sport so great.
Riders can spend all day discussing the situation and the results. Manufacturers can get their best techs working on the reason for the stall. Video makes it all possible.
Our fmx transmission, coming through loud n' clear.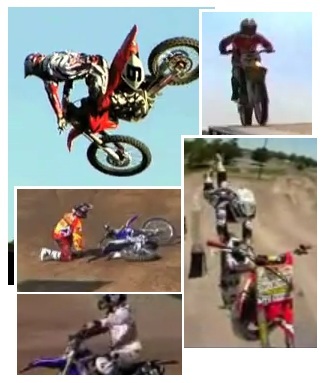 FMX Video Games for Down Time.
So you want something to do and the computer is open. Test your skills on FMX Team Video games. There are 15 FMX levels at Big Town Fun.
The teams consist of 3 bikers that perform and can learn new stunts. The more stunts unlocked and performed, the higher your score. Best of all, the game has a pause feature.
FMX video games improve hand/eye coordination, demand split-second decisions and provide instant feedback when making the wrong move or hesitation costs the moment. Coordination and thought are just as important as skill.
Motocross FMX at Dirt Bike Games gives the gamer an opportunity to choose from three tracks to begin, adding more tracks as levels progress. Judges rate your tricks and crowd participation lets you know the ideas of those watching spectacular jumps or careless wrecks.
Some FMX video games require a lot of equipment and use of the big screen TV. Rainbow Studios offers "MX vs. ATV Untamed" for Wii, PS2 & 3, Xbox360 and DS. A warm-up area provides time to get used to the controls and features of your virtual bike. Fast-paced action is just what you want from a racing game and it is what you get.
Make the wrong choice and crash. Allow time to learn the features just like real life, learn from your mistakes.
Push other riders out of the way to gain position. Race fields, desert terrain, Supercross or Endurocross tracks. Try defying gravity with incredible jumps. Learn lots, have fun.
Red Bull X-Fighters 2011 Brasília - Best Action
Hope you enjoyed the video above - more to come soon. Also if you have any videos you'd like to share drop us a line.
---
Home | Dirt Bikes | Cheap Dirt Bikes | Accessories | Mini Dirt Bikes | Motocross Racing
Motocross Gear | Off Road Bikes | Used Dirt Bikes | Wholesale Dirt Bikes
Honda | Kawasaki | Suzuki | Yamaha