Freestyle motorcross
Freestyle MX routines & busta moves.
Freestyle Motorcross .....have a freestyle lite bite.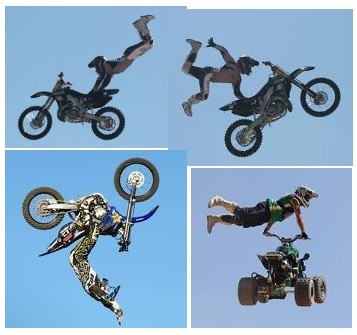 Another name for Freestyle Motorcross is FMX. Freestyle Motocross is actually a variation of motocross wherein a motorcycle rider attempts to make an impression on judges with stunts and jumps. There are two main kinds of freestyle events:
Big Air (or Best Trick): Each rider will get two jumps from a dirt covered ramp. These will usually cover more than 18 m or 60 feet.
A team of judges will evaluate the originality, trick difficulty and style and produce a score on a point scale of 100. The highest single jump score of each rider is compared and the top score will win.
Freestyle Motorcross; This is the older of these two disciplines. A rider has to execute two routines that last between ninety seconds and fourteen minutes.
This is done on a course that consists of several jumps that have varying angles and lengths that usually occupy one or two acres. Just as with Big Air, a team of judges will assign a score for each contestant based on the point scale of 100, looking for variations and difficult tricks over the jumps.
Prominent Freestyle events include the Dew Action Sports Tour, the Moto-X Freestyle National Championships, Big-X, Gravity Games, the X-Games, NIGHT of the JUMPs, and red Bull X-Fighters. Notable riders are Travis Pastrana, Nate Adams and Kenny Bartram.
Original freestyle motorcross is called freeriding. There is no structure to this sport, and it is traditionally performed on public lands. In this sport, a rider looks for natural drop-offs and jumps with which to perform their tricks.
Some freeriders will often prefer jumping over sand dunes. In a lot of ways, freeriding will require more mental ability and skill. Noteworthy freeriding locations will include Cainville in Utah, Beaumont in Texas, Glamis Dunes at California as well as Ocotillo Wells.
Eye-popping Dirt bike freestyle battles.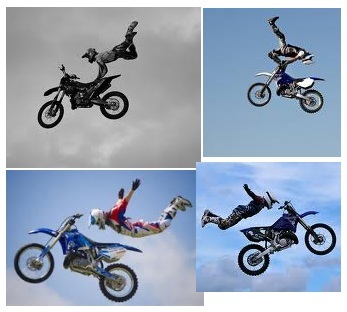 An FMX rider typically uses the same rider gear as an MX racer.
This will include MX pants, chest protector, jersey, boots, gloves, goggles and of course a helmet. A rider might supplement this gear with knee and elbow pads.
A rider might also want to wear some 'body armor' that protects the chest as well as legs when he performs extremely dangerous tricks just like travis Pastrana did when he performed his double backflip. A rider might also wear a neck brace if he is concerned about any neck injuries and when attempting any dangerous tricks.
A rider will use a modified motocross bike with aftermarket parts so as to lower the weight to improve performance. The seat foam will often be shaved down for better seat grip and more motion. Steering stabilizers help in keeping front tires running straight when riders let go of their handle bars for performing certain tricks.
The width of handle bars can also be shortened for putting a rider's legs around these bars while executing tricks such as the 'rodeo' or the 'heelclicker'. Excess cables like clutch and brake cables will usually be directed away from handlebars to avoid a rider getting his boots caught.
The mechanical and engine details of the FMX bike will be fairly stock and does not need fine tuning like a racing bike needs. A freestyle motorcross bike will also sport aftermarket performance pipes to give it more power. It must have very high-quality tires and strong suspension.
If you go along to the many freestyle motocross events more than one freestyle photo opportunity will present itself, so get snapping, and capture this amazing FMX discipline.
Home | Dirt Bikes | Cheap Dirt Bikes | Accessories | Mini Dirt Bikes | Motocross Racing
Motocross Gear | Off Road Bikes | Used Dirt Bikes | Wholesale Dirt Bikes
Honda | Kawasaki | Suzuki | Yamaha