Goggle news for pit bikers
I spy goggles (MX goggles)...everywhere.
Goggle News for Pit Bikers – helps you know if oakley ski goggles cut it - for motocross riding?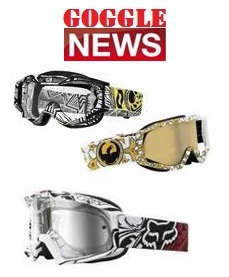 What is new in the way of goggle news for pit bikers? If you failed to leave your email address with your favorite MX sites, it would be hard to say.
Marketing is important. Sometimes you may be pushed to purchase what is claimed to be the best thing in goggles since who knows when and you are assured that they are even better than most MX goggles around.
If you have access to the latest updates, you will be prepared to dispute claims of manufacturers whose primary intent, after all, is to make money.
It is a good idea to sign up for alerts on goggle news so you can catch sales and specials on new products and find out what others are saying about different types of equipment, apparel and accessories.
For instance, snowboarders and pit bikers both are involved in an active sport, where the equipment may be off the ground and in the air as often as it is firmly on it. You may have caught some of the comments lately about MX goggles and snowboard goggles being the same except for colors and names.
Thankfully, someone advised one rider to bring their helmet along to confirm the snowboarding goggles were compatible with the MX helmet. This is not about fashion; this is about saving your eyes and the area around them from injury.
Motocross goggles are designed to withstand sharp rocks being tossed back by other bikes, keep vision clear and fit close, but comfortably, on the face with the helmet to give the maximum amount of protection possible.
Cool dirt bike goggle images.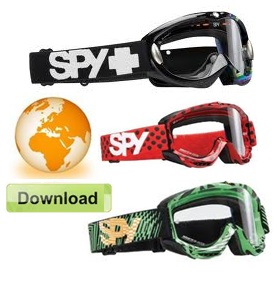 If there are any plans to ride muddy tracks or trails, goggles with tear-offs are extremely important.
Whether looking for goggles online or offline, it is important to be familiar with what is available, recommended features, and price.
You got one set of eyes at birth and saving them is worth the extra money. Do not snatch up a pair of used goggles because they are cheap. Think what your goggles go through when you ride and hang on for new.
Oakley is a respected name in many sports and usually has a prominent sports figure sponsor goggles, such as the limited edition Troy Lee Designs Signature Mayhem MX Goggles. Troy Lee Designs ® deal those awesome custom paint jobs to racing helmets; MX limited edition goggles were the next step.
The hype mentions clarity, performance, comfort, protection, and best fitting goggle ever designed.
"Radically new architecture" and "aggressive styling" sound impressive. Goggle news for pit bikers would have given you a heads-up email about the new goggles and an opportunity to read about them, check reviews and compare features.
Checking on the new MX goggles leads to the discovery that moisture wicking is fantastic and there is a triple-layer face foam. A quick release makes changing the strap fast and easy. Take off the nose guard if you want.
Included are laminated tearoffs. Optics are out of this world and well worth reading so that you have something to compare other goggles to the next time you are looking.
Meanwhile, get your email address on your favorite sites for goggle news for pit bikers and be among the first to know what is new and what is important.
It's a bit like having a giant pitbike goggle earth download , waiting in your inbox. All those stores want your business and are happy to keep you in the loop – but YOU need to sign up first.
Thats how you get the latest goggle news for pit bikers & dirt bikers.

---
Home | Dirt Bikes | Cheap Dirt Bikes | Accessories | Mini Dirt Bikes | Motocross Racing
Motocross Gear | Off Road Bikes | Used Dirt Bikes | Wholesale Dirt Bikes
Honda | Kawasaki | Suzuki | Yamaha