Goggle search for dirt bike riders
Be like a motocross goggle search engine.
Goggle Search for Dirt Bike Riders - goggles free advice from your MX doc.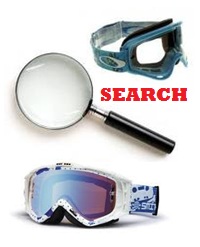 Every sport offers a great variety of equipment and motocross is no exception.
Searching for the right MX equipment is a challenge because there are so many factors to consider, like track, competition and skill.
A goggle search for dirt bike riders can leave anyone's head spinning. If this is a gift for someone special, there are a few things to know before you start your search and several things to consider before making a decision.
You can get professional help by asking those who know. You will find motocross shops in many localities, as well as online. The guys and gals in the shops are there because they love the sport and want to see more people involved in the sport.
To accomplish that, riders need to be safe and have equipment that will help achieve that goal. You will also find that many online motocross shops have live agents with the same commitment available to answer your questions. Best of all, there are many reputable blogs on the net that cover all things MX.
Some are family friendly and some are vulgar. Pick the ones you feel comfortable with and see what writers and readers have to say about the different types and brands of goggles.
Ask both physical stores and internet stores to add you to the email list so you are notified about sales and specials. Advance notice keeps you better informed about new products and helps you feel comfortable when doing comparison shopping and speaking with dirtbike family members.
Motorcycle goggles for off road pursuits.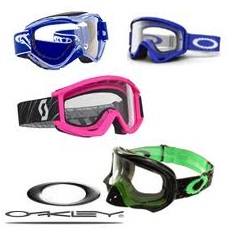 Does color matter when it comes to goggles?
Realistically, you are doing a goggle search for dirt bike riders because you want to be sure that the recipient has the best eye protection available. There is never a doubt that MX goggles are replaceable.
The eyes are a different story. Having said that, there are people who must match from head to toe before they feel right about themselves. It is not a feeling limited to teenage divas. If your MX dirtbiker is all about matching, look for the best protection with polarized lenses and durability and ask what colors are available.
You will most likely be able to make benefits and features a priority while achieving color coordination.
A goggle search for dirt bike riders needs to go right past used goggles. They have already been through a lot and there is no sense in lessening safety for a small saving. Out on the track a rider encounters smoke, dust, flying rocks, and dirt.
Goggles protect the areas around the eyes and avoid injury from any of those hazards. The right fit is extremely important for maintaining that safety feature. Definitely get a set that wicks the sweat away from the eyes. The last thing needed is blurred vision when racing.
Some of the brands to search for and compare include Yamaha, Thor, Vans, Smith Optics and oakley goggles. Look for features like anti-fog lens, layer face foams, in-lens tear offs posts and roll offs. Easy adjustment is mandatory.
With the hazards of the dirt track, do not settle for other kinds of goggles with which to get by. A goggle search for dirt bike riders should concentrate specifically on quality dirt bike goggles with lots of common sense features.

---
Home | Dirt Bikes | Cheap Dirt Bikes | Accessories | Mini Dirt Bikes | Motocross Racing
Motocross Gear | Off Road Bikes | Used Dirt Bikes | Wholesale Dirt Bikes
Honda | Kawasaki | Suzuki | Yamaha