Honda atv parts
A World of Change in Honda ATV Parts
Sports model ATVs, built light, deliver high performance, requiring excellent suspension, a low center of gravity and high power.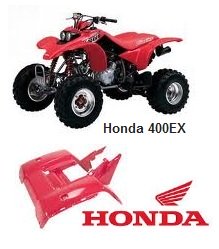 Further modification perfects them for the type of racing desired, such as motocross, hare scrambles, desert racing, speedway, and so on. Honda's Sportrax 400 EX is great for fast trail racing and Honda ATV parts are easy to get; both stock and with modifications.
The most common parts bought for Honda ATVs today include carburetor kits, gaskets, oil filters, sprockets, chains, wheels, brakes, grips, frames and subframes, handlebars, the swingarm, rear axle, front and rear plastic and front shocks.
The Honda FourTrax 400EX or TRX400EX is Honda's design for MX racing, first brought out in 1999. As a leader in racing motorcycles, Honda knew that the trend for racing quads would continue to grow and presented a leader before there was competition.
One problem that continues today is the design and quality of the plastic, which begins tearing or cracking almost immediately. It is quickly replaceable through Honda ATV parts stores, but customers question why a major company would make a product, like plastic, that reacts to impact from jumps so easily, especially when that is what the quad is designed for.
Most of the ATV spares in the above list are normal wear and tear items and when racing is added into the picture - these parts are sure to wear or need replacement more quickly. Three additional excessive weaknesses found in Honda ATV parts on the 400EX start with the wheels bending from stress.
The subframe, even with a light rider, cracks so frequently some Honda quad owners just replace the 400EX subframe and frame before taking the quad out to the track. The final problem is the swingarm, which reacts to a sharp jar adversely, cracking at the end of a jump.
Other ATV's all have their own unique pitfalls too, that's why having a good spares bin at home is essential.
Honda Models for your atv accessories
Honda ATV Parts – Your used honda vehicle needs them (but only the right ones).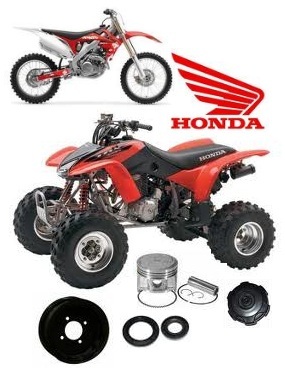 If you're in the market for an ATV, then you should definitely consider Honda and honda atv parts. Here's everything you need to know about quality parts from one of the world's top ATV manufacturers.
Honda Company History
The name "Honda" originates from one of the company's founders: Soichiro Honda. It was founded in 1948. Besides ATVs, Honda also produces quality lines of motorcycles and automobiles. In fact, for about half a century Honda has been the largest manufacturer of motorcycles in the entire world!
That's definitely reassuring when you need to find replacement honda atv parts for your ride. Honda's experience producing motorcycles helped it to produce the first ATV with three wheels, in 1970. Although it was actually Suzuki that manufactured the first four-wheeled ATV, Honda soon produced its first model: the TRX250R.
Honda ATV Models
When you're in the market for replacement honda atv parts, it's important to be aware of some of the company's four-wheeler models.
Here are some of them:
ATV parts buying online - Six things to do.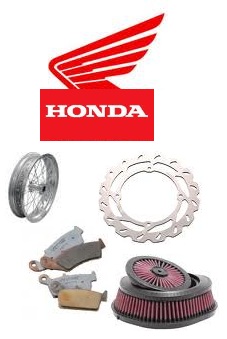 Honda ATV Replacement Parts: Buying Tips
If you need to buy honda atv parts for your four-wheeler, here are some helpful tips for finding the right part at the right price:
1. Do comparison shopping
You could shop for honda atv parts in either online or offline stores. Shopping online will make it easier to find the lowest prices available for Honda ATV replacement parts thats for sure.
Shopping online not only allows you to compare prices faster, but you can shop from the comfort of your own home. On the other hand, if you use the Internet to search for ATV parts for Honda models, be cautious so you can avoid potential online scams.
2. Know the part number
Many ATV parts for different models can look alike. So besides knowing your ATV model, you should also learn the exact part that you'll need. This will help you to find the right part, and also find it faster.
3. Have a professional install the parts when in doubt
If you have any doubts about installing replacement parts on your Honda ATV, then have a trained professional do it instead. Otherwise, you could experience unwanted problems that could actually require you to replace more parts. Even if you're a DIY fan, make sure that you're 100% certain about how to install a replacement ATV part.
4. Consider buying extra replacement parts
That probably wouldn't be too feasible if you're replacing the motor. But if you're replacing smaller parts, then it's an option that you should certainly consider. It can prevent hassles and high shipping costs.
5. Buy honda atv parts that are produced by Honda
This is highly advisable if you want to be 100% certain that you're purchasing quality, compatible parts. You should be especially careful about cheap copycat parts. While they'll have a lower price tag, they'll likely need to be replaced sooner rather than later. By choosing genuine replacement parts from Honda, you can have peace-of-mind that you're buying the best part available.
6. Learn about a company's policies
This is especially important regarding a company's shipping policies and return policies. Learning about such policies before you buy replacement parts can help to save future possible problems. Different companies will have different policies, so learn about them before choosing a particular company.
Try and avoid many used atv parts, as they can be unreliable – you just don't know how worn they are. If you're not in the trade it's hard to get atv tires wholesale and other spares, but some auction sites might sell genuine parts quite close to wholesale prices – so do some digging.
---
Home | Dirt Bikes | Cheap Dirt Bikes | Accessories | Mini Dirt Bikes | Motocross Racing
Motocross Gear | Off Road Bikes | Used Dirt Bikes | Wholesale Dirt Bikes
Honda | Kawasaki | Suzuki | Yamaha