Honda motocross racing
Become a Honda winner - know the subject.
Accepting the Challenge: Honda Motocross Racing Teams
Honda motocross racing has an image of obtaining the best riders, providing them with an awesome ride and giving them the chance to realize their dream of achieving goals in every race.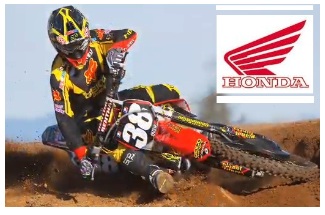 Seeing their machines out in front of a crowd of enthusiastic fans helps send the message about bike care, sportsmanship and safety gear without saying a word.
Corporate leaders recognizing the value of advertising keep sports events alive and well. Whether it is hooking onto a brand, rider or team, the benefits for sponsors are priceless.
Familiar Names on the Honda MX and SX Circuit
You will find a great group of riders and teams within the hallowed halls of Honda motocross racing. Team Honda Muscle Milk is a new MX/SX team for 2012, the result of a multi-year agreement with title sponsor Muscle Milk from CytoSport, involved in several other sponsorships, including the Los Angeles Dodgers, 4x Ironman World Champion Chrissie Wellington and a number of NCAA athletic departments. Team Honda Muscle Milk is where you will find riders like Ashley Fiolek, Justin Brayton and Trey Canard mixing it up.
Ashley rides a CRF250R as she defends her WMX 2011 title, the third one for this popular rider. She is starting her fourth season with Honda in 2012 and earned positive statements from Team Manager Erik Kehoe. Not only does she persist in her goal of being the best, she is a good role model, great with the media and a credit to Honda and the MX community.
Trey, in his second year with Honda, was looking forward to bettering last year's achievements, which included frequent trips to the podium and winning three SX events. A season-ending injury occurred January 21, 2012. Trey was unable to complete a triple jump in the main event. Rockstar Valli Star Racing's Ryan Morais jump was already in progress in the main event's first lap and the rear wheel of his bike landed on Trey's back.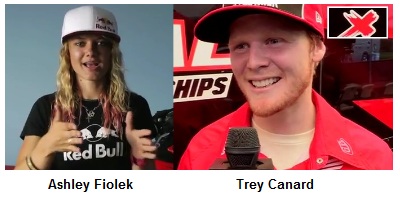 Both riders suffered back and other injuries; the doctors expect full recovery. Morais may miss the remainder of the season, as well. Justin is new to Honda for the 2012 season, but impressed the company with his speed and handling of the 450. Unlike some riders picked up early with a factory team, Justin has fought to reach this level. Now, rather than being a complement to Canard, he has been elevated to one of American Honda's chief hopes for the season.
Troy Lee Designs Lucas Oil Honda includes members Cole Seeley, Christian Craig, Tarah Geiger and Travis Baker.
Geico Honda includes Kevin Windham, Justin Barcia, Eli Tomac, Will Hahn, Justin Bogle and Jimmy Decotis.
TwoTwo Motorsports features Chad Reed and Supercross Honda Racing features Andrew Short.
Events and Achievements
American Honda is one of the most decorated teams in MX/SX. Honda motocross racing encourages good sportsmanship, great racing, safety and fan recognition. Honda dealerships benefit when the teams drop by to sign autographs. February appearances include Huntington Beach and Escondido, California, Dallas, Texas and Douglasville, Georgia.
Instead of the Oakland Raiders, Monster Energy AMA Supercross took over Oakland Coliseum in late January 2012. Chad Reed took second in the SX final, while Eli Tomac won the Lites class and became the first rider in the 2012 season with back-to-back wins.
Why Honda?
Many MX men & women turn out to watch Honda motocross racing, and it's truly an event to see.
Motocross racing is a superb way of finding out what others are doing, and new ways of jumping or using tracks that test the most skilled biker. So take a day out and go along and watch some racing, or even join in yourself.
We'll show you some great Honda motocross websites to go to. Quality info regarding Honda racers and performance, should help you enjoy your adventures a whole lot more.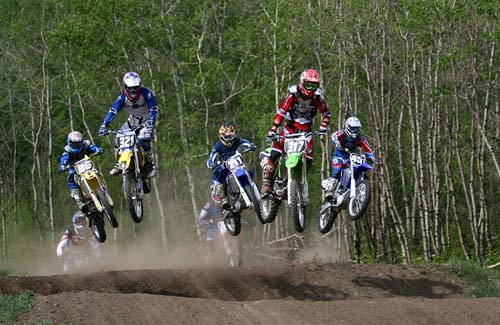 Should you need to know superb information on all kinds of motorcycles – not just Honda, then a trip to dirtrider.com, should put you on the right track. It's a well laid out website, and we came across a number of categories including Honda MX races. You'll also find articles about bike suspension and the new mini bikes amongst a plethora of well written articles.
If your going to parks on a regular basis you'll need motocross spares. Cmsnl.com supplies a whole raft of parts including Honda Motorcycle Parts. ATV and even snowmobile spares can be located here – plus vintage Honda bits. Do see their rules on shipping, payments and returns and exchanges to see if the costs are just right for your pocket.

The Honda dirt bike
Researching the Honda community.
Two more sites that intrigued us on the subject of Honda motocross racing was firstly hondaredriders.com, that has motocross, road racing, off road, inside line and community pages...And powersports.honda.com is a Motorcycle Racing and Road Racing news site that has rider biographies and lots of stats. A number of schedules are shown on its pages from the ATVA GNC MX SERIES to the WORCS OFF-ROAD SERIES.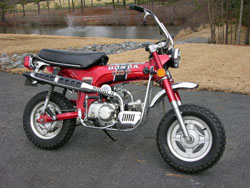 World.honda.com/WMX has plenty of motorsports including motoX. News such as Honda Motorcycle Racing Plans and this years schedule are listed on its Honda motocross racing page.
You won't need a Honda motorbike to find benefit in motocross-racing-tips.com. A well written site that is a cool resource for the most ardent off road fan and enduro rider. Categories include Riding techniques, Track design and layout, Bike maintenance and Guides to buying a used dirt bike as well.
Good advice is hard to find, which is why we recommend this website.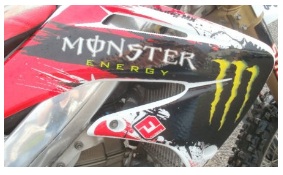 To wrap up we looked at supercrossking.com's store for Honda motocross racing items. A fine 2004 Factory Honda Motocross Racing Replica model (size 1.6) was for sale at $19.99.
A collection of 1/6 dirt bikes should look brilliant in any room of your house, and lets your buddies know you're a true-blue dirtbiker.
The MX store is ideal for gifts and a Jeremy McGrath Trash Can for $18.95, should keep those pit bike kids tidy. Supercrossking had lots of discounts, accessories and dirtbike toys for children which cropped up many times on their pages.
There were no motocross videos on any websites we have mentioned today (always check out youtube for vids in any case), but the well presented stores will have you buying anything from MX pants to a honda 125cc motorcycle if you so wish. And if you don't want to splash the cash, many sites will present you with free articles, so take a few hours out of your day to relax and read about Honda motocross racing.
A 100cc honda mistake
Racing on your local track may come in a series of stages, for instance your 125cc honda dirt bike will be unlikely to be racing against the Honda 70cc bike your buddy has. Pick YOUR "cc" of MX bike wisely, because you don't want to miss out. For example if you roll up at the track with your new 100cc honda bike – you need to know for sure that your local circuit will let you ride it? – and if there is anyone else in that class to even race against!
Honda MX bikes are the choice of many enthusiasts and you also have the benefit of a producer that knows their customer and offers plenty of spares. You can't go far wrong with any of the reliable Honda motocross bikes and they should be bullet-proof if cared for correctly.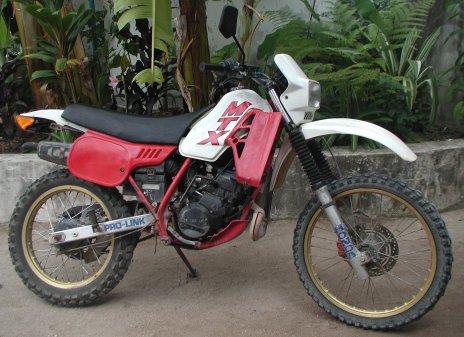 Home | Dirt Bikes | Cheap Dirt Bikes | Accessories | Mini Dirt Bikes | Motocross Racing
Motocross Gear | Off Road Bikes | Used Dirt Bikes | Wholesale Dirt Bikes
Honda | Kawasaki | Suzuki | Yamaha