Honda used dirt bikes
A pre-owned Honda gives only the best off-road value.
There is great value in Honda used dirt bikes, and such bargains are around. Pre owned bikes obviously offer excellent value, and the great prices reflect this too.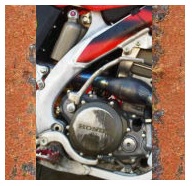 If you're searching the classified ads in papers or the web, look at not just the information given, but what's been left out.
Don't take anything for granted, you may assume certain accessories are included in your used Honda buy, but if it's not mentioned you may not have them.
Superb buys are certainly there, and ensure your Honda is the correct model for you, and has power, but not too much, and is a manageable Honda used dirt bike for your skills.
While its easy to buy uk motocross clothing, and for that matter enduro helmets too. You have to be a little more careful buying pre loved dirt bikes for sale and Honda used dirt bikes. You don't want your dirtbike to have a serious fault, or need a new frame.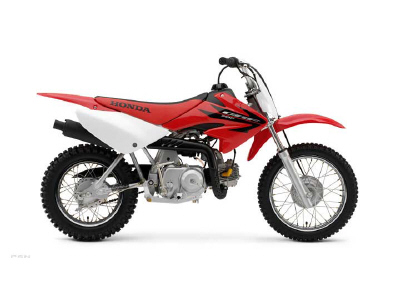 Dirtbike motorcycling is massively popular, so used MX bikes as a whole can be tracked down.
From full spec'd competition bikes, to a motocross bike in progress project. Cost and time play a vital part getting good Honda used bikes. Do you need to be on the bike track next weekend? Or do you have a couple of months to build a motocross ride? AND have the money too?
All careful dirtbike considerations.
If you have a rough idea on your perfect used motorcycles create a shortlist, and most important a budget (and don't go over it) – okkayyyy.....well only slightly if it really IS an mx bargain of the decade.
Ok, you want Honda used dirt bikes? if so we'll take you to some cool websites which have quality info & photos of great motorcycles.
The Honda dirt bike CRF
Some Honda heart-attack prices.
First up is mxchange.co.uk in our search for Honda used dirt bikes. It's well laid out and many mx riders advertise here – it's well known and your sure of a good motorcycle deal. We uncovered a Honda CRF 250 (2007), for £2000. A Genuine uk bike, with G-force suspension and a carbon sump guard plus lots of other new stuff.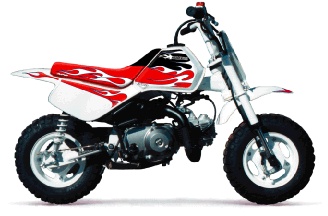 Or what about a slightly cheaper Honda CRF 250F (2005), for around £1900? This model had new stainless steel valves and a mere 2 hours use. So its in tip top condition, plus other trick bits were thrown in as well.
Before we left a great 2003 Honda CRF 450R 4 stroke advert cropped up, with a price tag of £2,300. Which is expensive for its age. However it was a road legal bike with 12 months MOT, plus tons of extras such as a complete set of enduro clothing was added to this sale - which you would expect for the price.
We then wanted to look at bike-exchange.com for used enduro motorcycles for sale, plus its usually superb for Honda used dirt bikes too. The pages didn't disappoint.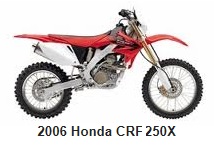 A 2006 Honda CRF 250 for $3400 US Dollars, and a 2000 Honda CR 250cc for around $1950 also came up. This latter Honda motocross bike had never been raced, and had a great number of aftermarket parts on it.
Or would you like a Honda CRF 100 - ideal for any MX occasion coming in at 1450 US Dollars. This was just because the owner had outgrown the ride.
The only issue we have with the ads on this site - is that they are a bit Spartan, which is where sites like ebay have the upper hand. But you can contact the seller should you require more info.
If neither of these sites appeals then you can try tmxnews.co.uk. Here a rider can advertise their old dirt bike with only 1 motocross bike allowed per ad. Online bookings and deadlines are available from the website, and any would-be pitbiker & dirtbiker can search their used section for all manner of MX motorcycles.
We had to close our Honda used dirt bikes search with ebay, where they have a huge number of motorcycle parts as well as motoX bikes.
A Honda CRF50 SEAT for crf Honda scramblers, for £8.99 and also a K&N style Air filter which should fit models of XR50, CRF50 and XR Honda's, priced at £3.09 + shipping of £5.09 was our first set of finds. Then a final look turned up a Honda MT5, MT50 Dirt Bike which was showing a current bid of: £150.00, with only a day or so to run. Ebay never disappoints as far as Honda 110cc bargains go, or in finding accessories like pit bike plastics & motocross tires etc.
You may find an enduro or MX forum will also recommend websites that do great deals on used dirt bikes, almost for wholesale money!
A Honda dirt bike sale.
Try not to get suckered in by those sites that offer wholesale dirtbikes. Many are not what they seem, and you do need to be in the trade to get genuine wholesale motocross bikes. Used dirtbikes offer similar savings, if you get a loved motocross bike that's in mint condition - (it's all about the condition).
When looking at a used motorbike in any Honda sale be aware of the many options open to you. The 80cc honda dirtbike (CRF80) - is ideal for kids and beginners. The more advanced may require the honda xr which is really very good and prized by its owners. However for cost and fun a honda mini moto (or CRF50) - is hard to beat, but it's more for the weekend biker and fun-rider.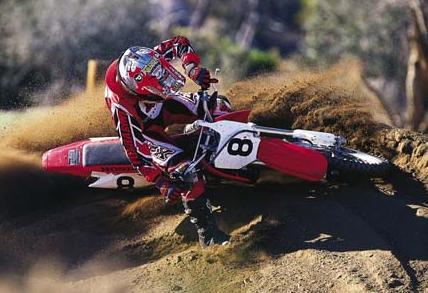 ---
Home | Dirt Bikes | Cheap Dirt Bikes | Accessories | Mini Dirt Bikes | Motocross Racing
Motocross Gear | Off Road Bikes | Used Dirt Bikes | Wholesale Dirt Bikes
Honda | Kawasaki | Suzuki | Yamaha