Husaberg Motorcycles
Discussing the husaberg motorcycle – join the forum.
Husaberg Motorcycles – the motocross history. KTM, the parent company of Husaberg, develops and manufactures off-road, supermoto four-stroke as well as two-stroke Husaberg motor cycles in Austria.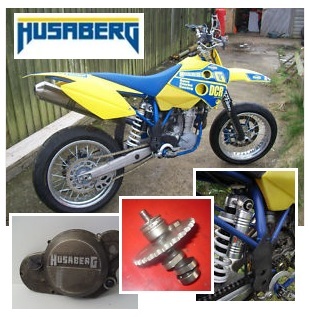 The Husaberg motor cycle is known for its larger displacement engine and race oriented construction. Back in 1987, the Italian company called Cagiva bought the motorcycle division of Husqvarna, which was the traditional brand of Sweden.
A few of the engineers opted to stay in Sweden, subsequently founding Husaberg Motor AB a year later.
The name of Husaberg was made official when one of the engineers, Thomas Gustavsson, had to declare his motorcycle while enduro racing at Skillingaryd.
Lacking in funds, the Husaberg motorcycle team courageously relied on technical innovation. Established and professional riders were too expensive to hire, and in their place ambitious rookies the likes of Peter Jansson, Joel Smets, Walter Bartolini, Jimmie Eriksson and Kent Karlsson took to the fore.
Good track results could not, unfortunately, compensate for the slow sales of their motorbike, and in 1995 KTM eventually purchased Husaberg.
Development and production of the Husaberg motorcycles take place in Austria at KTM's factory. Husaberg's Motorsport department is still in Sweden. KTM adopted "Ready to Race", the previous slogan of Hillebrand as their own. "4 Stroke Force" is now the current slogan of Hillebrand.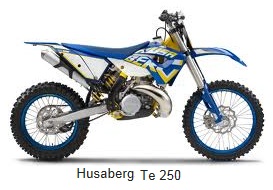 The earlier 1989-1996 engines of the Husaberg motorcycles were prone to premature engine failure because the motorcycle has no oil pump and relies on a timing chain for oil delivery.
The quality and reliability of the engine has improved though, and since 1997 is comparable to more well-known brands. 1995, 1997 and also 1998 saw Joel Smets, the Belgian rider win the FIM 500cc Motocross World Championships for Husaberg.
Six Enduro World Championships were also won in 1990, two in 1991, 1995, 1996 as well as 1998. Joakim Ljunggren won the Junior Enduro World Championship in 2005 and 2006, followed by Oriol Mena in 2009. Husaberg motorcycles are also used by Swedish military, particularly for their demonstration team called Armens Lejon.
The current Husaberg lineup includes supermoto and enduro models only. The cross-country (no lighting kits, wide-ratio gearing) and motocross model have both been discontinued.
The names of the different models are made up of 2 letters: 'T' as 'Two Stroke', 'F' as 'Four Stroke', and then 'X' for motocross, 'S' for supermoto, or 'E' for enduro models. Previous models of the motorbike included the different displacements, for example:
Husaberg parts, and the husaberg 390.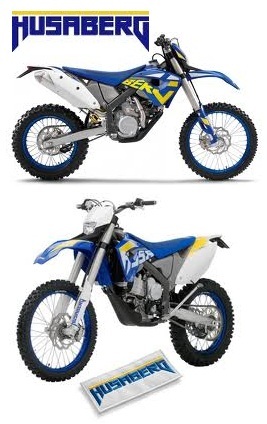 2011 models
Besides the technical refinements on existing models, Husaberg is now offering a two-stroke enduro model.
4-Stroke Enduro
4-Stroke Motocross
Supermoto
2-Stroke Enduro
2009 Redesign
On the 6th of November 2009, a brand new design was unveiled by Husaberg at the Milano International Motorcycle Exhibition for their FE 450 E motorcycle, which was announced as their 2009 model.
Apart from boasting new fairing, their new design included a completely revamped engine that was in a different position, rotated at 180 degrees from the top to the bottom, and then inclined forward seventy degrees from a vertical angle. The carburetor was replaced by the EFI injection system while their chain drive was put on the left side.
If your requiring husaberg motorcycle parts for your moto, such as a gpr stabilizer do checkout ebay and husaberg.com, though many spares you shouldn't find too difficult to buy.
Also should you be asking - where can I get good deals on 2012 husabergs; and what are the best shock settings for a 570 husaberg, most forums are helpful in specifics like these and husaberg.org should also have some useful info as well.
---
Home | Dirt Bikes | Cheap Dirt Bikes | Accessories | Mini Dirt Bikes | Motocross Racing
Motocross Gear | Off Road Bikes | Used Dirt Bikes | Wholesale Dirt Bikes
Honda | Kawasaki | Suzuki | Yamaha