James stewart motocross
"Bubba" Motocross results – Just in.
James Stewart Motocross : What It Is.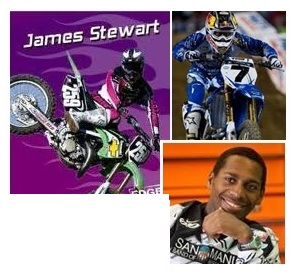 Keep James Stewart motocross in mind when looking for short books this summer to keep your third to fifth grader interested in reading.
Selecting one of the books written about motocross is a smart move. From the time they are born, kids love the sound and vibration that motors make.
Pictures covering scenes at the track give them an idea of the hustle and bustle required to ready equipment, the area and the riders. If your child is a spectator and not a contestant, books give insight to the inner circle of any athletic competition.
Players do not just show up; preparation plays a heavy role in readiness. It is a great life lesson for the child and it will not be you lecturing him or her about it. Read books you suggest to your children so you know what is in there and can talk about them.
Terri Sievert is a Capstone Press author who has written many books for the elementary grades set. "James Stewart: Motocross Great," published by Capstone Press in 2005, is one of her best short biographies. In 32 pages, the story of James Stewart motocross rider - unfolds with highlights and statistics of his first twenty years of life and his successful career in dirt bikes.
Even non-motocross followers see Oakley commercials featuring Stewart and MX video games in which he plays a role. So, what is special about this young man, aside from the millions of dollars he earns? Often referred to as the MX version of Tiger Woods is an indicator of his drive and devotion to his game.
The legend of James Stewart motocross rider began December 21, 1985. His dad took him for a dirtbike ride as a baby and James Junior never stopped loving the sport.
At four, he was racing and became a sponsored rider by the time he was seven. Jeff "Chicken" Matiasevich was Stewart's favorite racer at the time, with several titles, a successful place with the 1992 Kawasaki team and a current berth with the 1993 Team Suzuki.
Super motocross super rider.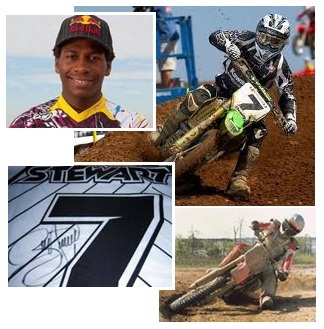 By age eight, Stewart had gained the nickname "Bubba." His family recognized his dedication and skill in motocross racing and travelled to motocross races in a motorhome with Bubba and Malcolm, his younger brother.
Home schooling kept the kids on top of their education.
James earned nine national titles while he was an amateur, wowing the crowds with big air and lightning-fast speed and maneuverability.
He earned the 2002 AMA Motocross/Supercross Rookie of the Year award at age sixteen because of his impressive season, which many refer to as the best a motocross rookie has ever performed.
Riding for Team Chevy Trucks Kawasaki, Stewart also won the Dave Coombs Sr. East/West Supercross Shootout in Las Vegas that year. Sponsors such as Oakley, Gatorade and Kawasaki have brought endorsement money while James Stewart motocross demon continues to wow the crowds.

The first African-American to dominate motocross, he is an inspiration showing what can happen with dedication, motivation and practice, practice, practice. Guts help achieve the jumps and speed.
March 2011 saw Stewart arrested at the Orlando International Airport for impersonating a police officer. The James Stewart motocross competition wagon is on hold for the time being while Stewart works on technique. Crashes and injuries during 2010 and 2011 have led to cancellations in several races, including Hangtown.
Speculation suggests at some point Stewart will follow another motocross great, Ricky Carmichael, into NASCAR, and Stewart has confirmed it is a possibility. For now, James "Bubba" Stewart remains a heavy competitor in this year's circuit.
One things for sure; many a motocross girl - and dirtbike boy have a motocross wallpaper or two, hanging on their den wall of "Bubba" Stewart - and fans are wanting more action, and more excitement in the future from Stewart.
---
Home | Dirt Bikes | Cheap Dirt Bikes | Accessories | Mini Dirt Bikes | Motocross Racing
Motocross Gear | Off Road Bikes | Used Dirt Bikes | Wholesale Dirt Bikes
Honda | Kawasaki | Suzuki | Yamaha