Jeremy mcgrath super cross world
Jeremy mcgrath dirt bike rider coachs us on how it's done.
Jeremy McGrath Super cross World – is he the jeremy mcgrath supercross king ?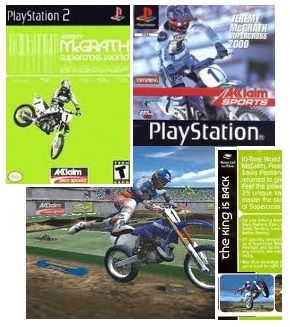 The video sports game of Jeremy McGrath Super cross World was released by Acclaim Entertainment back in 2001. Jeremy McGrath is a supercross star who has endorsed the game.
It is a sequel to the Jeremy Mcgrath Supercross 2000 game. So those jeremy mcgrath supercross 2000 cheats are no good on this disc.
It features 10 time Supercross winner Jeremy McGrath together with Travis Pastrana, heir apparent. James Stewart, Nathan Ramsay, Ernesto Fonseca, Mike Brown, Grant Langston, Tim Ferry, Ezra Rusk and Seabastian Tortelli are top Supercross professionals who are also featured on this video.
There are twenty five supersized tracks on the game that encompass freestyle, outdoor motocross, supercross and, for the 1st time within any Supercross game, Baja mode.
Jeremy McGrath Super cross World has been designed so that anyone can just pick it up and then play. It also offers a depth of game-play. A person can choose which pro they want to ride for a fast freestyle tournament together with their friends or they can battle their way throughout the championships mode so as to enjoy a longer game experience. This game offers an innovative stunts advantage system.
If a player performs a stunt and proceeds to land correctly they will receive a skill advantage such as a short speed boost. It will also definitely pay to have some good aerial skills. Every track will have various mini challenges. Each time any player completes any challenge on a track they will earn themselves a trophy.
The freestyle mode of the game packs in two dozen tricks that include barrel rolls, 360's, fender grabs, supermans and nac-nacs. Freestyle arenas are either indoor or wide open outdoor areas where a gamer has lots of room for performing mind bending tricks by themselves or head to head with their friends.
Would you like jeremy mcgrath supercross 98 too?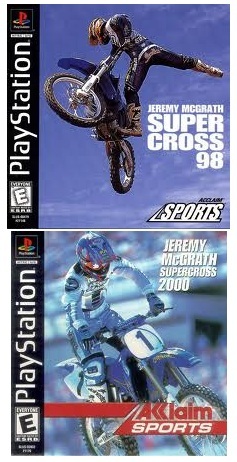 There are eight attributes in the Jeremy McGrath Super cross World attribute system.
These are four bike and four rider. The rider attributes are charisma, preload, slide and stability.
As a gamer's reward these can all be upgraded for being able to do well in the career mode. The bike attributes are suspension, cornering, top speed and power band. These are all pre-configured for each of the bikes.
Each gamer has to figure out the best ways in allocating attribute points that are earned on top of their bike attributes. A gamer who optimizes bike and rider attributes has the best chances of being able to win it all. The game also offers head to head split screen game-play.
The release date of this game was on February 27th in 2002. The genre is racing and the style is Motocross. Similar games are Freestyle MetalX (the Nintendo GameCube), Big Air Freestyle (the Nintendo GameCube), and MX Superfly that features Ricky Carmichael (the Nintendo GameCube). Although the game strives in appealing to a true Motocross fan, an approachable and forgiving arcade style interface focuses on a wide range of gamers having fun.
The game also boasts extra arcade style features such as courses, riders, and unlockable bikes. Each rider will have their own stunt repertoire that is unique and that will grow as their character is being developed.
The soundtrack on Jeremy McGrath Super cross World includes:
Other Mcgrath things you might ALSO like –

---
Home | Dirt Bikes | Cheap Dirt Bikes | Accessories | Mini Dirt Bikes | Motocross Racing
Motocross Gear | Off Road Bikes | Used Dirt Bikes | Wholesale Dirt Bikes
Honda | Kawasaki | Suzuki | Yamaha