Kawasaki Dirt Bike
The essence of kawasaki dirt bikes.
The kawasaki dirt bike a machine that excels off road.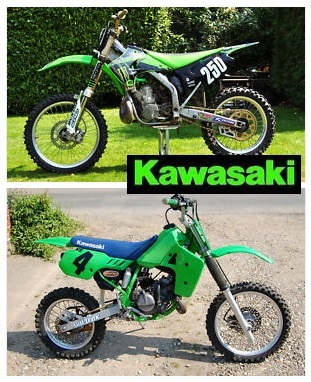 While every dirt bike enthusiast has their favorite brand, the Kawasaki dirtbike commands respect from just about everyone.
Even if it isn't their chosen brand, people sit up and take notice when Kawasaki does anything with their bikes.
One of the main reasons why they get so much attention is that Kawasaki is known for their dedication to excellence.
The company produces high quality equipment and they are one of the big names in the motocross world. If you are thinking about getting a Kawasaki dirtbike, there are many things you can look into in order to make sure you are getting the right one.
Your Level of Expertise on kawasaki motocross & offroad bikes.
Kawasaki offers many different dirt bikes, and a big reason for this is that they cater to all levels of riders. They have bikes for children who are just starting out and shouldn't have too much power all at once. They also make bikes for professionals to ride in the most grueling motocross arenas.
This doesn't even mention all the bikes that land in between those levels. No matter what you are looking for as far as performance and skill, you can find it in a Kawasaki dirt bike.
Main Models that Kawasaki produce.....

Variety is the spice of a Kawasaki Budget.
Since there are so many types of dirt bikes available from Kawasaki it makes sense that there is also a wide range of prices that you can choose from. This makes it easy for anyone to fit something into their budget.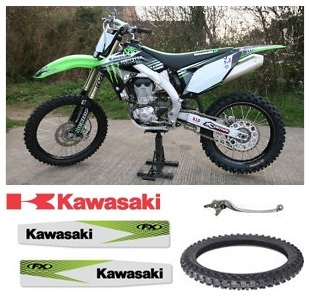 There are many blends of price and features, so you definitely need to decide what is most important to you. The nice thing about Kawasaki is that they are also well known for providing a lot of "bang for your buck."
Spend Your Money Wisely – no fantasy MX splurges!
While you can get an awesome deal on a Kawasaki dirt bike, you do need to make sure that the bike you get will provide you with what you need. If you want to get into tough competitions, then a bike from their 100 series isn't going to cut it.
On the other hand, if you are just starting out and want to know if you even like racing, then going all-out and buying a powerful 400 series bike probably isn't a good use of your money either.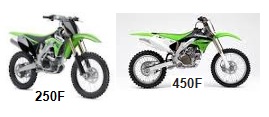 Something that you may want to think about is buying a used Kawasaki dirt bike. As long as they were taken care of, used Kawasaki's are generally considered to be a good purchase.
Sometimes they need a little work, such as tweaking the engine or replacing the plastic, but if you find a nice used bike you can save thousands of dollars. Yep a used 125 kawasaki dirt bike, might be a lot less than you think.
Find Good Advice, Motocross Racer
Like the other big names in motocross, Kawasaki has a lot of passionate fans, and this makes it very easy for you to find help in all sorts of places. There are thousands of articles on different aspects of riding and caring for Kawasaki bikes, and you can also find plenty of manuals and forums that will provide you with even more information.
Getting a Kawasaki dirt bike is a great investment whether you are just getting started in motocross or you are going for pro. Look at some of the models available and see what suits your skills.

---
Home | Dirt Bikes | Cheap Dirt Bikes | Accessories | Mini Dirt Bikes | Motocross Racing
Motocross Gear | Off Road Bikes | Used Dirt Bikes | Wholesale Dirt Bikes
Honda | Kawasaki | Suzuki | Yamaha