Kawasaki Motorcycles
Kawasaki dealers or kawasaki.com ?
Kawasaki motorcycles – why buy one? When shopping for a new motocross motorcycle, should you consider Kawasaki motorcycles?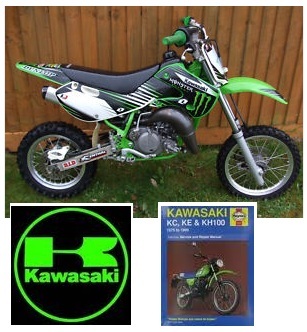 You definitely should, since Kawasaki is among the "Big Four" of Japan's motorcycle producers. Kawasaki was born in 1896, when Shozo Kawasaki founded Kawasaki Heavy Industries. The company initially focused on manufacturing products such as ships.
During the 1960s and 1970s, Kawasaki became one of the premiere motorcycle producers in the world. Here are some of the company's most noteworthy motorcycle models:
Kawasaki brute force using the kawasaki motor.
While several motocross Kawasaki motorcycles are available on the market, here are some of the most important issues to consider when shopping for one:
1. New or Used ? - your kawasaki bike ?
This is certainly one of the biggest matters to consider when shopping for Kawasaki motorcycles. There are certainly pros and cons for both options.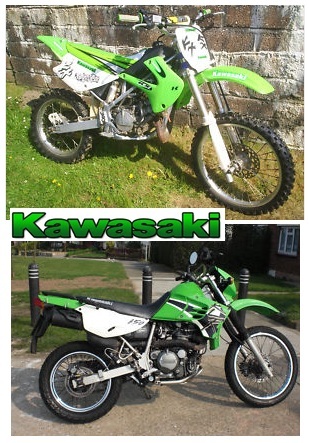 Indeed, the initial cost of a used motocross bike will be lower than the price tag of a new motorcycle. But you'll also need to do more repairs on such models.
Those costs could add up quickly if the repairs involve major components such as the engine, transmission and so on. On the other hand, if you're on a shoestring budget then purchasing a brand new Kawasaki motorcycle simply might not be feasible.
To have the best of both worlds, you could consider purchasing a "nused" (new + used) model that's used-but barely so. The price tag would be significantly lower than a new model, though you probably wouldn't need to do any major repairs on the motorcycle for a while.
2. Online or Offline
This is definitely another important issue to consider when shopping for Kawasaki motorcycles. Again, there are benefits and drawbacks for each method. Shopping online allows you to compare and contrast different models more quickly. That's a good thing. On the other hand, there's more risk involved.
That's due to factors such as the legitimacy of the company you're buying from, the reliability of the information and photographs linked to various models for sale-and so on. Some online companies have introduced virtual test-drives of their vehicles, but they'll never replace the experience of hopping on an actual Kawasaki motocross motorcycle and then taking it for a spin.
Another main drawback of buying a motorcycle online is that you'll more likely have to deal with sky-high shipping costs.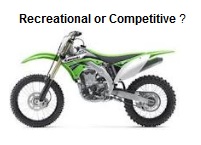 3. Recreational or Competitive
If you're planning to compete in motocross races, then you'll probably be willing to spend more on a motorcycle. But it depends.
Choosing a pricier motorcycle might be worthwhile if you can offset some of the costs via prize money or corporate sponsorships.
4. Small or Large (motorcycle or engine)
Yet another issue to consider when shopping for Kawasaki motorcycles of the motocross variety is the size of the motorcycle's engine-or the entire motorcycle. There are various issues to consider when choosing the right size of both.
What's your height and weight? What type of motocross riding do you intend to do? What's your budget for a motorcycle?
Both the kawasaki kx 65 & the kawasaki kx125 models might suit your needs, or what about the superb kawasaki klr650 ? But let's face it – not all these bikes will be ideal.
So once you have your perfect model(s) in mind, turn your attention to kawasaki parts and kawasaki atv parts and do an audit of running costs (say over a 12 month period).
Then if that all fly's, your perfect motocross bike awaits.
---
Home | Dirt Bikes | Cheap Dirt Bikes | Accessories | Mini Dirt Bikes | Motocross Racing
Motocross Gear | Off Road Bikes | Used Dirt Bikes | Wholesale Dirt Bikes
Honda | Kawasaki | Suzuki | Yamaha